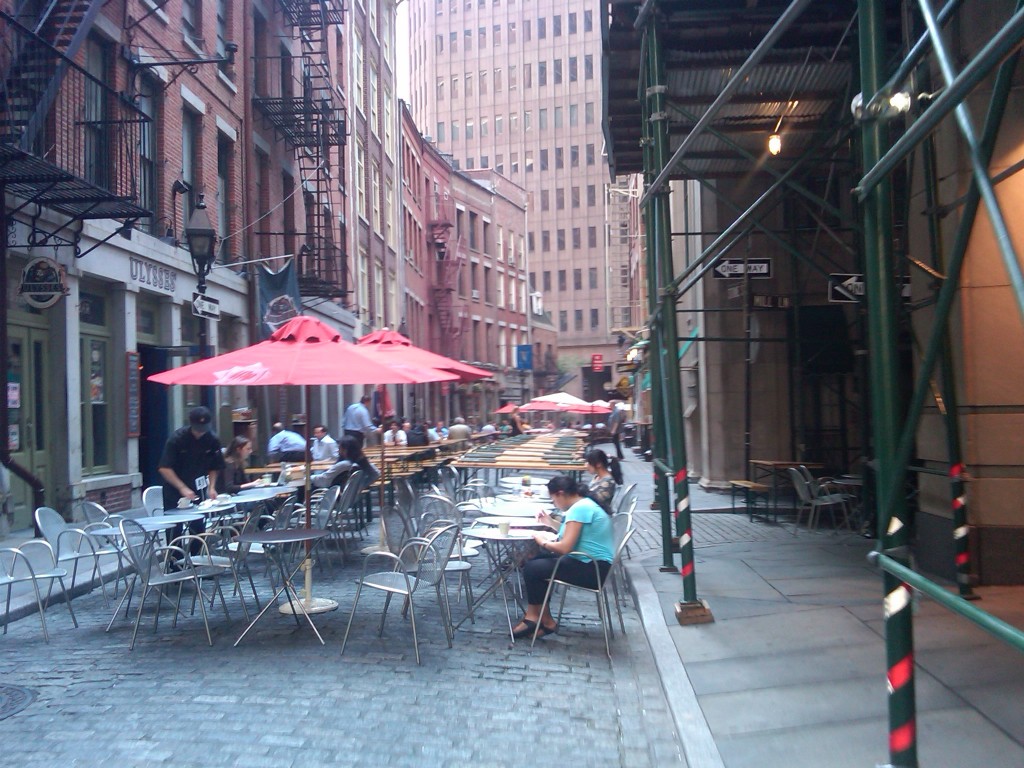 The spillover of patrons from the bars and restaurants that line Stone Street in the financial district looks exactly the same at 12:30pm during the lunch rush as it does at 6:00pm for happy hours.  During warm weather seasons, the historic street is overrun by suits and ties, attaché cases and messenger bags, and men and women who don't even work in the neighborhood, trying to get a glimpse of the big time.  In these peak hours, walking passed the tables and umbrellas, and all of the thirsty go-outers can be tricky because of how densely populated the street is.  Men scoping out the fraction of women nearby.  Women judging which guy is a real tycoon, and which is a clown in a monkey suit.  The game never ends.
The historic street that may go back as far as 1660, named Stone Street for its cobblestone ground, is the home to a hodgepodge of some of the better pubs in Manhattan, and although kitschy, a great place to network and meet people.  Let's take a look at some of the hot spots below.  While a Thursday night might look like a mess of people meshing together, an assortment of different bars make up the traditional looking setting.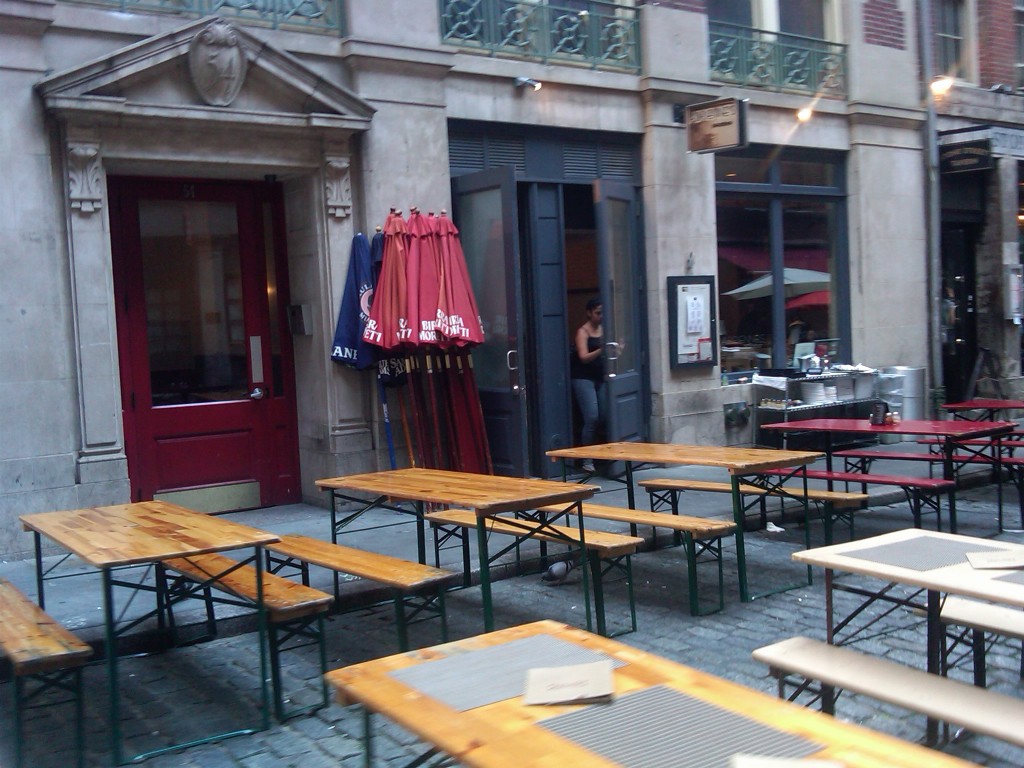 Probably the most popular spot on the entire strip, Ulysses' is home to a fantastic raw bar, a carvery station and just some good all out bar food and entrees.  With weekly specials on lobster (Monday), oysters (Wednesday), and crabs (Sunday), and 18 draught beers and 50 different bottled beers, Ulysses' historic feel is a warm welcome to Wall Streeters.
Not to be outdone, Beckett's has a similar feel to Ulysses' with a flare for American fare.  They have a large selection of burgers and sandwiches, but also offer more traditional items like fish & chips ($16), bangers & mash ($14), and Shepard's pie ($15).  And with 18 huge screens on two floors, and a bar menu for appetizers, meeting at Beckett's is a great idea for a big game.
The Stone Street Tavern has a more intimate atmosphere inside, fit for actual diners rather than bar hoppers.  The outside area open from April – November however coincides with the previous two mentions and therefore this may be the most versatile of all the area bars.  But with a solid selection of draught and bottled beers, interesting menu items like grilled mini baby brie ($12), lobster club sliders ($16), and a charbroiled spicy tuna ($19), may make this the bar for the more refined eater.
With all of the pubs on this street, where'd they find the time to stick a pizza parlor?  Well, this ain't your grandma's pizza parlor.  Enter Adrienne's, an outstanding brick oven style, thin crust pizza spot that also (you guessed it) has a patio serving beer, wine, and cocktails.  The standout here is the food, rather than the outdoor atmosphere as Adrienne's pies are some of the best in the City.  They only serve pies (10" round or old fashioned style), no slices, but get your mouth ready to taste the romana ($14), with arugula and prosciutto, or the buffalina ($18) covered in buffalo mozzarella and chunky beefsteak tomatoes.
A pizza place flanked by a Mexican cantina.  Mad Dog & Beans features traditional Mexican cuisine, with an ambiance based on the Mexican Revolution.  With unlimited taco Mondays, burrito night Tuesdays, and fajita night Wednesdays, and an authentic style restaurant upstairs above a more traditional happy hour scene outside and downstairs, Mad Dog & Beans is a relaxed alternative to the remaining spots, with a ton of different meat or seafood options.
Our final stop is akin to Beckett's and Ulysses' to a degree- The Dubliner is an old-fashioned looking ale house with more drink specials and more food options.  The burger at The Dubliner might just be the best on the block, but we truly recommend the corned beef Panini ($12) covered in melted Swiss cheese and delicious red cabbage.  With $5 Stella bottles and $5 Dubliner Ale every day, ladies happy hour Wednesdays with $5 wine and $6 cosmos, and a Saturday special featuring a Guinness and a shot of Jameson for a measly $9, The Dubliner is another can't miss spot.
Truth be told, you can't go wrong with any of these traditional pubs or ale houses, but you're going to have to pick the best one for yourself.  And if you do, make sure to let us know which one you prefer and we'll post the results here.  Until then, bottoms up!
-  Jane Van Arsdale
Related Articles
Share
About Author
(1) Reader Comment