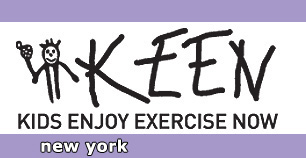 Have you been looking for a place to do some volunteer work without making a big time commitment?  KEEN is a national, non-profit organization that stands for Kids Enjoy Exercise Now that pairs willing volunteers up one-to-one with mentally and physically challenged children and young adults for two hours of recreational time in a gymnasium and alternatively in an arts and crafts studio.  The New York branch runs programs weekly throughout the summer and into the fall at the 54th Street Parks & Recreation Center and a 40 minute swim program on selected Saturdays at the 92nd Street Y, for you up-towners.  Sessions in the Bronx are also available starting on September 25th at 3pm and running on alternating Saturdays through December 4th.
What's remarkable about the program itself is that it is run at no charge to parents of children involved in the program, allowing any income issues and disabilities to remain irrelevant to a child's acceptance into the program.  Volunteers meanwhile get the peace of mind that they are in fact making a difference.  As a repeat volunteer, I can't even begin to describe the uplifting display of relief on the faces of parents as they drop off their children for a two hour session, knowing that their child is being taken care of, are having fun with other children, and perhaps most importantly, knowing the parents can have some time to themselves.
Moreover, volunteering is truly that- there are no strings attached, and volunteers are encouraged to participate when their schedules permit.  There is no real commitment, but admittedly, running around with the terrific kids in the program is so infectious, you'll want to come back again sooner than later.  Aside from knowing you've done a good deed, the volunteers' ages are all wide ranging, with the majority being young professionals (20's- 30's), which is great for networking and meeting some like-minded, good-hearted people, just trying to help out wherever they can.  Further, nearby bars host post-KEEN happy hours, offering discounted drinks to volunteers and providing a forum to discuss any challenges during the session and some meet-and-greet time for the participants.
Additionally, KEEN New York hosts quarterly happy hour fundraisers all over Manhattan for similar networking activities, drink specials, and big prize giveaways.  And every year the organization hosts "A Night for Our Champions" benefit (this year's big event is on November 10th at The Ainsworth) that is attended by hundreds of people, with an open bar, food, and silent auction items, and typically funds KEEN New York's sessions for the following calendar year.
Volunteering for KEEN New York is a fun and exciting way to give back if you can spare a couple of hours on a weekend afternoon.  You'll get to work with people from all walks of life, some with and some void of any experience with disabled children, and more importantly, you'll get to meet some fantastic kids and smile right along with them, watching them so genuinely happy.  For more information on how you can help or to make a donation, check out http://keennewyork.org, and make a difference today.
-  Jane Van Arsdale
Related Articles
Share
About Author
(1) Reader Comment