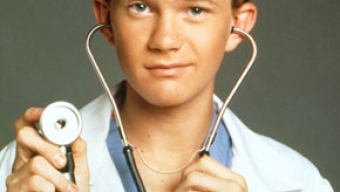 Every so often on LocalBozo.com, we like to dig deep into our archives and pull out a relevant Retro-Blog from one of our talented writers to relive some of our fondest memories. This one comes to you from: Tuesday, September 20, 1989.
Men Will Fall Over Howser, Even Though Ladies Love Doogie
By Poppy Gonzalez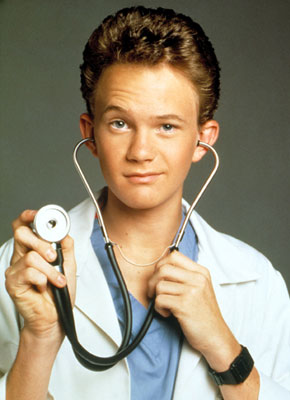 Last night's premiere episode of ABC's new dramedy "Doogie Howser, M.D." proved to be a coup for the network, as the show created a sense of realism behind an unrealistic idea. Howser, played by the adorable Neil Patrick Harris, is a sixteen year old Wunderkind, who is a resident surgeon in Los Angeles. Incredulously, the boy completed high school in just nine weeks, perfected his SAT score at age six, graduated from Princeton University at ten, and became the youngest licensed doctor in the country at age 14. And while it sounds totally unfathomable, Harris' totally gnarly boyish charm helps him pull off the charade effortlessly.
It's clear from one episode that NPH as we like to call him, is ready to explode all over Bop and Tiger Beat magazine as the next breakout star on television. Girls are expected to fawn over the young actor, much like a young Kirk Cameron (Growing Pains) or even a young Ricky Schroeder (Silver Spoons). Lets face facts: this kid's got the look of a skirt-chaser.
But even though the young actor is sure to be courted by his share of ladies for his celebrity, creator Steven Bochco has come up with a concept to also attract a male audience to Howser- the dream of reaching superior status and outperforming what had been defined as the insurmountable. The teenager is saving lives and curing the sick, all before he can even legally drive a car. Subsequently, Harris makes us all want to be better than we are and become what we dream of, and does so with a flamboyant confidence that we both respect and admire. And entering his daily thoughts into some sort of electronic diary on what looks to be a state of the art computer system, leaves us with a meaty moral that we can take in and be satisfied by.
So watch out girls, only a couple more years until Neil Patrick Harris will be officially street legal and on the proverbial prowl. And that damn theme song is catchy as hell.
Related Articles
Share
About Author
(0) Readers Comments