A LocalBozo.com Concert Review
She & Him
Terminal 5, Manhattan July 6, 2010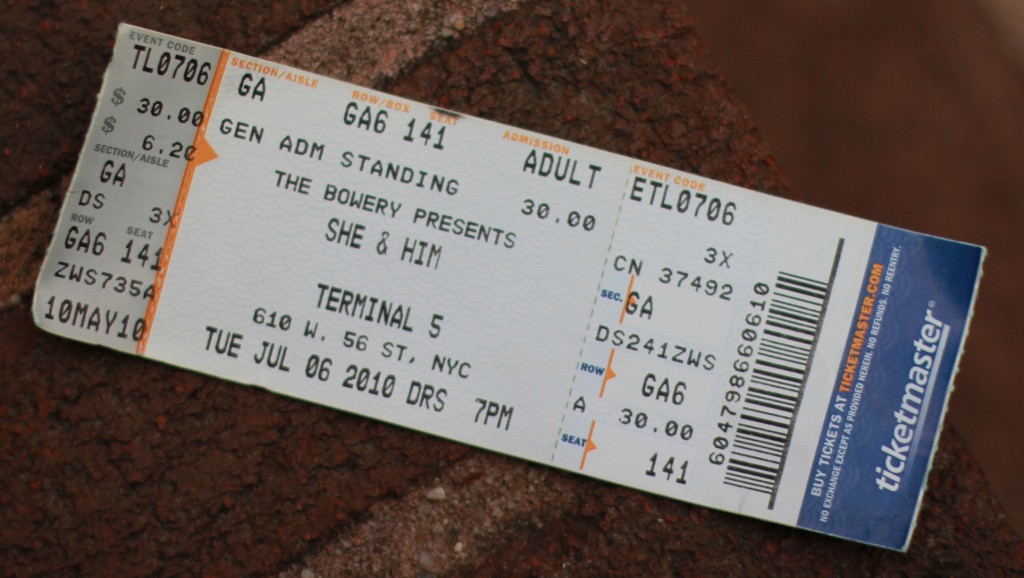 With temperatures in NYC swelling to the 100 degree mark I walked to Terminal 5 hoping it would be cooler inside. But as I planned to see She & Him, the indie folk band featuring actress Zooey Deschanel and guitarist M. Ward, I arrived just late enough to miss the opening act- comedian Eugene Mirman. Admittedly, I am a fan of his strange cameos on Flight of the Conchords but it is a little strange to open up a small concert with a comedian. However, the people around me did think he was funny. Eventually, I nestled myself by the bar which has become my favorite place at a show. Unfortunately that proved to be a mistake because it was about 90 degrees there. At least I was close to the ice cold beer though.
After a few cold beers She & Him took the stage with three other performers to a booming applause from the audience. They opened up with "Change is Hard" and performed two others songs before being joined by two other female back-up singers (two of the Chapin sisters). Deschanel was dressed in a cute summer dress and as I looked around the venue, all of the girls there looked just like her- draped in summer dresses and that 60's style haircut. But alas, seeing tons of Zooey Deschanel clones would never garner a complaint from me.
With the added band members all of the songs sounded more lush and richer and fuller. They played songs from both albums (titled Volume One and Volume Two) with a few covers thrown in as well. Overall, the extensive setlist was roughly ninety minutes long, including a one song encore. Some of the highlights for me included "Thieves," "Why Don't You Let Me Stay Here," "In the Sun," and "Riding In My Car." Deschanel's voice sounded incredible throughout the performance- she can really project it well. Her voice belted through Terminal 5 cooling off the 90 degree heat which had enveloped the bar.
M. Ward took on more of a producer role on Volume Two, so it was no surprise that this show was more of a showcase for Deschanel. In fact, throughout the concert, she was the only sole performer covered in a single spotlight highlighting her, while the other band members were covered by darkness. Overall the band put on a fantastic performance, even if it was more about She than Him.
She & Him- Live at Terminal 5, Manhattan
July 6, 2010
Setlist (Courtesy of Setlist.fm)
1. Change Is Hard
2. I Thought I Saw Your Face Today
3. I Was Made For You
4. Black Hole
5. Thieves
6. Lingering Still
7. Me and You
8. Take It Back
9. Home
10. Riding In My Car
11. Over It Over Again
12. You Really Got a Hold on Me
13. Brand New Shoes
14. You Turn Me On, I'm a Radio (Joni Mitchell cover)
15. Sentimental Heart
16. Rave On! (Buddy Holly cover)
17. Gonna Get Along Without You Now
18. In the Sun
19. Don't Look Back
20. This Is Not a Test
21. Why Do You Let Me Stay Here?
22. Magic Trick (M. Ward cover)
23. Fools Rush In (Ricky Nelson cover)
24. I Put a Spell on You (Nina Simone cover)
- Seymour Winterbush
Related Articles
Share
About Author
(2) Readers Comments