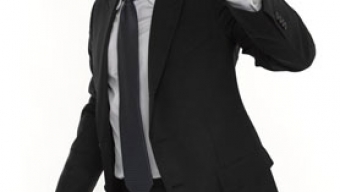 Jimmy Fallon is one of the most polarizing figures on television.  Either loved or hated for it, Fallon is the guy notorious for laughing through seemingly every sketch on Saturday Night Live, instead of being rightfully distinguished as one of the most talented and innovative characters in late night.  If you don't believe us, make sure you check out SNL: The Best of Jimmy Fallon DVD (The most consistently funny of all the SNL DVDs), which captures a glimpse of how immensely talented he is.
Attempted creator of the failed Saved by the Bell reunion, and the successful and wildly entertaining California Dreams reunion, Fallon's youthful enthusiasm exudes from his boyish smirk and resonates with the audience.  Backed by legendary house band The Roots, Fallon's show tapes right here in New York, and LocalBozo.com checked out a recent taping at Rockefeller Plaza.
The guest lineup (Kate Walsh, Jim Breuer, The Roots w/ Jim James of My Morning Jacket) for the evening was solid, and had the potential for a really entertaining show…  once you get passed the ass backwards methods that NBC uses to bring guests into the studio without flipping out.  According to NBC, it makes complete sense to: 1) have guests arrive an hour and a half before the show begins at the second floor of the NBC retail store, only to wait on line for entrance tickets and wristbands; 2) then leave the building to go outside to the other side of 49th street only to re-enter the GE building, where you literally are not able to stand still or security will ask you to leave; 3) enter a stuffed to the brim elevator, which brings you up to the 3rd floor where you then line up either alphabetically or numerically depending upon the ticket in your hands; 4) and lastly, you enter the studio where is no bathroom.
Each of these inconvenient detriments aside, there is nothing like seeing the taping of a television show live, and Late Night with Jimmy Fallon is certainly no exception.  The studio is shockingly intimate (much smaller than you would expect) and you can see firsthand what goes into putting on a show of this nature- multiple cameras running along the floors, cue card workers accompanying them, a stage manager shouting out directions, and several workers gently dabbing the host's face with make up during commercials.
Once The Roots are introduced and begin to jam and announcer Steve Higgins makes his way to his separate podium, Fallon makes his way out from behind the curtain to raucous applause (motivated by several "Applause" signs) and delves into his opening monologue, which is arguably Fallon's biggest flaw.  Fallon is clearly most comfortable behind his desk prior to his guest being introduced, a throwback to his hosting days on Weekend Update.  What makes Fallon such an endearing host, however is the fact that he's just so damn likeable- a guy you could approach in a bar and have a beer with, or a cool older cousin that just came home from Arizona State, where he clearly is not a Player but he seems to crush alot.
After some great banter between Fallon and the audience, Walsh, and Breuer, and a truly outstanding performance by The Roots and Jim James on "How I Got Over," Fallon shows his appreciation by running up and down each of the aisles and slapping hands with as many audience members as he can, a nice touch that really shows you the kind of good guy Jimmy Fallon still is.  Even if you can't stand Jimmy Fallon, you simply can't hate live comedy that is literally performed the day it is written.    And if you luck out and catch some outstanding guests, you are in for a memorable evening.  And best of all, it's free.
For tickets, contact NBC's ticket office at 212-664-3056 to request a live show date.
- Jane Van Arsdale
Related Articles
Share
About Author
(1) Reader Comment