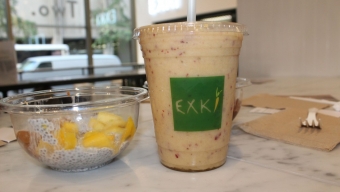 Exki
76 Madison Avenue at 28th Street, Murray Hill
212-447-1874
Getting There: N,Q,R, 6 to 28th Street
http://www.exkinyc.com/
The health conscious New Yorker is a finicky beast. And though seemingly Manhattan is home to a juice bar on every corner, both quality and freshness seem to perpetually remain suspect. Enter Exki, a word that literally means 'Nature's Kitchen.' It just so happens to be a local, fast-casual restaurant that officially celebrated its relaunch earlier this month at its 28th Street location just West of Murray Hill. Focused mostly on local and seasonal fare, the restaurant's re-branding has afforded it both the flexibility to cater to both health-food seekers and the more atypical office crowd, looking for that newfangled spot from which to grab lunch.
With more than 85 locations popping up around the world since 2001, the relaunched New York City location is both brightly lit and inviting. Amid an 'urban garden' feel, guests are welcome to grab food and go or camp out behind a laptop for awhile and indulge in some of Exki's especially excellent array of coffees, juices and smoothies- of which we can recommend 'The Cocktail' ($7.30), equipped with a green tea base, ginger, mango, apple and papaya. And as in most new restaurants, customization is becoming king. Fortunately Exki's got you covered here as well with Breakfast and Lunch Bowls to suit one's fancy.
On a recent morning walk in midtown, a craving struck up for an Acai Bowl. Unfortunately, we couldn't name a place nearby to appease such a unique craving. With Acai Pudding, Matcha Pudding and Coconut-Chia, all of which is organic, $10 gets you a smattering of ingredients from hemp seeds and black mission figs to vegan granola, walnuts and dried apricots. Â Lunch fare here is equally compelling. Â Choose from a freshly stocked refrigerator of pre-made (and reasonably priced) sandwiches and salads- or create a 'Warm Bowl' of your own, advised by the restaurant's friendly staff.
Warm bases like farro and a blend of quinoa & cauliflower rice lend themselves to either salmon or chicken or a handful of vegetarian options. Â From there, the decisions are solely yours. Â Roasted butternut squash, marinated artichokes, shaved radish- it all blends deliciously under the likes of a toasted walnut vinaigrette or a mild curry dressing. Â And with prices ranging from just $10-$13 each, the value proposition at Exki is certainly competitive, given each dish's fresh run of ingredients and savory flavors.
Give our photo gallery a stroll through above- and make sure to give Exki a quick visit. Â You've had the run-of-the-mill burrito bowls and overpriced salads seemingly day in and day out. Â Time to try something new and something fresh. Â Something Exki-llent!
Related Articles
Share
About Author
(0) Readers Comments