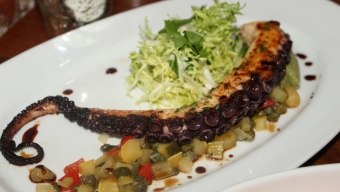 TESSA
349 Amsterdam Avenue between 76th Street and 77th Street, Upper West Side
212-390-1974
Getting There: 1,2,3 to 72nd Street
http://www.tessanyc.com/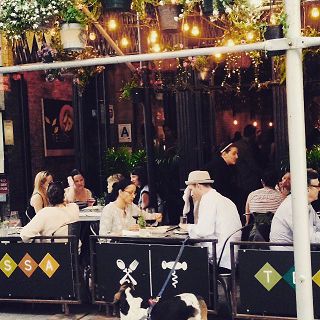 Though it's a fairly early time of evening during a recent summer weeknight and most folks are heading to their Upper West Side homes, a small in stature restaurant seems to be attracting quite a bit of foot traffic into its modern and industrial interior. The handful of tables situated street-side, adjacent to the restaurant's diminutive doorway are all occupied as are nearly all of the stools lining the slender and curved wooden bar. Although our table is reserved at a fairly early hour, there's something about TESSA that we are quickly discovering that most neighborhood folks already seem to know.
Restaurant Review: Tessa NYC
Ornately designed with exposed brickface, tabletop candlelights and enough metal grating affixed to the walls and overhead to sufficiently stabilize a constructed building, the dimly lit and approachable restaurant is effectively buzzing on this night. A windowside table-for-two awaits in the more conventional dining area, providing us with sufficient glimpses at the far more private group dining table available in the confines of TESSA's cozy wine cellar space. As a precursor of events to follow, we are served impeccably- from water to wine, appetizers to main courses- without even the slightest need to wave down a nearby employee. From the tables surrounding us, each patron seems to be similarly fawned over.
Eschewing selections of competitively priced $14 cocktails, our server suggests pours of a 2014 Pinot Noir from Williamette Valley's Siduri Wines- and it's a bigger, darker red than we're used to- but it is deliciously textured and pairs nicely with an array of "House Dips" ($16) which showcases the restaurant's wide range of influences. Creamy ramekins of smoked eggplant and white ricotta prove to be essential to the many dips of fresh vegetable crudité, but it's the bright orange carrot harissa that is most notable here- fresh and flavorful. Though the place leans heavily on French and Italian styles, TESSA fancies itself as modern Mediterranean, which is an entirely accurate portrayal given the selection of choice offerings from which to choose.
Options like "Lamb Meatballs" ($14) with herb salad and pomodoro never look out of place despite being listed alongside items like a Moroccan-style "Cauliflower Frito Misto" ($14) to highlight Chef Eric Cope's range. The "Octopus a la Plancha" ($18) is especially notable here. A single, bulbous tentacle lay atop a green olive tapenade and fresh squash caponata, with just a note of aged balsamic to sweeten the perfected exterior char of each chewy morsel. The generously portioned "Hangar Steak Frites" ($31) is equally mouthwatering, decorated with a crispy shallot and tangy chimchurri that only complements a delicately prepared mid-rare center. Each delectable slice of steak is piping hot, well-seasoned and as rich as one might hope, despite such a collection of accompanying ingredients.
A touch of cherry glazes the "Long Island Duck" ($32), meshing a nicely collaborative blend of sweet and savory.  The salty and fat-heavy duck skin is balanced by a serving of poached peach, combined with hunks of tender, succulent breast meat in each savory mouthful. Only a powerful dessert like the life-changing housemade "Bombolini" ($12) could effectively erase much of the meal that came before as peach jam and vanilla cream doughnuts taunted our previously full bellies with their appearance. With an almost crispy exterior, each decadent bite was warm and fluffy, more than subtly enhanced by the oozing fillings jutting out from each delicate sphere. With our eyes rolled back and a few glasses of wine now complete, TESSA delivered a comprehensively delicious experience from start to finish. As we reveled in satisfaction, it was clear in looking around the now fully filled up dining room, that we were hardly alone in that regard.
 Rundown of the Meal
Shared Plates & Boards
House Dips with Vegetable Crudite ($16) – Carrot Harissa, Smoked Eggplant, Ricotta & Yogurt
Appetizers
Octopus a la Plancha ($18)*
Pasta & Risotto
Linguini ($13/$19)
Entrees
Long Island Duck ($32)
Hanger Steak Frites ($31)*
Desserts
Bomboloni ($12)*
Selection of 3 Scoops ($9)*
* Meal Highlight
Related Articles
Share
About Author
(0) Readers Comments