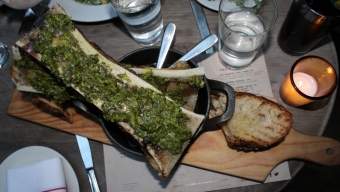 Turnover is particularly constant in the New York dining scene but the new and exciting openings shouldn't be the only places celebrated within these pages. Staying power and expansion deserve commendation not neglect and with that, from time to time, we'll be revisiting some staples of the New York restaurant scene, reflecting upon how they've adapted to the perpetually changing tastes of the City's high brow clientele and how they've remained relevant in spite of an audience that's always seeking out what's coming next. Our latest installment brings us back to the West Village where Swine mixes international wines on tap with plenty of pork dishes.  In full editorial disclosure, Swine has partnered with LocalBozo.com on our last two #BrunchBash events.

Swine
A LocalBozo.com Restaurant Review
531 Hudson Street near Charles Street, West Village
212-255-7675
Getting There: 1 to Christopher Street – Sheridan Square
http://www.swinenyc.com

Original Visit: August 2012
What We Said Then: "Picture if your favorite dive bar began serving up some excellent comfort food. Or if your favorite low key restaurant began catering to a lively bar crowd. Swine combines the best of both worlds without compromising anything. And somehow, they manage to pull it off brilliantly." Â 
You can read our initial review of Swine at this link- pardon the particularly awful photos.
Then and Now: Three and a half years have passed since we made our first visit to Swine, a comfortable and cozy two-floor space that could double as your friendly neighborhood watering hole. But to have lasting power, a West Village eatery has to have some kind of cache in a neighborhood where flavors of the month come and go as quickly as a big gust of wind from nearby James J. Walker Park. Fortunately while the small but elaborately decorated bar is perpetually buzzing, the restaurant has gone to great lengths to offer up a vast and expansive menu, leaning heavily on newfangled takes on comfort fare. In our first trip to Swine, we marveled at innovations like 'wines on tap' and indulged in an array of different cheeses and charcuterie while sitting in the downstairs level- so it's only fitting that our return trip would allow us primo viewing of the main bar area and the opportunity to more fully enjoy some of the restaurant's rich fare.
The inviting setting is spruced up by a small outdoor patio space right along Hudson Street where people watching and affordable beers make Happy Hour a must as the sun begins its descent. It's a bit quiet at the early hour when we arrive allowing us to chat with the friendly bar staff and take in some of Swine's charming decor. From the checkered wooden floor to the brightly lit communal booth situated on the far side of the bar, the space is infinitely warm because it's so purposefully low-key- a spot where it's equally appropriate to slug down a craft cocktail, a frothy microbrew or a quick pour of wine.
Be forewarned, the dishes being served here are mostly heavy so you'll want to order accordingly. Â If you plan on throwing caution to the wind, there's a lot to like from Swine's dinner menu. The massive "Roasted Bone Marrow" ($18) legitimately looks like it could have been imported from the town of Bedrock. Decadently rich, two bulbous bones adorned with a garlicky green salsa verde act as makeshift serving dishes from which to scoop the piping hot and smooth marrow, spread thickly on toasted Pullman slices. Â Each mouthwateringly greasy piece absolutely oozes with fatty flavors- rivaled perhaps only by the "Bone Marrow & Brisket Burger" ($20), layered with sweet caramelized onions and creamy Tarentaise cheese. The absolutely perfect medium rare temperature yields a warm pink center that is intensely seasoned and brilliantly juicy beneath its soft brioche bun.
For some lighter fare, the "Tuna Tar-Taco" ($14) delivers a nice kick of jalapeño alongside hunks of fresh pink Bluefin tuna within the confines of a gluten-free taco shell. The "All Kale Caesar!" ($14) meanwhile was a perfectly ho-hum salad offering- appropriate given that you're likely to want to grab your greens wherever you can- prepared in simple fashion with some anchovies, lemon and shaves of Pecorino cheese to balance out the bowl of creamy greens.  If red meat or pork isn't typically your thing, the crispy skin and tender bone-plucked meat of the "Roasted Organic Free-Range Chicken" ($23) is another suitable alternative, replete with bok choy and sugar snap peas- but candidly, at a place like Swine, you're best served to taste some of the heavyweights.
What do you get when you mesh macaroni elbows, deep-fried onion rings, cheddar and Parmesan cheeses and pieces of jowl bacon? You get Swine's signature "The Mac (n' cheese) Daddy" ($15). Though you may need to schedule a visit with your cardiologist after this one, the combination of flavors and elements here are undeniably savory. The side is a perfect complement to the aforementioned "Brisket Burger," though it's best that you share this one with a friend.
The Bottom Line: Perhaps the best part about a dinner experience at Swine is that the restaurant doesn't price gouge it's guests- there's not an item on the menu over $30. The casual setting is a fun play on a neighborhood bar that serves complex American-style fare that's suitable for a drinking crowd. Whether you drop in on an early evening hour, for some late night comfort eats or for the place's delicious brunch menu, know that a visit to Swine is ideal for a New Yorker that doesn't take oneself too seriously- and it's nice to see that in that light, not much seems to have changed since our very first visit.
Rundown of the Meal
Starters
Tuna Tar-Taco (Tartare in a Taco – $14)*
The Mac ('n cheese) Daddy ($15)*
All Kale Caesar! ($14)
Roasted Bone Marrow ($18)*
Mains
Bone Marrow & Brisket Burger ($20)*
Roasted Organic Free Range Chicken ($23)
Sides
Truffle Cauliflower Grits ($10)*
*Meal Highlight
Related Articles
Share
About Author
(0) Readers Comments