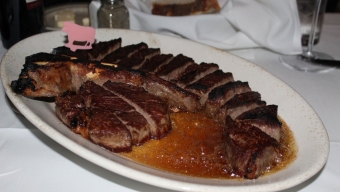 Rocco Steakhouse
A LocalBozo.com Restaurant Review
72 Madison Avenue at 28th Street, Flatiron District
212-696-9660
Getting There: 6 to 28th Street
http://www.roccosteakhouse.com
Restaurant Review: Rocco Steakhouse
It's easy to romanticize about the iconic New York City steakhouse, where the surly service and minimalist decor doesn't allow diners to be distracted from the slab of beef laid out in front of them. At Rocco Steakhouse, which emerged in the Flatiron District back in November, the race to table turnover is pleasantly replaced by a renewed focus on guest fulfillment- an admittedly novel approach given our experiences at restaurants of similar ilk. With an expert staff running both the kitchen and front of the house, the dining experience at this steakhouse-nouveau is an entirely satisfying one, long before you're served your first slice of sizzling porterhouse.
Though the NoMad neighborhood is littered with high-profile establishments, there's a dearth of meat-focused options in the surrounding area. To announce Rocco's arrival to Madison Avenue, two brown flags flutter from the building's contemporary exterior, a concept that's echoed even inside the space. A modern U-shaped bar looks like it could have been plucked straight from one of the city's finest sports bars, replete with comfortable leather padded stools surrounding the shiny wooden countertop and a collection of nearly a dozen draught beer taps. As we arrive on a weeknight, a sea of suits clouds the bustling bar area lit up by three flat screen televisions displaying baseball pre-game shows. Behind the friendly bartenders sits shelf after shelf punctuated with premium liquor and wine bottles to tease and tantalize the thirsty clientele in anticipation of being seated.
The dining room here carries with it a similar modern aura even though a sole chandelier extends down from the ceiling and the conservatively outfitted staff still manage to move around quickly in traditional steakhouse fashion. While the food itself is often quite good, the service at Rocco Steakhouse is truly exceptional- our water and wine glasses are never nearing their last drop, menu and wine recommendations are offered without pressure and we are given license to take our time without fear of server anarchy. Instead, we take pleasure in dipping fatty cuts of "Sizzling Canadian Bacon" ($5.95 per slice) into sweet droplets of house barbecue sauce, gladly digging into the pricey stack of "Tuna Tartare" ($21.95) before ordering yet another basket of freshly baked bread and butter. Though the bacon is slightly chewier than our liking, the thick puck of chilled pink tuna and deliciously creamy avocado was on point, with three different dollops of sauce for ample complements.
The mere sight of a sizzling "Porterhouse" ($51.95 per person) is enough to make a hungry diner salivate and fortunately, Rocco Steakhouse serves up a nicely prepared version. Plated piping hot above a downright mouthwatering collection of butter and jus, both the strip and filet portions were nicely marbled and yielded an indescribable and decadent aroma. If we're being picky, our medium rare could have been slightly pinker inside, but the additional few seconds of cooking did little to mar our enjoyment of the juicy and tender hunk of luxurious red meat. While we eschewed the likes of heavier sides-  "Lobster Mac and Cheese" ($14.95) with truffle oil and the "Rocco Signature Fries" ($9.95)- but the "German Potatoes" ($11.95) were a deliciously starchy addition to our protein heavy meal. The "Sauteed Mushrooms" ($12.95) were equally memorable with their intensely rich taste profile.
With steakhouses seemingly trapped in time, the dining experience at Flatiron's modernized Rocco Steakhouse is a definitively pleasant change of pace to the norm. Though their seasoned serving team comes from a lineage of some of the finest steakhouses in New York City, the staff here goes above and beyond to make sure that each dining experience is a special one by doing all of the little things that most places might take for granted. Though the meal was hardly 'perfect,' it's these special qualities- the niceties that Rocco Steakhouse gets right- that can elevate a restaurant from a place that you visit once to one that makes itself worth frequenting.
Rundown of the Meal
Appetizers
Tuna Tartare ($21.95)*
Sizzling Canadian Bacon ($5.95)
Steaks and Chops
Porterhouse ($51.95 per person)*
Sides
Spinach Creamed ($11.95)
Sautéed Mushrooms ($12.95)*
German Potatoes ($11.95)*
*Meal Highlight
Related Articles
Share
About Author
(1) Reader Comment