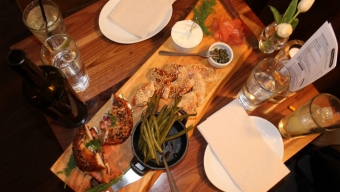 Drexler's
9 Avenue A near Houston Street, Lower East Side
646-524-5226
Getting There: F to Second Avenue; F,J,M,Z to Delancey Street-Essex Street
http://www.drexlers.nyc
It was only a matter of time before the management team behind Boulton & Watt decided they needed a bigger boat. The perpetually packed craft beer meets new American fare gastropub has become a staple of the Lower East Side- be it for the afterwork crowd or for weekend brunchers. But with the opening of Drexler's in the summer of 2015, the concept would further allow the owners along a similarly relaxed path and with the same understated confidence that they're hitting all the right notes just a few doors down.
'Twas not always the case at 9 Avenue A, where the former Ella space has been since transformed from a sultry den of darkness to a warm and inviting rustic bar. The combination of exposed New York City brick walls coupled with wooden tables and refurbished panels overhead combine to showcase a space that resembles an inviting, but scaled down beer hall.  The mood is noticeably low key here, where a handful of booths run parallel to the elongated narrow bar and a short list of draught beers hangs nearby boasting some craft specialties.  But  inside Drexler's rejuvenated space one thing is immediately clear: the cocktail is king.
Ducking inside for the recently launched weekend brunch menu, we are greeted by a three-piece band performing live music by the entryway- definitely a nice and unexpected touch. The mood inside is definitively positive, brightly lit up from the onslaught of spring sunshine peering in through the front of the space. While the typical menu pairs an array of charcuterie, breads and cheeses to pick at alongside the place's expertly curated cocktail list, the weekend brunch menu manages to go one step further- tapping local stand out Black Seed Bagels to supply the inventory for the base of your 'Do-It-Yourself' meal, complete with some inspired takes on traditional daytime drink concoctions.
Drexler's is first and foremost a cocktail bar and fortunately the brunch cocktails here are not to be missed. Though the words 'refreshing' and 'Bloody Mary' are hardly ever found in the same sentence, that is perhaps the most appropriate verbiage to describe the "Bloody Caesar" ($10), a light and inventive take on the classic drink using some Clamato and St. George Green Chile Vodka to complement the use of horseradish, tobacco and Worcestershire sauces. The "Paloma" ($10) was an excellent alternative, sweet and crisp with grapefruit soda and smoked sea salt to counteract the Tromba Blanco Tequila- poured liberally mind you.  Equally as refreshing, the Beefeater Gin loaded "Bramble" ($10) meshes crushed ice and lemon juice for the perfect warm weather drink.

With the brunch menu, guests are encouraged to mark up their papers with whichever spreads, toppings and additions they fancy on a given afternoon. But for those of us that prefer decisions be made for us, "The Larry David" ($12) will do just fine. Layers of delicious pastrami smoked salmon adorn a crispy everything bagel from Black Seed, ensconced with horseradish cream cheese, capers, tomato and red onion. The addition of dill is a stroke of brilliance as the combination is exquisite, leaving you no need to seek out a Sadelle's or a Russ & Daughters as a dining alternative- you'll be perfectly satisfied with a seat at Drexler's with far better ambiance, and some outstanding cocktails to boot.
- Jane Van Arsdale
Related Articles
Share
About Author
(0) Readers Comments