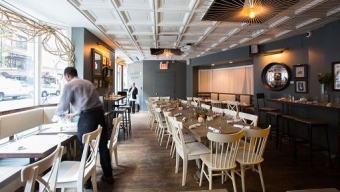 Blue Dog Kitchen Bar
308 West 50th Street near Eighth Avenue, Hell's Kitchen
212-453-0700
Getting There: C,E to 50th Street
http://www.bluedogkitchennyc.com/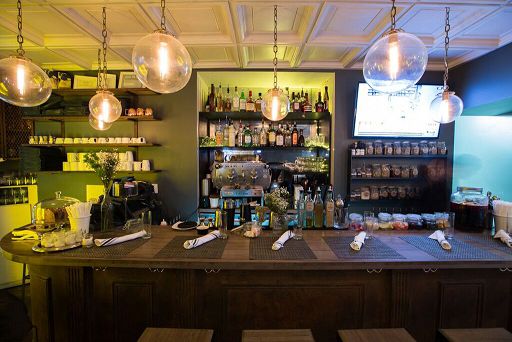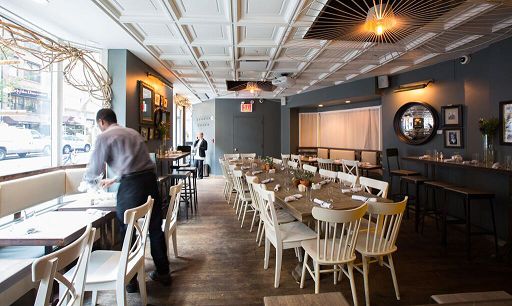 Nestled into the ground floor space of a massive corporate building sits Blue Dog Kitchen Bar, a pleasant American style bistro primarily known for its hearty helpings of brunch fare. The interior's faded blue setting is usually camouflaged by large crowds during lunchtime hours both during the week and on the weekend, making our weeknight dinner arrival a nice change of pace inside the quaint midtown eatery. Despite the room's diminutive size, the cozy layout is entirely welcoming from the comfortable and relaxed setup to the friendly staff hustling between tables.
What makes Blue Dog Kitchen's interior so charming lies in the same simplicity that you might find at a similar restaurant in the country. Ignoring the frenzy of activity just outside, the place is lit up by the flicker of a sole flat screen television hung behind the small but busy bar. The walls are scarcely decorated with knick knacks- a framed picture or a mirror- while the tables sport some small flowers, accenting the place's down home feel. Meanwhile, the menu seems equally basic and traditional yet manages to properly execute upon its stated intentions even though it is inspired by varied culinary styles.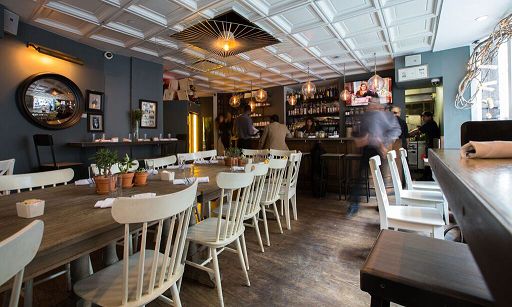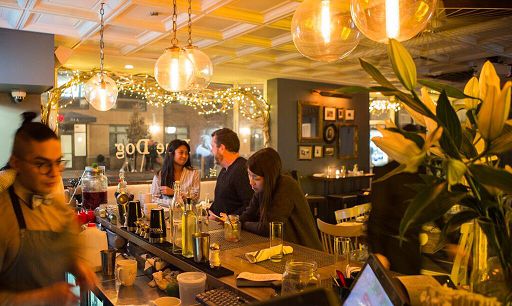 Our meal leaned in different directions, first touching a Mexican tilt with a serving of house made tortilla triangles, served piping hot and deliciously crunchy, paired with a boat of chilled and creamy "Famous Guacamole" ($12).  The slightly oily chips complemented each swab of thick green goodness in its most traditional form and though the dish was hardly unique, it was a well-executed and delicious opening course. Next, a coconut milk bath lay beneath a bright and scrumptious bowl of fresh fish with the "Ceviche Mixto" ($14)  The unparalleled pairing of richness with the subtly sweet hints of fresh orange really brought out some incredible flavors from the seafood dish with bulbous shrimp and hunks of salmon and tuna garnished with green pepper slivers and red onion for balance.
From there we tapped into a more American portion of the menu.  A nicely prepared "Oven Roasted Chicken" ($17) was served over a creamy parsnip and sweet potato puree, lacquered in a salty red wine broth and topped with an assortment of flavorful mushroom slices and crispy Brussels sprouts.  Though we sometimes steer clear of on-the-bone chicken, brushing the skin aside would yield a tender and juicy bird- rife with ample meat to be torn off and devoured. Though salmon can be a relatively ho-hum dish, the Blue Dog version of "Scottish Salmon" ($19) was actually quite good, plated beneath eight crunchy slices of asparagus and atop a bed of mashed spinach and fennel puree.  The skin was deliciously seasoned and the fish perfectly cooked making the additional ingredients on the plate almost an afterthought given the filet's well-prepared consistency.
Although wait times can routinely exceed thirty minutes during brunch, we managed to be seated quickly and comfortably during our early dinner visit.  What Blue Dog Kitchen might lack in overall atmosphere, it makes up for with a charming little restaurant- a respite from a bustling and busy New York City that couples character with reasonably priced home-cooked fare. Though other places nearby are more likely to steal the headlines, a warm place that does everything just right is certainly deserving of equal praise.
Restaurant Review: Blue Dog Kitchen
Related Articles
Share
About Author
(1) Reader Comment