Cultura Pizza e Vita
151 Mott Street near Grand Street, Nolita
212-965-1200
Getting There: 6, J, N, Q, R, Z to Canal Street; 6 at Spring Street
http://culturapizzaevita.com/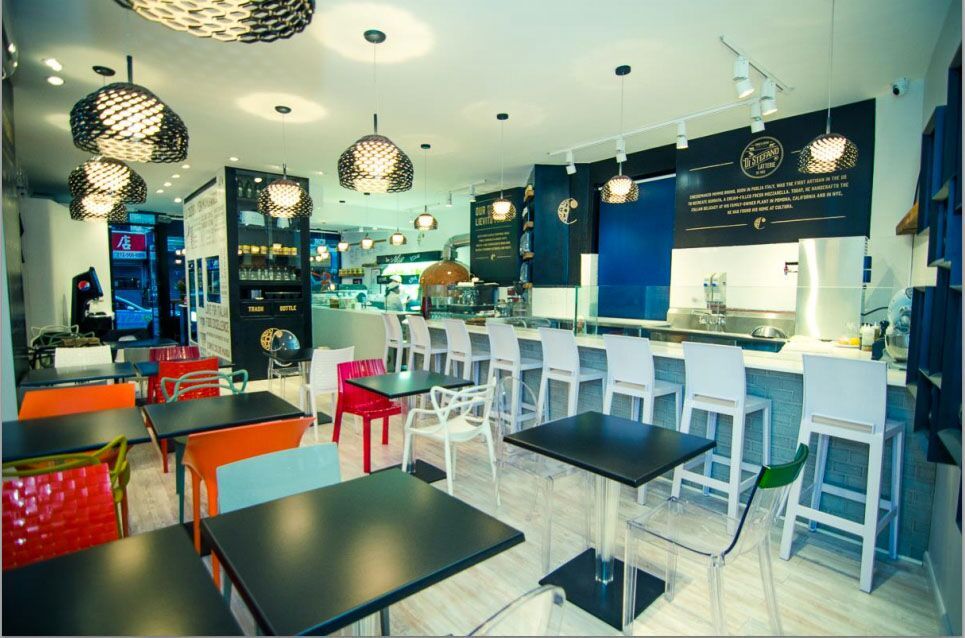 The setting is a difficult one to simply walk by en route to the historic and sometimes questionably authentic Italian restaurants that populate Little Italy in present day Manhattan. On a block now populated by banh-mi shops and little dumpling houses sits a futuristic pizza shop that leans on its vendor partners for its décor and traditionally handmade ingredients for preparing its Italian pies. Cultura Pizza e Vita is a particularly unique fast casual dining experience with little in the way of atmosphere, but delivers some memorable fare amid its bare bones approach.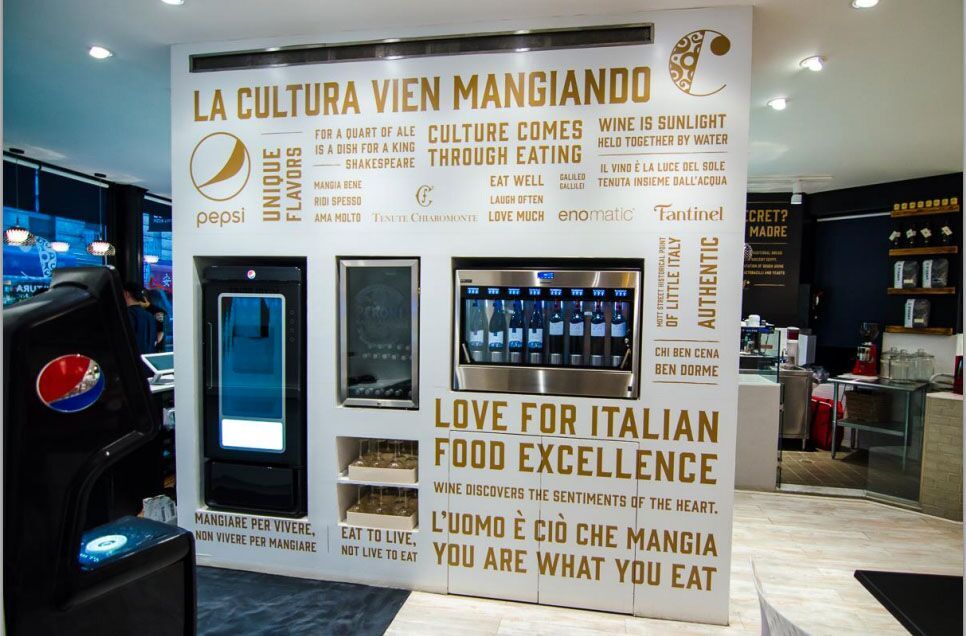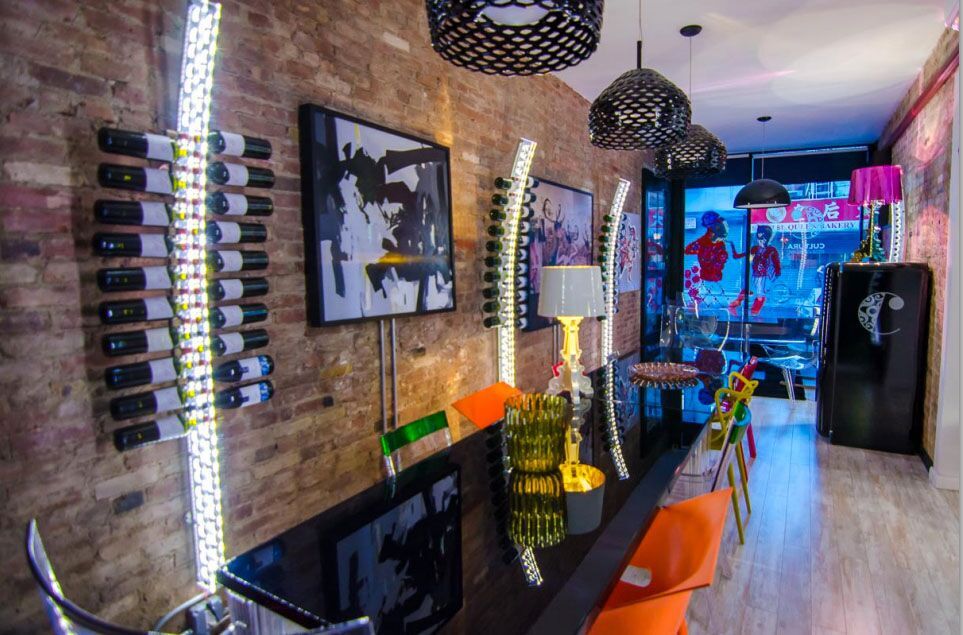 Now the lack of atmosphere inside has nothing to do with the space's design- there is plenty of eye catching garb on the surrounding walls to keep your mind busy during a visit. Cultura e Vita opens up to a bright white space with a handful of tables near the back of the restaurant and Italian wall scriptures seemingly everywhere. Ornate light fixtures hang above the selection of tables and colorful chairs- and in the restroom as well- for guests deciding to eat on site. But as any staff member will tell you, traditional Italian pizzas are served in small cardboard boxes, to be consumed whilst on foot and as such, that little bit of charm exists at Cultura Pizza e Vita- though elite diners might scoff at the thought of dining sans plates. Nevertheless, a large communal table sits off to the side room, surrounded pleasantly by exposed brick walls and a similarly avant-garde style decor.
With all of the wackiness in the restaurant's surroundings, the pizza selection here is both vast and quite good. Traditional Italian wines and Peroni beer complement the dishes served, where the ingredients like San Marzano tomatoes and extra virgin olive oil are imported directly from the old country. Interestingly enough, the pizza oven itself is actually electric, with the capacity to produce roughly ninety pizzas per hour. Though hardly the old stone oven style that we're used to, you'd be hard pressed to find any notable difference when digging into one of the restaurant's delicious thin crust pies.
Principal owner Lorenzo Randisi understands that great Italian food needs to be approachable and with that in mind, you won't find a pizza on the menu priced over $18. From the outlandish (the "Dolce Rold Gold" ($15) is lathered in a pretzel brittle, bananas and a hazelnut spread) to the more traditional ("Marinara" ($11), your basic crushed tomatoes, olive oil and oregano), there is no shortage of styles for any pizza lover. The "Porcini" ($18) was particularly special, topped with a hint of black truffle oil, fresh mozzarella and porcini mushrooms yielding an intense and rich flavor profile. The "Zucca" ($16) meanwhile, explored creamy goat cheese and butternut squash meshed with the sharpness of red onion slices for a bitter balance to each thin cut triangle. Toppings like prosciutto, sweet Italian sausage, egg and anchovies- they're all available to build your own pie, but the restaurant has crafted styles like the pancetta and white truffle oil doused "Pancetta" ($17) and the tomato, basil and arugula topped "Bruno" ($15) to take away some of the guess work for you.
Sure there are specialty salads here and some home-made burrata and mozzarella served with the likes of figs and balsamic vinegar as accoutrement- but the star of the show here is the pizza. Thin crispy crust headlines each savory piece, topped with an array of cheeses that manage to stick atop the sauce covered dough without being overly drenched in oils. The sight of a light dusting of pizza crust remaining on each finger is typically the result of a nicely crafted pie- and here's no different. Cultura Pizza e Vita is more than a nod to the old-fashioned pies made in Italy- it manages to be an innovative time machine of a restaurant that actually transports you there.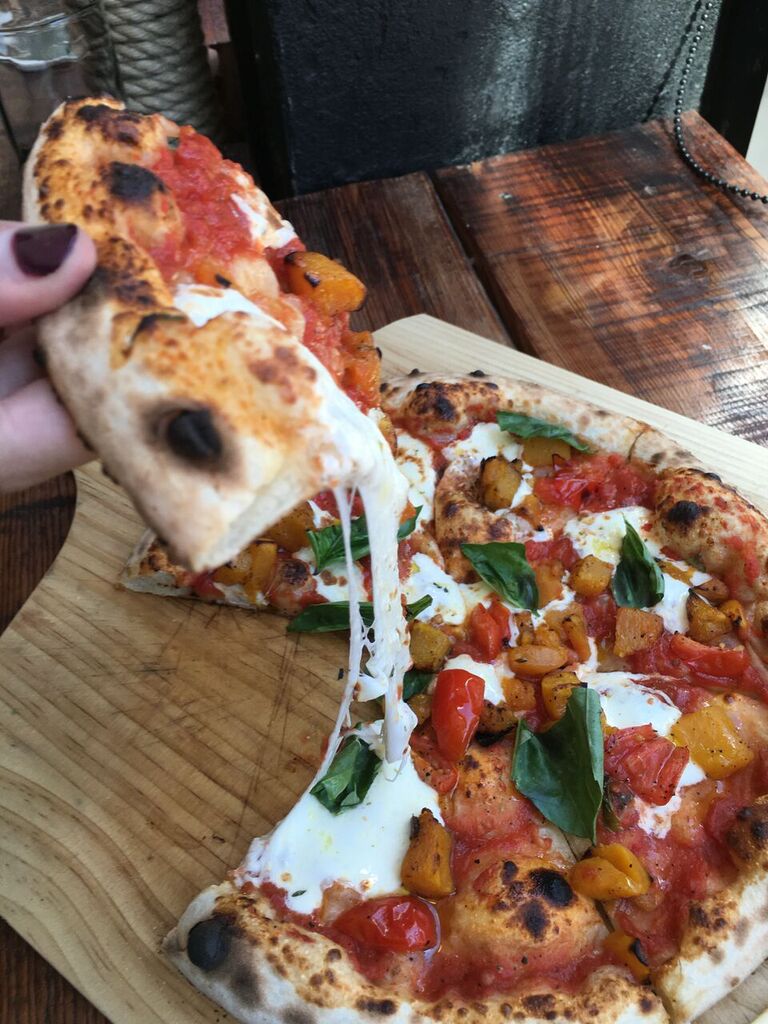 Related Articles
Share
About Author
(0) Readers Comments