Artisanal
2 Park Avenue at 32nd Street, Murray Hill
212-725-8585
Getting There: 6 to 33rd Street
http://www.artisanalbistro.com/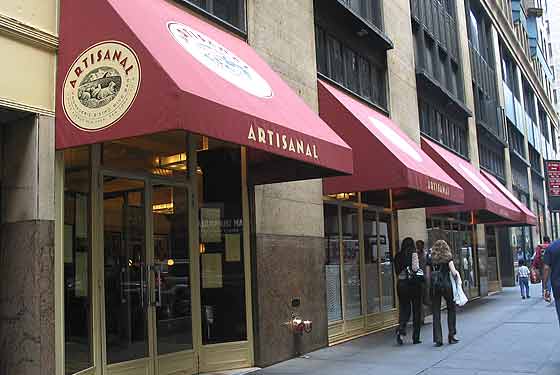 If you're clued into the New York restaurant scene, then everything you've heard is true. The spacious Artisanal Fromagerie & Bistro, which has for years been the standard bearer in a Murray Hill neighborhood whose reputation precedes it, is moving. The new space, just blocks away is slated to grow the restaurant in size three-fold, to a sprawling multi-level, 11,000 square foot setting. While the move is anticipated for early 2016, there are a multitude of reasons to check out the existing space now, fittingly with the holiday season rapidly approaching.
Restaurant Review: Artisanal Bistro
In their current space, Artisanal has been a seminal part of Murray Hill's only recently expanding array of notable restaurants. In fact, they were probably the first- and certainly enjoys the most staying power. But while other eateries have come and gone, the sizable French-inspired brasserie has managed to change with the fickle dining habits of New Yorkers, leaning on one of the city's most unflinching culinary loves: cheese. The current space is home to a massive cheese cave, allowing for private tastings and parties, but the everyman can also be wooed by the more than 100 varieties of cheese being offered on a given evening. The dining area meanwhile is definitively upscale, but in an approachable and un-stuffy way. Tables are roomy so that guests can comfortably shift around without worrying about elbowing their neighbors- a surprising touch given that most newly opened restaurants have shifted in the opposite direction. But even if you aren't a devoted lover of cheese, there's plenty offered on Artisanal's menu to appease any diner's appetite.
Rolling out their Thanksgiving inspired menu for folks staying local on New York City's most popular parade night, we worked our way through a variety of courses from cheeses, charcuterie and a pair of fondues to an array of sweet desserts- with some tasty drinks thrown in for good measure. Seasonally speaking, the cream-filled "Pumpkin Bisque" was an especially rich offering. Guests all around us would join in for the collective slurping of thick orange broth paired with a subtle cranberry chutney and a fluffy marshmallow right in the center for balance. Deliciously sweet without being overly filling, the soup was an excellent precursor to the heavier fare that would follow. Equally as light, the "Smoked Trout Salad" was loaded with hunks of fresh chilled fish meat, tossed with capers and black grapes. Given the hearty main courses to close out the dining experience, the especially fishy-tasting salad (which we really enjoy) was a nice change of pace and the smoked trout, lacquered in a sweet sherry vinaigrette paired well with the bitter greens that lay beneath.
(Two of Artisanal's seasonally prepared cocktails)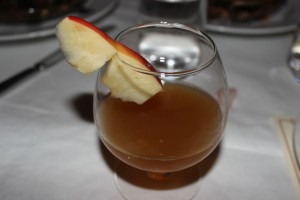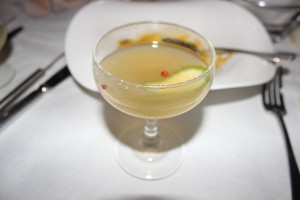 Now Thanksgiving, while typically turkey day for most, can also be a popular holiday for ham lovers as well. With that in mind, Artisanal's "Grilled Honey Ham" was especially eye-catching when placed tableside. The picturesque pink color, earmarked by char burns on each thick cut of pork was almost too photogenic to eat- evidenced by the flashing cell phones undoubtedly as folks raced to throw pictures up on Instagram. Sided by some of the most delicious "Crispy Brussels Sprouts" and perfectly prepared "Sweet Potato Puree" imaginable, the combination of protein and sides here were especially noteworthy. Capping off our early Thanksgiving though was a succulent and juicy "Roasted Amish Farms Turkey," served in thick skin-laden slices to the delight of our table. The arrangement was complemented by a plate of fresh autumn vegetables, which joined each morsel of turkey meat in being drowned by a ladleful of piping hot white gravy. Each bite of traditionally prepared turkey and its side of cranberry ginger coulis tasted remarkably homemade, leaving us longing for the big family dinners that we'd become so accustomed to before moving to the big City.
Though Artisanal is slated for a new home next year, past visitors deserve to give the historic space one final look before another New York institution shuts its doors and moves toward Park Avenue South. Fortunately, not much has changed inside over the years- it still enjoys an entirely comfortable atmosphere, dedicated service and a welcoming setting. The restaurant has managed to both see its menu evolve, while maintaining its very own sense of history. And around the holidays, that's the kind of neighborhood staple that's well worth celebrating.
Related Articles
Share
About Author
(0) Readers Comments