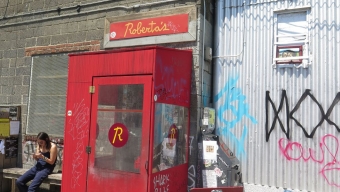 Roberta's Pizza
261 Moore Street near Bogart Street, Bushwick, Brooklyn
718-417-1118
Getting There: L to Morgan Avenue
http://www.robertaspizza.com/
Restaurant Review: Roberta's
The graffiti marked exterior and lone standing ATM are hardly the types of decor that would attract a food-craving clientele to an especially industrialized section of Bushwick. But embracing the Brooklyn neighborhood is part of the charm at Roberta's, where a small yellow and red nameplate hangs just above the entryway as the only identifiable piece of the local restaurant to the outside world. But as you'll learn in your first visit to the very quaint, very Brooklyn spot, ambiance matters little in the way of food worth traveling for.
Any legitimate list of New York City's must try pizzas showcases Roberta's at or near the top- but the thought of a trip out to Bushwick might be a bit daunting for some. But a few stops on the L train on the outskirts of Williamsburg drops you just a few minutes from the nondescript building, where the outdoor patio should be your sought after dining locale. Inside, white painted cinderblocks affixed with Christmas lighting are purposefully decorated in haphazard fashion, underneath which wooden tables are spaced in close proximity- you'll hear your neighbors conversation and may even become acquainted with them. But the 'happy-to-be-here' vibe inside is infectious from the hipster wait staff to the likeminded folks dining around the room.
Despite all the well-received buzz, the menu at Roberta's has remained entirely reasonable with nothing exceeding $20. There's the requisite Italian fare- cheeses and charcuterie, alongside some market salads and sandwiches for some finicky eaters. Even the oil and chile soaked "Squid" ($15) was a fine dish, topped with two long scallions and a touch of meyer lemon for enhanced flavor. But candidly, you're trekking out to Roberta's for a taste of their delicious pizzas- offered with no shortage of toppings, adjustments and modifications, catered to your own culinary pleasures.
Cooked in a wood-burning pizza oven, Roberta's personal sized pies are definitively Neapolitan with a deliciously crispy crust, topped with rich mozzarella cheese, made in-house. Though their are nine 'suggested' styles that the restaurant has concocted, more than twenty different toppings are available for some 'create-your-own' style customization. Adding capers ($1) and anchovies ($4) to the "Margherita" ($14) was our first order of business. The ripe red tomato sauce splattered atop a light airy bed of dough in a manner that made the pizza almost too striking to de-slice. Where the added anchovy pieces were minimal, each slice itself was intensely flavorful as the gooey cheese and subtle sauce paired nicely with each crunch of pizza crust. Eschewing further modification, we also wolfed down the "Speckenwolf" ($16), outrageously outfitted with salty hunks of fatty speck, sliced mushrooms and red onion slices. The all white pie allowed the toppings to stand out, though each of the pizzas on their own needn't take a back seat to the likes of prosciutto, taleggio or pepperoncini peppers- all of which can be added on to different pies.
With an on-site garden to grow their vegetables, Roberta's is a sustainable neighborhood eatery that embodies all that is great about Manhattan's sister borough. It's a pizza-focused restaurant built out from an old garage, with an inviting and cool atmosphere that makes the entire experience a fairly unique one. Fortunately, the hand-made and wood-fired pizzas here are outstanding, making the restaurant one well worth going out of your way to travel toward as Bushwick's signature spot.
Rundown of the Meal
Kitchen
Squid ($15)
Pizza
Margherita ($19)*
The Speckenwolf ($16)*
* Meal Highlight
Related Articles
Share
About Author
(0) Readers Comments