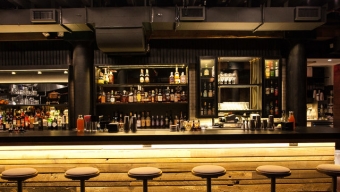 Porchlight
271 Eleventh Avenue at 28th Street, Chelsea
212-981-6188
Getting There: C,E to 23rd Street; N,R to 28th Street
http://www.porchlightbar.com/
When a name brand restaurant mogul opens up his first ever bar, you listen. Without much of note in the nearby vicinity- save for some auto retailers selling cars that we won't be able to afford in this lifetime- Danny Meyer's Porchlight opened to considerable buzz back in late February. The concept, which marries approachable cocktail bar with a definitively southern yet modernized city feel is hardly a novel one- though, by location alone, the restaurant is quite distinctive. But as most restaurateurs are focused on creating the next scenester-driven and celebrity spotting haunts, Porchlight instead breathes some new life into the craft bar scene with reasonably priced upscale bar food and inventively concocted drinks inside of a sprawling space- all this, despite the dearth of any surrounding scenery along Eleventh Avenue.
Drink Here Now: Porchlight
You'd be hard pressed to find a newly opened bar in New York City that doesn't feel both a bit sleek and a bit rustic. Porchlight is more of the same in that regard. Uniquely thin stools prop up around the bar space where dim lighting, dark steel piping and plenty of shiny wooden tables are carefully situated everywhere. The addition of rocking chairs along the exposed brick walls is a charming dose of countryside inside of a setting with far more available space than you might otherwise expect. Although Meyer's reputation was built on franchises like Shake Shack and icons like Blue Smoke and Gramercy Tavern, at Porchlight, it's the cocktails that are the place's most attractive feature.
At $14 a pop, drinks at Porchlight are hardly cheap- but with a sip of the "Whiskey & Cola," deliciously and sweetly made with homemade cola and Mellow Corn Whiskey, there's no doubting their excellence. The soda is served in an old-school bottle, replete with a white and red striped straw that harkens back to the days of a traditional malt shop- only inside, there's a boozy drink in lieu of a milkshake, served nice and strong. Other offerings like the "Behind the Mule" ($14, think a Moscow Mule with Rock & Rye and vinegar) and the "Gun Metal Blue" ($14, with a punch of cinnamon, smoky Mezcal and Blue Curacao for the coloring) have quickly become house favorites for Porchlight's repeat clientele.
Although the food being served can be pretty tasty for comfort fare, its hardly the style of transcendent cuisine that has preceded Meyer at his other restaurants. The "Smoky Beef Jerky" ($7) made in house, is a must-try- especially for beer pairing as is the deliciously fresh "Avocado & Crab Toast" ($13). Our party fell all over ourselves for slices of the "Jalapeno Cheddar Cornbread" ($6), served piping hot as it is baked to order by table. The dishes though small, can certainly add up when you're indulging in cocktails this delicious- so it's probably best to limit yourselves to a couple before heading out to a more proper dinner. As for a destination to head after Porchlight, we're sure that Danny Meyer has some suggestions for you.
The Rundown
Bar Type – A spacious and modern cocktail-lovers paradise by New York City's most well-established restaurateur.
When to Visit – If you're looking to imbibe and eat, there's no better time than summer and Porchlight's 'Summer Sundays,' where items like the "Spicy Chicken Po' Boy" ($14) and a rib heavy "Backyard Barbecue" ($21) get added to the menu from noon until sundown. Otherwise, the best time to head to Porchlight? Whenever the mood for a cocktail strikes.
Value – Happy hour runs every weeknight until 7pm where discounted wines and beers might give you pause before ordering that first cocktail at 7:01pm. That said, $14 is right around the norm for a cocktail in Manhattan- but any more than two and you're bound to notice a sizable jump in your bar bill.
The Lowdown – With an unparalleled track record, Danny Meyer's reputation and his talented staff have drawn excitable drinkers to this west side cocktail bar. And we've heard nary a peep of disappointment from those who have visited. Among 2015′s most highly anticipated new openings, Porchlight is equal parts cocktail bar for fans of mixology and comfortable hangout for casual drinkers. In an area of town dominated by car dealerships, city locals and subway riders now have a reason to visit Eleventh Avenue in Chelsea.
- Alex Corrine
Rundown:
Drinks
Whiskey & Cola ($14)
Somethin'
Smoky Beef Jerky ($7)
Warm Bourbon Bar Nuts ($5)
Jar of Pickles ($6)
Somethin' More
Avocado & Crab Toast ($13)
Boiled Peanut Hummus & Vegetables ($15)
Jalapeno Cheddar Cornbread ($6)
Daddy Jack's Fried Frog Legs ($12)
Tom's Balls ($9)
Double Trouble Bison Burger ($16)
Related Articles
Share
About Author
(0) Readers Comments