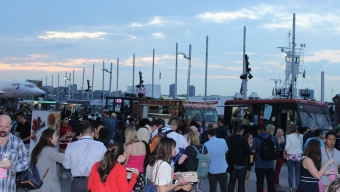 The rumbling of food truck engines was rivaled only by the rumbling stomachs of the thousands of guests flocking to Manhattan's west side on Tuesday evening. The spectacular views of the Hudson River from the Intrepid Sea, Air and Space Museum provided an unparalleled backdrop for The Village Voice's 4th Annual "Choice Streets" event, which would feature some of New York City's finest purveyors of culinary delights on wheels. If history was any indication, the sizable outdoor patio space would be swarmed with hungry folks in no time, which made moving from truck to truck a particularly methodical exercise in eating.
More than a dozen different food trucks would assemble for the 2015 "Choice Streets" event offering an array of distinctive delicacies with inspiration drawn from a multitude of different regions. Our 'Early Entry' badges granted us event access before General Admission ticketholders, but we still managed to find hundreds of VIP guests already inside upon our arrival, grabbing food samples from whichever truck lines seemed most manageable. Fortunately, pours of Stella Artois and Shocktop Brewing Company could be found at different brewsites within walking distance which allowed us to quickly wash down some of the more savory fare while continuing to press forward along this mini food-crawl. Though there were interactive games, a live mariachi band and a handful of photo booths right on site, our focus never wavered from the food-fueled task at hand.
While there were certainly outliers- like Big D's Grub Truck's savory "Bangkok Basil Spicy Pork Fried Rice" and Sweet Chili's spicy "Sriracha Fries"- traditional food truck fare like pizzas, grilled cheese sandwiches and tacos proved to the be most common offerings amongst the participants. Speaking of tacos, it was hard to surpass Korilla BBQ's sensational blend of Korean and Mexican fare with a kimchi laced "Spicy Pork" and "Chicken" taco, each of which was loaded with shredded cheese, onion and a rich creamy sriracha drizzle. Though the taco had a bit of a kick, it was nicely balanced by the textural and temperature contrast of the other ingredients which paired excellently with the tender shredded meats. Equally as juicy, Domo Taco served a similarly delectable "5 Spice Braised Pork" style taco- a style that leaned considerably more Mexican with accoutrements like pico de gallo, Monterey jack cheese and a combination of miso slaw and sesame crema for some added distinction.
After noshing on three different varieties of personal pizza slices- the best of which was Pizza Luca's mouthwatering "Filetti," delicately adorned with mozzarella di bufala, sliced grape tomatoes and extra virgin olive oil- we indulged in perhaps the evening's finest dish. Blending sweet and sticky maple syrup into the thick rustic Shewolf Bakery sourdough bread, Snowday's "Signature Maple Grilled Cheese" was as dynamic and delicious as anything that touched our lips throughout the evening. Between each thick slice lay the meat from a smoky pork rib, which when paired with sharp cheddar cheese would be both deadly and decadent. The dollop of extra syrup on our small plate would be pivotal for covering our remaining crust as we polished off everything that had been handed to us from the Snowday truck.
Gorilla Cheese's delicious "American Melt" and Langos Truck's creamy and sweet "Hungarian Langos" were also notably tasty dishes that we grabbed during our trek around the sprawling space, before that familiar level of complete satiety would set in. We had reached our fill, despite the prospect of the dessert trucks that stood in front of us. Candidly, we managed to grab some of the 45 flavors being offered at Andy's Italian Ice NYC & Espresso Bar- because, well, Italian ices are typically lighter fare or so we rationalized. Unfortunately, we realized that it would be a challenge even to finish off the small samples of "Cake Batter" and "Rainbow" flavors, found the nearest garbage can and headed for home- filled to the gills, but completely satisfied knowing that some of New York's most inventive cooks are doing some really great work right behind the wheel.
- Jane Van Arsdale
Food Highlights from Village Voice's "Choice Streets 2015″

Big D's Grub Truck: "Bangkok Basil Spicy Pork Fried Rice with Runny Egg"

Snowday: "Signature Maple Grilled Cheese"

Luzzo's:Â  "Neopolitan Pizza Margherita"

Sweet Chili: "Sriracha Fries Topped with Spicy Sriracha and Aioli"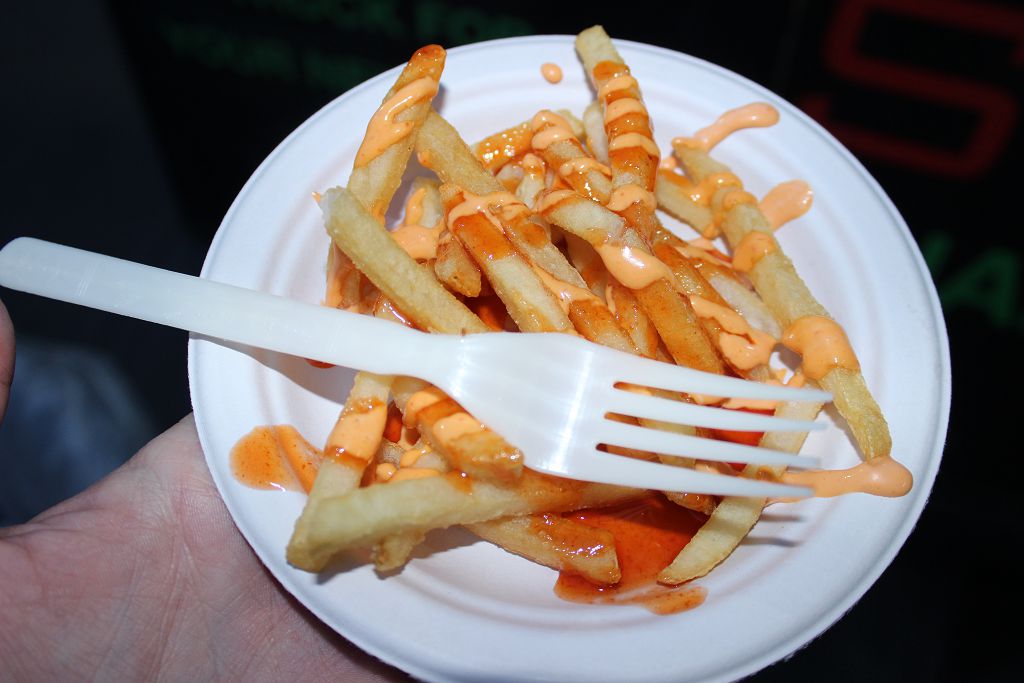 Korilla BBQ: "Chicken Tacos" & "Spicy Pork Tacos"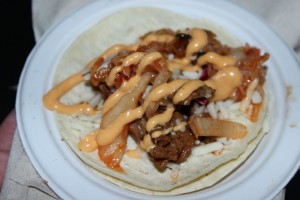 Pizza Luca:Â "Filetti – Grape Tomatoes, Mozzarella di Bufala, Fresh Garlic, Basil, Extra Virgin Olive Oil"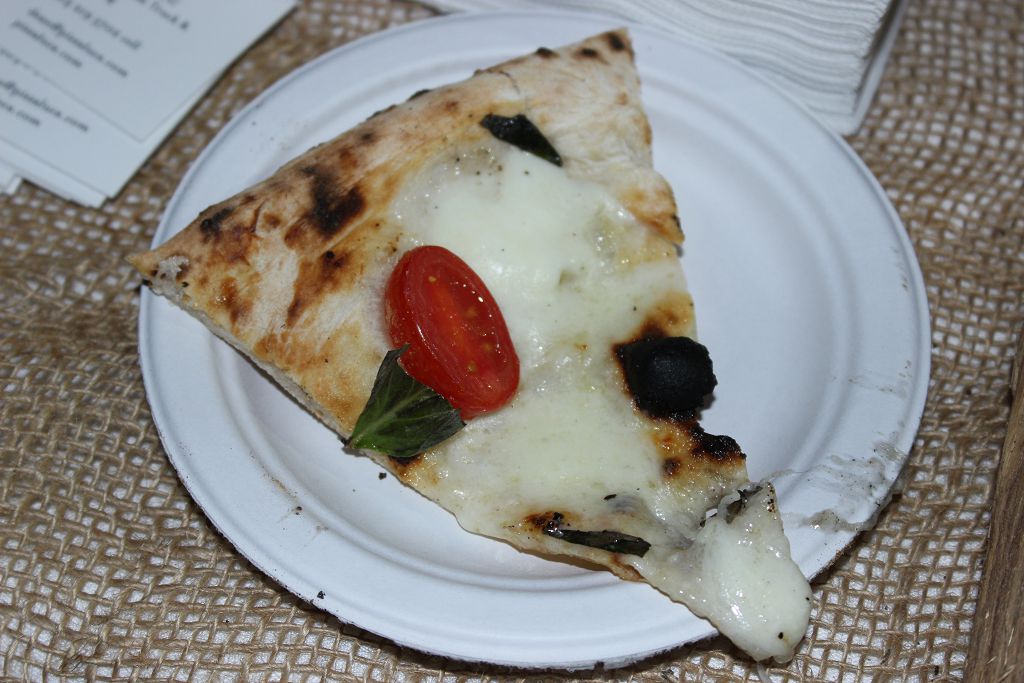 Valducci's Pizza: "Thin Crust Sicilian Pizza"

Langos Truck: "Hungarian Langos"

Mofongo NY
Domo Taco: "5 Spice Braised Pork on Corn Tortilla with Miso Slaw, Pico de Gallo, Monterey Jack Cheese & Sesame Crema"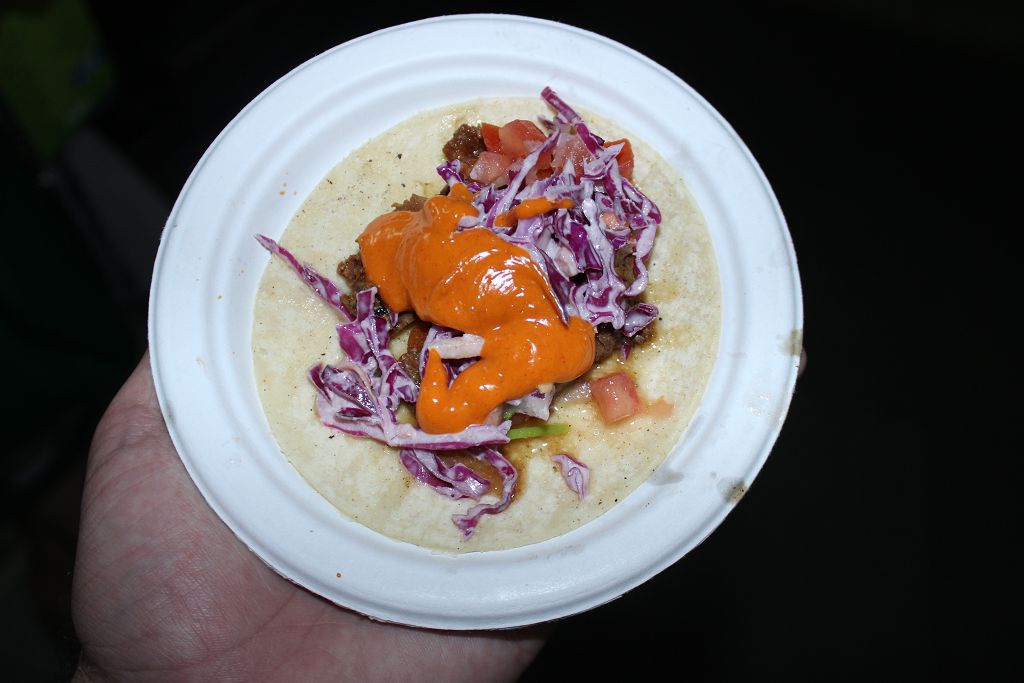 Gorilla Cheese NYC: "Classic American Melts on White American"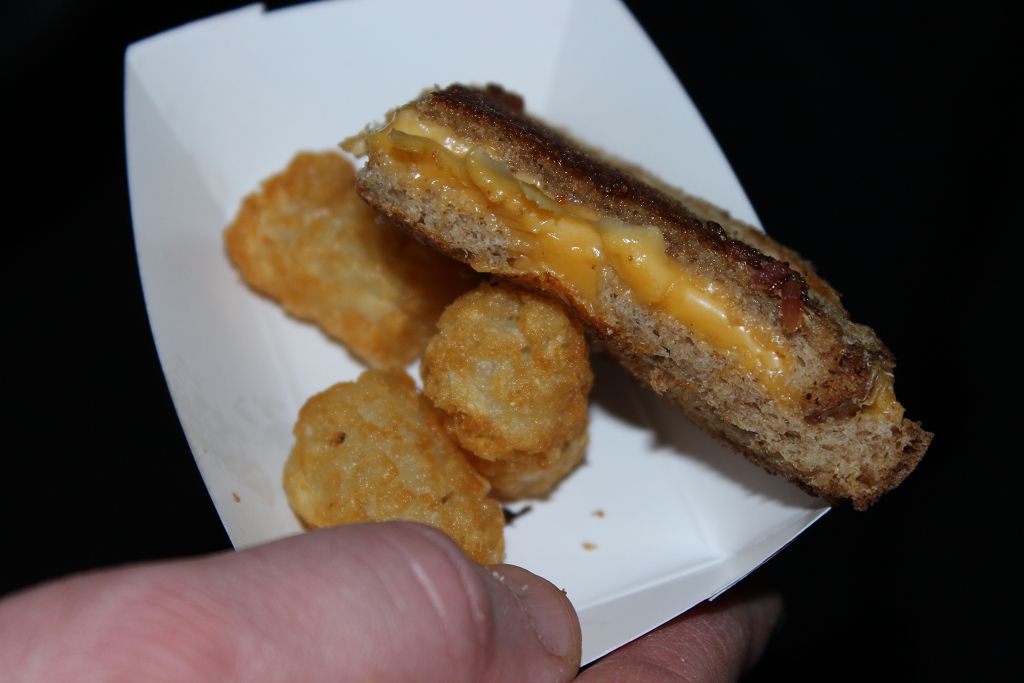 Andy's Italian Ice NYC & Espresso Bar: 45 Flavors of Water and Creme Italian Ices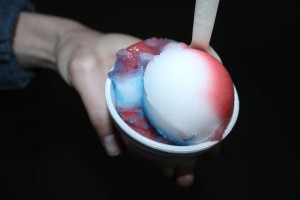 Related Articles
Share
About Author
(0) Readers Comments