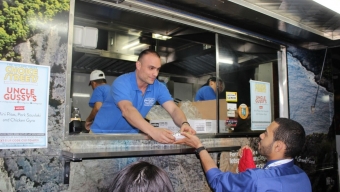 Roughly two dozen food trucks setup shop aboard the USS Intrepid's Pier 86 on Wednesday night as the spacious outdoor layout became a carnival of sorts for the very best in New York City street food. Presented by the Village Voice, the 3rd Annual 'Choice Streets' brought hundreds of hungry connoisseurs toward the west side venue at dusk to enjoy an evening of unlimited drinks on the Hudson River waterfront.
Arrival times were staggered in three intervals, each separated by half-hour increments with VIPs, Early Entries, and General Admission guests all set to enter the fray. Upon arriving, entrants were handed a plastic tasting glass and a food passport which would grant one food sample at each truck, hole-punched by a nearby staffer tasked with keeping everything running smoothly. Fortunately the forecast called for a relatively clear night, so with a breeze coming off the water, the clear and cool evening with music being spun in the background, made for an entirely vibrant setting for the affair.
Now as veterans of 'Choice Streets' historically, we learned to be methodical in our approach since the hustling food truck vendors tend to perfect each plate which can at times cause their lines (and reputations for great food) to build. It's imperative to move quickly, and often to eat one truck's food whilst at the tail end of another's line. With cocktail samples already slurped down from Tito's Homemade Vodka and Four Roses Bourbon, we grabbed a frothy cup of Shocktop "Belgian White" and headed toward the very back of the sprawling area, where Luke's Lobster unsurprisingly had a quickly growing line. Luke's "Shrimp Rolls" as always, were a big hit, overstuffing their mini-garlic bun with fresh chilled shrimp and a dollop of creamy aioli- the combination of which is an absolute home run time after time.
Challenging Luke's for the evening's longest line, Uncle Gussy's was serving up some delicious and traditional Greek fare. Their "Chicken Gyros" were stuffed with lettuce and a spread of tasty white tzatziki sauce and wrapped in aluminum foil, rivaling only the Souvlaki GR truck's salty and savory "Chicken Skewers" for Greece inspired supremacy. Both were notable servings though, doled out by each truck's overly friendly staff. Though seeing and tasting the likes of more familiar trucks like Nuchas, Korilla BBQ and Coolhaus was certainly worth our while, we reveled in the opportunity to experience some trucks for the very first time.
Mike 'N' Willies has been doling out savory tacos and sliders since roughly 2012, but we completely devoured their "Lil Piggies" for the first time at 'Choice Streets.' With a mound of freshly pulled pork enveloped in a fluffy brioche bun and smothered in a chipotle lime slaw and sauce, Mike 'N' Willies pulled out all the stops with this sizable offering, among the best that we tasted all evening long. Just a few mere feet away, we grabbed styrofoam containers filled with excellent comfort food from Yankee Doodle Dandy's truck and noshed on a piping hot "Chicken Finger with Buffalo Sauce," perfectly cooked French fries, and crispy Texas style toast. The portion was generous and downright finger-licking as we eliminated the remains of the small tray.
Though we've outlined the array of eats below in picture form, other mentionables include the recently shuttered Murray Hill haunt Carl's Steaks ("Authentic Philly Cheesesteaks") whose food truck is in full swing, Shanghai Sogo ("Chive & Pork Dumpling"), Luzzo's La Pizza Napoletana ("Neapolitan Pizza Margherita") and Moo Shu Grill, whose "Toasted Moo Shu Wrap" with chicken, cucumber, cilantro and some sweet and sticky sauces was mouthwatering to say the least. Once guests had been stuffed to the gills, they were welcomed to pose for pictures in the Fairway Market sponsored photo booth or along the Focus Camera sponsored red carpet, or enjoy desserts courtesy of The Treats Truck or Kelvin Natural Slush Co. (with or without alcohol). But for us- we had been completely satiated by the delicious and inspired international eats served by some of the City's most well known trucks as well as some up and comers who equally made our heads spin with delight.
- Dave Gendelson
Food Photos from 'Choice Streets 2014′

Love Mamak & Lucky Yim: "Rendang Chicken Served with Pandanus Indused Coconut Thai Jasmine Rice"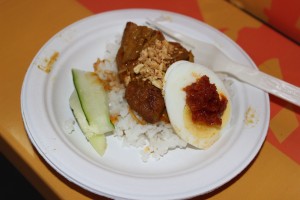 Taipan Fusion Express: "Thai and Chinese Appetizers Cooked in Indian Spices"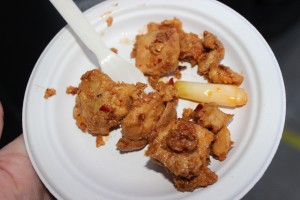 Souvlaki GR: "Chicken Skewers"

 
Sweet Chili: "Bean Sprout Salad with Oranges, Herbs & House Sweet Chili Sauce"

Moo Shu Grill: "Toasted Moo Shu Wrap with Hoisen Sauce & Filled with Cucumber, Cilantro, Carrots, and Famous Ginger Scallion Aioli"

  
Luke's Lobster: "Maine Shrimp Rolls"

Korilla BBQ: "Korean Tacos"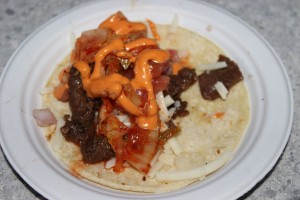 Carl's Steaks: "Authentic Philly Cheesesteaks – Cheese Whiz with Grilled Onions"

Big D's Grub Truck: "Thai Green Curry over Jasmine Rice"
Luzzo's La Pizza Napoletana: "Neapolitan Pizza Margherita"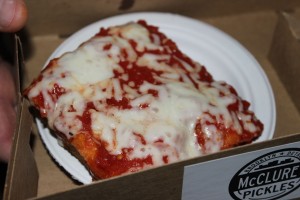 Comme Ci Comme Ca: "Lemon Chicken Cous Cous"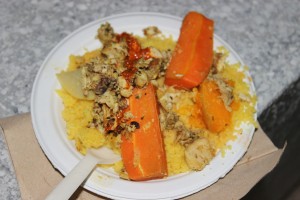 Toum: "Mini Chicken Shawarma Pita Pocket"
Shanghai Sogo: "Chive & Pork Dumpling and Five Spiced Egg"
Mike 'N Willies: "Lil Piggies: Slow Roasted Pulled Pork in Homemade Chipotle Sauce Topped with Chipotle Lime Slaw"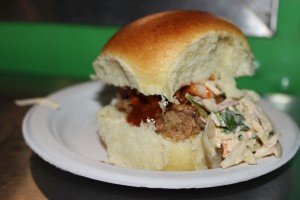 Solber Pupusas: "Pupusas: Corn Patties with Chicken, Cheese and Fillings with Pickled Cabbage and Homemade Tomato Sauce"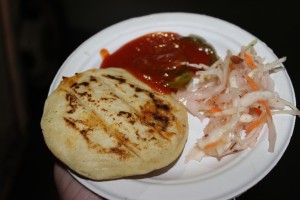 Yankee Doodle Dandy's: "Buffalo Chicken Finger with French Fries and Toast"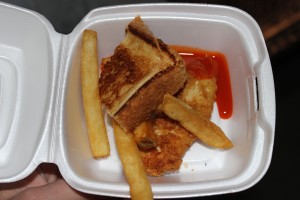 Nuchas: "A Variety of Empanadas"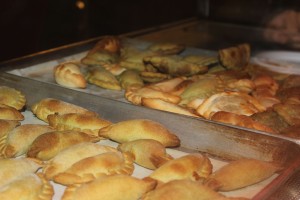 Uncle Gussy's: Mini Pitas, Pork Souvlaki and Chicken Gyro
Related Articles
Share
About Author
(1) Reader Comment