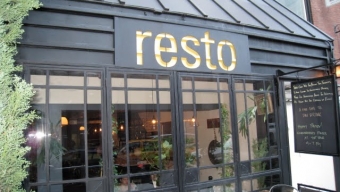 Resto
A LocalBozo.com Restaurant Review
111 East 29th Street near Lexington Avenue, Murray Hill
212-685-5585
Getting There: 6 to 33rd Street
http://www.restonyc.com
In 2015, Resto is the lesser known sister restaurant to the casual nose-to-tail dining meets small but extensive beer mart that is The Cannibal, replete with even smaller offshoots popping up all over town (see: Gotham West Market). But through a small doorway in the Murray Hill outpost lies a fully fleshed out restaurant preparing similar fare, albeit with a lesser focus on animal offal- though the menu is a bit more dynamic. Since opening in 2007, Resto has been a neighborhood trailblazer of sorts- an early precursor for the more sophisticated style of fare that the area has since become ready for. In a part of town associated with frat boys and recent collegiate grads, Murray Hill has undergone a slight resurgence in recent years- and perhaps we have Resto to thank.
Though the Belgian inspired fare here is certainly approachable, your bill can add up in a hurry thanks to a sizable beer list that boasts hundreds of bottled imports from around the globe. Unfortunately though, the most reasonably priced sits at around $8 each. We grabbed a couple bottles of the "Grimbergen Blonde," a Belgian import that meshed elements which were both sweet and hoppy and proved to be a nice marriage to the briny mason jar of "Pickled Vegetables" ($5) that awaited us at the bar.
Each of the restaurant's 10 bar seats were filled with patrons, and each was sipping on a different imported beer. The casual setting here is uniform among the staff and the fare being served- like a friend that wants to introduce you to something new that you'll like. Festively some fun hip-hop is piped in overhead just enough to notice but quiet enough so that you're encouraged to be conversational. Inside the rest of the decor is appropriately minimal, with light fixtures aplenty surrounding the quaint 70 seat space and an exposed brick back wall that allows the main dining area itself to be its own focal point. Warm weather months allow for minimal patio seating- especially for the bottomless brunch types- directly in front of Resto's exterior, adorned like a modernized countryside garden, both charming and welcoming at once.
Though the food at Resto is hardly transcendant and often pricy, it's also quite good. Perhaps because we fancied a trip to an upscale beer bar, we had been expecting something a bit more affordable. But with expectations thrown out the window, order up the "Crispy Shrimp" ($15), playfully described to us as 'buffalo wings with shrimp.' The delicately battered bulbous shrimp are decorated with fried garlic, rubbed with a harissa paste and served in a bed of creamy smoked yogurt. The tender and delicious dish left us longing for a few extra pieces, even as we nibbled on Resto's "Grilled Octopus," nicely charred and served with root vegetables and bitter greens for flavor contrast.
Often, the restaurant will also be preparing some inventive specials and the beautifully plated "Lamb Tartare" ($16) hit it out of the park. Served atop a bed of broccoli rabe pesto, the chewy pink and red lamb hunks were paired with a lemon noisette or a French style of hazelnut butter that richly resembled foie gras and each smooth and decadent morsel was quickly lapped up in anticipation of the main course. Considering that Resto Chef Francis Derby notably hails from 'The Island' and our affinity for the beaked mammal, selecting the "Long Island Duck" ($27) was a no-brainer. Four thick slices of seared duck breast lay in front of us, atop a hearty and creamy albufera sauce and a smattering of lentils. The skin, admittedly a bit fattier than we're used to, was appropriately seasoned and flavorful, allowing the added roasted turnips to really stand out on the plate. Though this may not be the City's best duck, it was a perfectly suitable and well prepared cut for our taste.
Though its often overshadowed by its jam-packed sister eatery, Resto is a fine destination rather than a back-up choice. Its meat-heavy menu is sure to appease any carniverous craving and its beer list will make any of your bearded friends salivate at the seemingly endless selections. An ideal visit here might be some beers and bites as part of your first or last stop of the night considering that much of the menu (and brews for that matter) at Resto can be quite heavy. But so are most other Belgian inspired restaurants that aren't nearly as good as this one.
Rundown of the Meal
Bar Snacks
Pickled Vegetables ($5)
Small Plates
Crispy Shrimp ($15)*
Grilled Octopus*
Specials
Lamb Tartare ($16)*
Large Plates
Long Island Duck ($27)
* Meal Highlight
Related Articles
Share
About Author
(0) Readers Comments