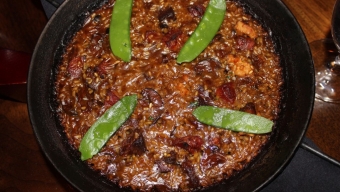 Socarrat Paella Bar
A LocalBozo.com Restaurant Review
963 Second Avenue near 51st Street, Midtown East
212-759-0101
Getting There: 6 to 51st Street
http://www.socarratpaellabar.com

Restaurant Review: Socarrat Paella Bar
New York City is as fickle a culinary region there is in the country. The next new chef opening the next new restaurant seemingly creates a new flavor of the month with each change of season. In this space though, it's essential that credit be bestowed upon one of our favorite and most consistent Manhattan staples. Socarrat Paella Bar currently seats diners at three Manhattan locations, strategically spread out in a handful of neighborhoods- with two sister restaurants La Nacional and La Churreria in close proximity. Over the years, we've visited three of the four and the consistency between locales has always remained steady. Certainly you need to be fully prepared to load up on a carb-heavy meal, but those extra few minutes on the treadmill are well worth their time for a restaurant where we've never not enjoyed a dining experience.
Our most recent visit brought us to Socarrat's Midtown East outpost which sits on a particularly buzzing part of Second Avenue.  The bi-level space is dimly lit for intimacy's sake, but because of the size of each dish, the restaurant is ideal for dining in larger groups. Rustic barn wood lines the first floor ceiling, sitting above the long inviting bar which leads from the front door to the back of the dining area. Behind the small wooden tables and comfortable leather banquette sit a multitude of charming white doors, continuing the country sort of atmosphere exuded inside while some moderate Latin music pipes along in the background. Sights and sounds aside though, it's the aromas that are noticeable immediately upon entering the restaurant, fully abuzz during this weeknight visit.
Typically when paella comes recommended- even at its best- it's often dry and tasteless- a thick, warm smattering of rice that  acts as a bed for its array of toppings and winds up being more filling than it is delicious. Fortunately with paella in its moniker, Socarrat Paella Bar seems to have mastered its signature dish and worked the rest of the menu out from there. With nearly ten different styles to choose from- the house special "Socarrat" ($23) was our hands down favorite. Rich and flavorful, each heaping forkful scraped together the most savory bits of pan-burnt rice, coupled with a dazzling amount of fresh shrimp, chicken, beef, mussels and fish. The combination of ingredients worked together admirably- slightly fishy, in the best and freshest way possible. Equally as well seasoned, the dark rice laden "Carne" ($24) brought together short ribs and chorizo alongside hunks of white meat chicken, mushrooms and snow peas. Though slightly inferior to the original, the paella here is often reflective of one's mood- and on flavors alone, this one was just as delicious.
Despite coming for the paella, Socarrat also offers some noteworthy tapas portions- specializing in sizzling seafood. Their "Gambas al Ajillo" ($12), where a piping hot garlicky broth saturates a collection of bulbous and succulent shrimp, and their "Pulpo a La Gallega" ($15) a deliciously chewy pan seared octopus that is both well seasoned and pre-sliced are primary examples of Socarrat's excellence. For sheer decadence, it's hard to take umbrage with their "Datiles" ($9) or bacon wrapped dates, richly stuffed with cheese for an unparalleled creamy-salty-sweet flavor contrast. Even the restaurant's  "Pan con Tomate" ($5) rubs a uniquely sweet and thick tomato spread atop thick slices of tasty rustic bread, enhancing a simple starter dish to one that belongs on each table.
With tapas plates and paella pans hiding each tabletop, making room for dessert is challenging but certainly not impossible. Not with the likes of deep fried "Chocolate Beignets" and pistachio crumbled "Flan" staring you in the face. But it's the restaurant's "Churros Sunday Funday" that's the star here. Four cinnamon infused and brown sugar sprinkled fingers jut out from a collection of coffee cream, hot chocolate and cocoa nibs- elements which manage to be a touch less sweeter than the rich ingredients might imply. But the beautifully plated dessert hits all the right notes and is among the many must-try dishes sampled during our dinner. With word that Socarrat is ramping up their brunch service – previewing their 'Big Apple Paella' replete with slices of New York's own Katz's Delicatessen Salami and Nathan's Original frankfurters meshed with red cabbage and corn niblets at some recent events- a daytime trip is next on our list. Until then, we'll savor the smells and tastes that we thoroughly enjoyed during yet another memorable visit to Socarrat Paella Bar, a consistently satisfying place to spend any evening in Manhattan.
Rundown of the Meal
Tapas
Gambas al Ajillo ($12)*
Croquetas del Dia ($11)
Datiles ($9)*
Pan con Tomate ($5)
Chorizo
Pulpo a La Gallega ($15)*
Coles de Brusela ($12)*
Charcuteria
Cured Ham with Toast and Fresh Tomato Spread ($16)*
Paella
Carne ($24)
Socarrat ($23)*
Dessert
Chocolate Beignets
Churros Sunday Funday*
Flan with Pistachio Crumbs*
Cheesecake
* Meal Highlight
Related Articles
Share
About Author
(0) Readers Comments