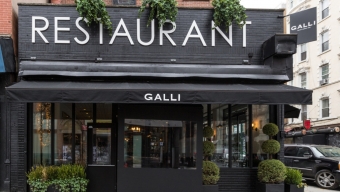 Galli
A LocalBozo.com Restaurant Review
98 Rivington Street at Ludlow Street, Lower East Side
212-466-1888
Getting There: F,J,M,Z to Delancey Street-Essex Street
http://www.gallirestaurant.com
In the ashes of the Lower East Side's swanky 'inoteca, the second Manhattan outpost of modernized Italian eatery Galli opened its doors back in October. The success of the Soho location proved that given the right setting in the right neighborhood, traditional Italian comfort fare will attract a decidedly young crowd- be it for that first or last drink or for a more authentic sauce-laden dinner. Our latest visit would serve to celebrate the restaurant's recently spawned 'Throwback Brunch' menu inside of a festive atmosphere that meshes 1990′s hip hop classics with anything but run-of-the-mill morning cuisine.
Galli's corner location is attractive for a multitude of reasons but perhaps none more so than the ample light that peers through the many windows in the daytime. The clean looking white brick interior plays as a perfect setting for an afternoon meal- with plenty of opportunities to people watch on Ludlow Street should your table conversation run stale. A sizable and ornate chandelier hangs overhead illuminating any remaining darkness that the sunlight doesn't reach as tracks from A Tribe Called Quest and Wreckx-n-Effect ensure that you'll be bobbing your head in familiar fashion while waiting for your drinks to be delivered. Traditional brunch-time cocktails like the "Mimosa" and house made "Mad Mary" are available, but the sweet with strawberry "Lili's Curves" left us yearning for warmer weather. With a kick of pepper, the tequila-based drink was crisp and refreshing- a much welcome change of pace to the usual array of drink offerings.
While many restaurants tend to cash in on the brunch craze, Galli doesn't lose sight of consistency simply because its kitchen is opening a few hours earlier. The "Hangover Platter" ($14) uniquely speaks to that sentiment as a veritable smorgasbord of deliciously deep fried Italian eats. The generous portion pairs two savory "Chicken Parm Sliders" with bulbous "Riceballs" and a pair of "Mozz Chips" near a ladle filled with thick red tomato sauce for a combination platter that will surely make you forget the pulverizing headache that dragged you out in the first place. The "Breakfast Bucatini" ($15) meanwhile is a rich portion of al dente pasta strands lacquered in a creamy cheese sauce with shreds of salty bacon littered throughout the dish. Topped off by a single fried egg, the runny yolk and bacon combination is anything but traditional when paired with the decadent slurps of fresh pasta. Galli's "Frittata" ($12) is probably the most basic of the brunch offerings, but it's also jam-packed with a bevy of flavors as the chicken apple sausage and grape tomatoes are smoothed out by an oozing of fresh mozzarella cheese.
Galli's approach to brunch is hardly a novel one, but when well executed by a friendly staff inside of an entirely comfortable setting, the entire experience is one that begs for repeat visits. While there are other offerings like their "Kale Caesar" ($11) and "French Toast" ($13) that we weren't able to taste, we tend to live by the credo: 'there's always next weekend.' Especially when it comes to weekend brunch.
Rundown of the Meal
Cocktails
Mad Mary
Mimosa
Lili's Curves*
Starters
Hangover Platter ($14)*
Classics
Breakfast Bucatini ($15) *
Eggs
Frittata ($12)
*Meal Highlight
Related Articles
Share
About Author
(0) Readers Comments