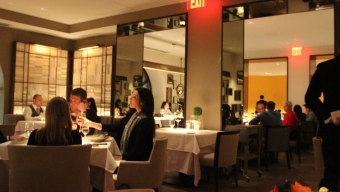 Clement
A LocalBozo.com Restaurant Review
700 Fifth Avenue at 55th Street, Midtown East
212-903-3918
Getting There: E,M to Fifth Avenue – 53rd Street; N,Q,R to Fifth Avenue – 59th Street
http://newyork.peninsula.com/en/fine-dining/clement

Restaurant Review: Clement
Tucked just a few steps above the ground floor of the posh Penninsula Hotel in Midtown sits Clement, a ritzy refined restaurant whose spacious modern dining room is far removed from the pitter-patter of Fifth Avenue foot traffic. Though the restaurant itself remains dimly lit on the inside, the bustling streetlights peer in through the space's windowed walls illuminating Clement's opulent interior. It's these intricacies- a small bouquet of fresh flowers and the spark of candlelight that sits upon each table near a meticulous arrangement of silverware- which show that the restaurant seems to notice the finer points of dining out in New York City and to subsequently highlight all that seems to have been forgotten among the rustic farm-to-table fray that's been ushered in all over town.
At Clement, a slightly older skewing crowd dines around large square tables and comfortable corner banquettes, each equally spruced up with class by white-linen tablecloth settings. The refined interior is brought to life by the mirrored corridors that serve as dividers for three sizable dining areas complemented by a moderate music level that sets a comfortable ambiance despite a decidedly lavish atmosphere. Although any cocktail list that sits in the $23-$25 range alongside a selection of $13 Heinekens are likely to render more conservative diners apprehensive, Clement's value lies in its exceptional Pre-Theatre Menu where three course offerings at just $43 is a downright steal for the environment provided. And in a hotel restaurant no less. Even more remarkably, Clement offers shuttle service to usher guests toward their theatre of choice free of charge following dinner.
Fortunately the caliber of fare prepared by unheralded Chef de Cuisine Brandon Kida is largely outstanding, despite only being served Tuesday through Saturday. A succulent array of six assorted "Crudo" ($28) sourced from Long Island combines Nantucket Bay scallops and chilled Wellfleet oysters neatly arranged on an bed of crushed ice. The absence of razor clams (the dish's usual third component) on this night did litle to detract from the flavors of smooth briny seafood being slurped straight from each shell. Clement's outstanding "Octopus" ($26) meanwhile had each of its ingredients fully in tact. A handful of seasonal and crunchy endives sprout from the center of the dish surrounded by four bulbous hunks of perfectly charred purple cylinders. Its crispy seasoned exterior and meaty consistency is further enhanced by the subtle hints of citrus atop a creamy bed of harissa for textural contrast to the already excellent dish.
Drizzled in a warm bath of roasted duck broth and plated with an enitre Maitake mushroom, Clement's gorgeous portion of "Sea Bass" ($36) proved to be a flavorful alternative to the slightly superior "American Wagyu" ($58). The perfectly prepared and generously portioned fish is delicately seared on one side, pulling apart with each slight touch of the fork. Plated with a side of salt crusted potatoes atop a garlic confit, the steak is sliced and delectably served over a silverberry jus, providing just enough sweetness to counter the heartiness of the meat. Delivered tableside at an immaculate medium-rare, the "Wagyu" exceeded even our lofty expectations in texture and flavor, just salty and seasoned enough to make your mouth water before reaching its juicy, savory zenith.
With such dedicated service all around us- including some outstanding wine suggestions courtesy of the hotel's Wine Director, Jared Fischer- dessert could have been an afterthought. Thankfully the likes of the decadent "Chocolate Caramel" ($15) with passion fruit ice cream and the slightly lighter "Vanilla Poached Pear" ($14) served with a crunchy pistachio sponge, ensured that our full attention remained on the dishes in front of us; both of which were mind-bendingly outrageous dessert offerings. Candidly, the resulting third course should have been no surprise to us though, what with all of the attention being paid to the finest details almost as immediately as we had arrived. From Chef Kida adorning each plate both decoratively and deliciously to the attentive service that left our water glasses empty for nary a minute, Clement manages to succeed where so many others have seemingly become passive and in a sense, careless. And it's these- the smallest of details- that can transform a meal that's just good into one that's truly spectacular.
Rundown of the Meal
Clement's Pre-Theatre Menu (Three Courses – $43; Served Tuesday – Saturday, 5:30pm-6:30pm)
Crudo ($28)
Octopus ($26)*
Sea Bass ($36)*
American Wagyu ($58)*
Chocolate Caramel ($15)*
Vanilla Poached Pear ($14)*
*Meal Highlight
Related Articles
Share
About Author
(0) Readers Comments