elan
A LocalBozo.com Restaurant Review
43 East 20th Street near Park Avenue, Flatiron District
646-682-7105
Getting There: 4,5,6,L,N,Q,R to 14th Street – Union Square; 6 to 23rd Street
http://www.elannyc.com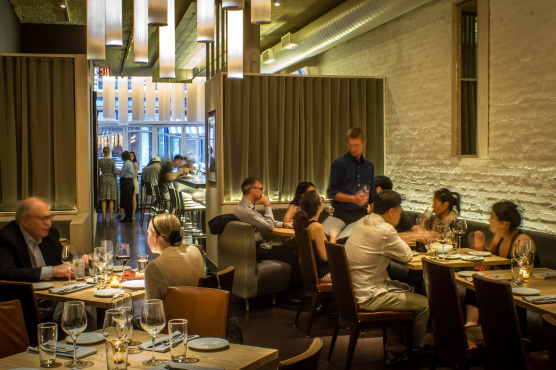 (Interior Photo Courtesy: Time Out NY)
With promises of lollipops filled with foie gras and sea urchin splattered around inside a bowl of guacamole, it was with great anticipation when we eventually made our way to the Flatiron District's elan. Having been one of 2014′s most long awaited arrivals, the restaurant, helmed by acclaimed Chef David Waltuck offered promises of eccentric fare and inventive culinary technique inside of a 20th Street space that's been ('ahem') questioned by most critics. Pleasantly though, elan exceeded even our loftiest dining expectations and then some.
Inside, elan is noticeably undecorated- in fact, the only atmospheric piece that is impossible to ignore sits glaringly on the wall upon entering, where the self-portait of painter/photographer Chuck Close keeps a watchful eye on a modern looking bar space. On this night, nearly each of the bar's dozen seats are occupied as Chef Waltuck makes his way out from the kitchen to meet and greet some of the excited guests sitting nearby sipping on affordably priced cocktails like the rye friendly "This Just In" and the mezcal-heavy "Smoke, No Mirrors" ($13). Though the menu here is best described as American, the accomplished chef shows a definitive flare for Asian sensibilities where dishes like "Soy and Sake Cured Beef" ($16) and "'General Tso's' Sweetbreads" ($19/$35) jump out inventively among the more traditional fray.
The layout of the dining room is equally bereft of much in the way of decor, but we found the brightly lit ambiance to be somewhat refreshing. Sleekly designed with painted white brick walls lined with mirrors that hover above the dark leather banquettes, the space is illuminated by cylindrical white light fixtures perched overhead just enough to be noticed without being overly eye-catching. It's not that elan lacks an ambiance- instead, it's one that allows you to focus on the two most important things when dining out in New York City- the food and the company.
Immediately, we are greeted by two warm "Everything Pretzel Buns" served with a rapidly melting mustard butter that decadently and deliciously sets the tone for the dishes to follow. Delicate soft envelopes labeled "Steamed Scallop & Foie Gras Dumplings" ($18) are served next, rich in flavor yet refreshingly soft with each savory bite. The "Grilled Seafood Sausage" ($19) meanwhile is the meal's true star- perhaps even superior to the similar style served at The Breslin nearby. Perfectly seared and served atop a tangy layer of sauerkraut for contrast, the buttery blend mixing hunks of scallops and fresh shrimp is a uniquely marvelous carryover from Chef Waltuck's previously shuttered New York staple Chanterelle.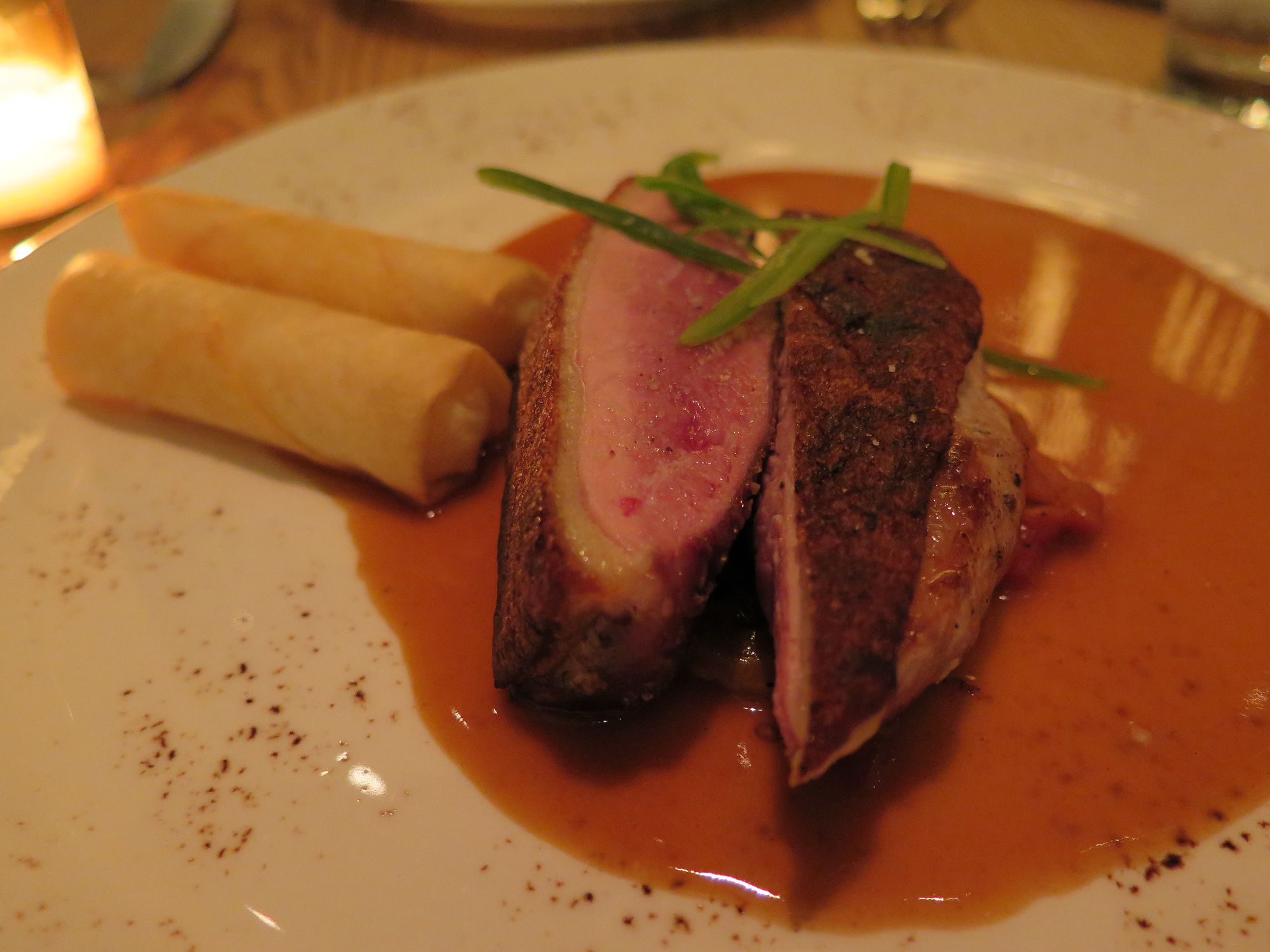 A fitting puddle of sherry vinegar and peppers decorate the beautiful plate that lies underneath elan's "Seared Duck Breast" ($34). Wonderfully prepared with a crispy well-seasoned layer of fatty skin that surrounds the tender morsels of pink meat, the side of two spring rolls are a welcome addition to soak up any of the flavors that remain. Though it's hard to leave much behind. While most of elan's menu contradicts many of Manhattan's current dining trends, the restaurant's generous portion of "Shredded Brussels Sprouts" ($10) is a fine nod to the shift in present tastes. Littered with chunks of Chinese sausage, the sliced green sprouts are pleasantly salty, complimenting the duck's subtle and sweet base in splendid culinary fashion.
Chef Waltuck's return to the New York City restaurant scene made springtime's opening of elan one of 2014′s most anticipated and although the restaurant is still in its infancy generally speaking, much of the fare that we sampled was utterly remarkable. elan has been derided for all that it 'lacks' as old school purists will long for the days of Waltuck's previous establishment as they bemoan the dining area's feel as a sterile one. I suppose though that if you dine out often enough, it's easy to lose sight of the integral pieces to a dining experience in New York City. With a comfortable, modernized feel inside of a place that plates some truly great food, elan is an establishment that we actually credit for honoring these little things- the ones that we hold most dear.
Rundown of the Meal
Appetizers
Steamed Scallop and Foie Gras Dumplings ($18)*
Grilled Seafood Sausage ($19)*
Main Courses
Seared Duck Breast ($34)*
Sides
Shredded Brussels Sprouts – Chinese Sausage ($10)*
*Meal Highlight
Related Articles
Share
About Author
(1) Reader Comment