For a glimpse at our reviews of every bar in Hoboken, give a click over to our Spirits in the Sixth Borough category. Otherwise, keep it here for a look at distinctive bars in each borough where you can follow our sudsy travels with LocalBozo.com's "Drink Here Now."
Cooper's Craft & Kitchen
169 8th Avenue between 18th and 19th Street, Chelsea
646-661-7711
Getting There: 1 to 18th Street
http://coopersnyc.com/coopers-chelsea/
Restaurant Review: Coopers- Chelsea
East Village dwellers know what you're about to find out: Cooper's Craft & Kitchen is just about the best craft beer bar that you'll find anywhere. Now westside living folk can all rejoice in unison with the restaurant's second location in Chelsea, which popped open shortly after Christmas. With a rustic atmosphere and an unparalleled atmosphere for the decidedly cool beer swiller, the new location is a little bit different than its older brother- but the appeal here is equally evident.
An array of old barn wood panels line much of the space inside, where old oak barrels and chalkboards are aplenty amid a dimly lit vibe. Up a few stairs and the back of the space is more of the same- with enough brick exposed that the Cooper's team looks like they may have unearthed the perfrect locale to sit and slug down microbrews comfortably. The beer list changes fairly often and while you'll find some of the usual suspects (in a good way) like Ommegang, Otter Creek and Bear Republic, the restaurant and bar has also teamed with local beer makers Greenpoint Harbor, Peekskill and Barrier to create beer especially for the Chelsea location.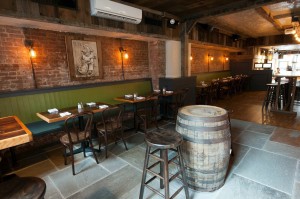 The prices here are what you'd expect from a higher end gastropub, though the food far exceeds the norm. "Beer Infused Cheese Dip with Pretzels," "Wagyu Beef Slders," and crispy deep-fried "Cooper's Wings" set the stage for a delicious array of comfort-style eats, perfect for pairing with the darkest of stouts or the wheatiest of witbiers. We sampled some "Deep Fried Olives," "Mushroom Flatbread," and some excellent "Tater Tots," and the fare is tasty enough here to attract non beer-drinkers.  The cocktail program meanwhile, is created by beverage director David Clarke and showcases a knack for infusing some ambition into a City already rife with masterful mixologists. Grab the "Jalapeno Margarita" and then grab two more. You can thank me whenever.
The Rundown
Bar Type - A very new, very fitting craft beer bar meets gastropub
When to Visit – As of our first visit there weren't any televisions in sight. That doesn't mean they aren't coming, but the place is very new so if you're heading in for game night, I'd advise that you call first. Or at least check their website. Otherwise day or night, weekend or weeknight- it's all appropriate.
Value - You can score cans at Cooper's for $5-$6, bottles for $7-$8 and freshly poured drafts for $7 and up. It's not $1 pitcher night at your local spot in your old hometown, but this is New York and for the diversity in beer selection, it's right on par with everywhere else nearby.
The Lowdown – Craft beer bars have been popping up in epic fashion, but very few of them manage to get all of the signature characteristics down pat. There's a reason that the Cooper's team waited so long to open a second location and now that they've perfected their business model, both the east and west side can now reap the benefits. Stop by the Chelsea location for a bite to eat and your first few rounds of beers. Fair warning: you may not want to leave.
- Alex Corrine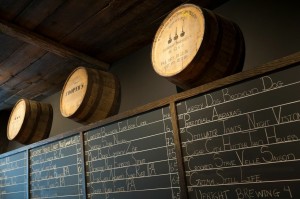 Related Articles
Share
About Author
(0) Readers Comments