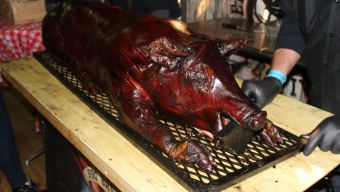 Two sold out sessions packed hundreds upon hundreds of hungry New Yorkers in to sprawling west side venue The Tunnel on Saturday. The array of all you can eat and drinkables was unparalleled for the return of the annual Beer, Bourbon & BBQ Festival to New York City, the first stop on a traveling food-focused tour that touches all along the east coast. A bevy of beers, spirits and live music had attendees parading around the spacious setting, highlighted by the unforgettable aromas of pork centric fare.
If you've followed our site for some time then you've heard us rave about this festival before- it's become a staple each and every January. This year, we eschewed the afternoon "Bacon Bash Tasting Session" in favor of the four hour "Whole Hog Pig Pickin' Session" which culminates in a fully cooked pig being roasted and hand served to the masses on site. With tasting glasses in hand, we headed for the first breweries that we could find- and fortunately, they were literally everywhere. Amongst some of our favorite pours of the evening, we quickly slugged down pours of Kuka Beer Company's "Banana Nut Brown," Hatuey's "Cuban Style Ale" and Green Flash's excellent "Soul Style IPA"- each of which we were tasting for the first time.
Despite more than 100 beers being poured, it was difficult not to be enamored by the limitless supply of savory barbecue spread around the venue. We utilized Sixpoint's "Beast Mode" to wash down much of the mouthwatering dishes from Handsome Devil BBQ out of Newburgh, New York. Plate after plate of savory "Bacon Wrapped Meatballs," "Applewood Smoked Chicken Wings," a slightly sweet "Blueberry Muffin Sausage Fatty" and succulent servings of tender "Brisket" and "Pulled Pork" were doled out all around us- a plus given that we were never forced to wait for much to taste. Kloby's Smokehouse meanwhile was dishing out some "Bread Pudding" for textural contrast as we sipped on some "Old Chub Nitro" beer from Oskar Blues Brewing Company. Blacksauce Kitchen's "Smoked Jowl Mac-N-Cheese" was hands down our favorite of the day's available fare, rivaled only by their "Biscuits & Gravy" which were deliciously buttery.
Beer swillers weren't the only folks to have their thirst appeased at this year's Festival as an array of delicious ciders from Badass, Original Sin, Crispin- and an excellent serving from Down East Cider House out of New England, made gluten-averse attendees sure to smile. On the bourbon side of the spectrum, pours of Redemption "Rye" and Evan Williams "Single Barrel" went down noticeably smoothly, but the Cabin Fever "Maple Whisky" had us returning for repeat trips. It's approachable for novices without being too sweet for more regular drinkers and while there's a certain gimmick in flavored spirits, this one manages to enhance the quality rye.
We'd be remiss not to mention Four Roses Bourbon, serving a "Lawrenceburg Cooler" from a sizable punch bowl that paired honey syrup with lemon and grapefruit juice for a sweet and refreshing mixed concoction. At 8pm, the Handsome Devil team assembled front and center to pick apart and serve a piping hot hog to a crowd of eaters with their hands outstretched. The juicy tear-apart meat was plucked straight from the pig and plated, served in a pork jus for additional flavor. Needless to say this was some of the freshest pork that we've ever been served- and some of the tastiest. With one final bite of meat and one final walk around the space- stopping at Heavy Seas for a "Loose Cannon" and Full Sail for a "Session IPA"- we headed toward the coat check. Two days later and our scarves and jackets are still rich in aroma from the smoked meats that we enjoyed this weekend. And each sniff still evokes the memory of live music, crisp beer and tender barbecue – a memory we wish that we could revisit more than just one time each year.
- Dave Gendelson
Related Articles
Share
About Author
(0) Readers Comments