Espoleta
334 Bowery near Bond Street, East Village
212-466-3300
Getting There: 6 to Bleecker Street; B,D,F,M to Broadway-Lafayette Street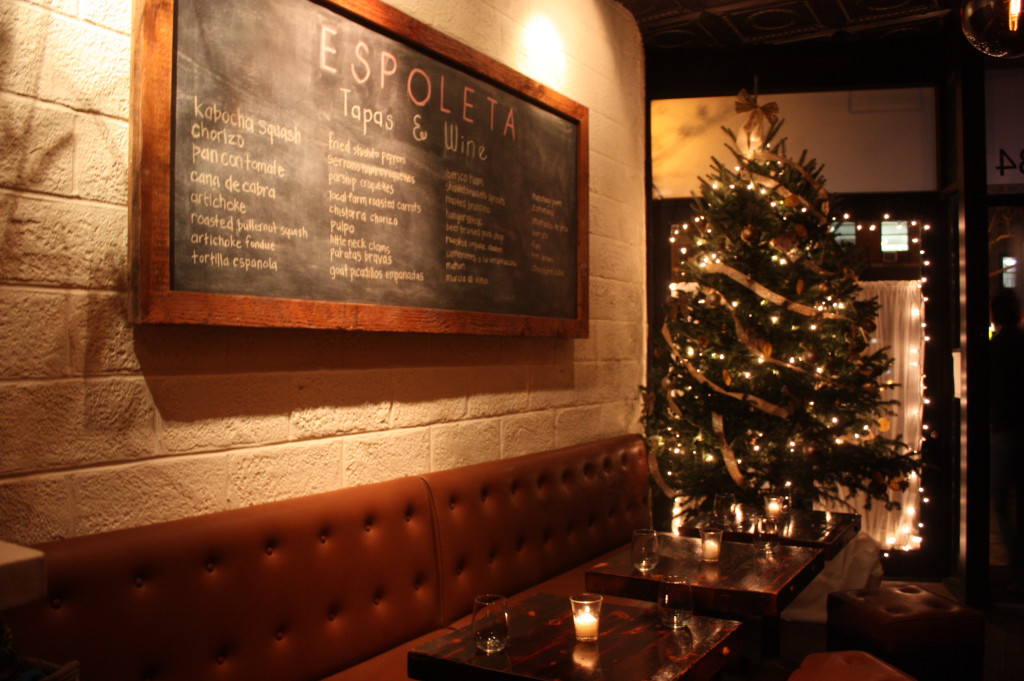 Everyone has their favorite New York City "place." Whether used to impress one's friends or used as a go-to spot to bring a new date, there are a handful of can't miss city spots that always seem to deliver for each of us time after time. The newly opened Bowery restaurant Espoleta, in the recently shuttered Forcella space, has the potential to be one of these "places." Thursday night, the Tapas-style restaurant helmed by Chef Sue Torres opened its doors for a grand unveiling and we made sure to stop inside to celebrate the restaurant's grand opening.
The restaurant itself is both intimate and classy befitting a casual night out with friends or a comfortable spot for a first date. Festively, a brightly lit Christmas tree lights up one side of the space while a multitude of wine bottles line the walls in eye catching fashion. Toward the back of the restaurant are a handful of comfortable booths and tables and a narrow path leading to them from the buzzing bar area.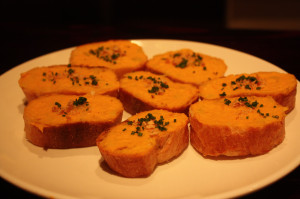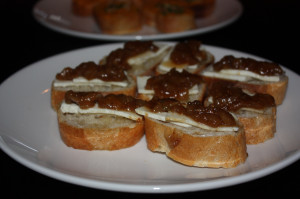 Tonight, Chef Torres is showcasing some of the eclectic Spanish-inspired fare that is but a glimpse at the Espoleta full-service menu. With glasses of tasty Sangria in hand, we approached the array of eats laid out in a center table in the middle of the room. Since everyone was able to help themselves, we were fortunate that nobody seemed to notice just how many repeat trips we made up to the table. Of the four "Pintxos" being sampled, the "Pan con Tomate" (with jamon serrano, olive oil and a touch of sea salt) appeared to be the most popular. Though the samples of "Artichoke with Manchego Cheese" and "Cana de Cobra Goat Cheese with Fig-sherry Jam" were equally delicious, the serving of "Kabocha Squash" was the scene-stealer here, served with confit, mascarpone and hazelnut. Squash always seems to pair well with the cold weather outside, and seasonally speaking, this was a big winner.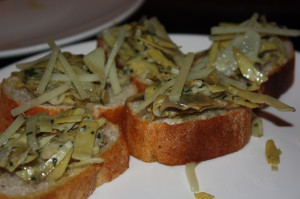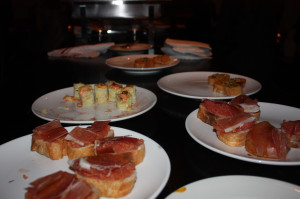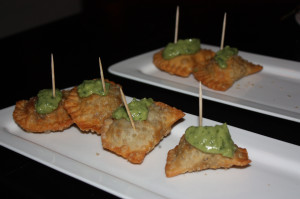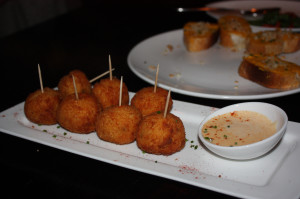 We also made sure to load up on some of the evening's mouthwatering Tapas dishes. The "Tortilla Espanola" prepared with potatoes, local farm eggs, seas salt and a dollop of aioli was a tasty precursor to the most-talked about food of the night. The "Fried Shishito Peppers" came with both smoked sea salt and a warning: "One in every twenty is very spicy." This made some folks hesitate momentarily and while others- we'll call them 'daredevils'- took a big spoonful of peppers at once. Though we didn't catch anybody gasping for water, we did try one pepper, and it was incredibly tasty- nicely flash fried and flavorful. Of the remaining Tapas, the "Goat Piccadillo Empanadas" were superior to the "Serrano Ham Croquettes" and the "Parsnip Croquettes."  The crispy exterior shells crumbled with each bite, revealing a rich piping hot meat-filled center.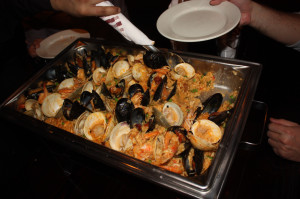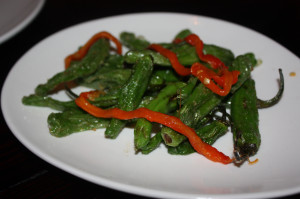 No Spanish restaurant would be complete without a serving of "Paella" and Chef Torres served up a hearty portion of the traditional dish replete with clams, chorizo, mussels, prawns and peas ensconced in nicely cooked rice. Though you won't find the dish on the menu at Espoleta, the staff made it clear that it can always be ordered. Just as we were reaching our fill, the staff unveiled another appearance of "Pan con Tomate"- this time with boquerones (anchovies) instead of jamon- which the Chef's team had whipped up and served spontaneously.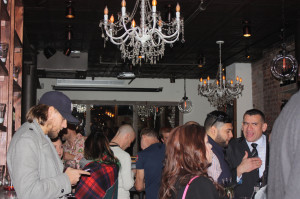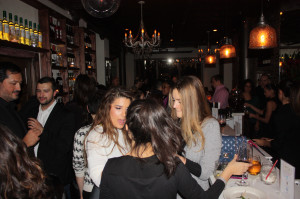 Though some of the food that we sampled Thursday night may not make the final menu at Espoleta, the evening served to show off some of Chef Torres' culinary instincts and delivered some spectacular flavors for lovers of Spanish fare. The restaurant's desirable location sits in a part of town that's relatively short on this style of inspired food. And it's fun and festive vibe make Espoleta a can't miss dining option in 2015.  It's certainly one "place" that's certain to impress our groups of friends.
- Jackie Benavides
Related Articles
Share
About Author
(0) Readers Comments