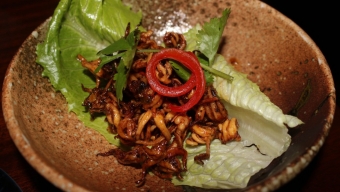 Rasa
A LocalBozo.com Restaurant Review
25 West 8th Street near Fifth Avenue, Greenwich Village
212-253-9888
Getting There: A,B,C,D,E,F,M to W. 4th Street- Washington Square; 1 to Christopher Street-Sherdian Square; N,R to 8th Street-NYU; 6 to Astor Place
Because New Yorkers are so used to frequenting fusion restaurants where styles like Chinese, Vietnamese and Japanese are often whipped up in the very same kitchen, it's only natural that Greenwich Village Malaysian eatery Rasa would offer an eclectic array of different cuisines. But as one of New York City's only truly authentic Malaysian restaurants, the small quaint setting is one where the place's competency lies in their ability to stay true to tradition. And it's with the ingredients and recipes sourced directly from the homeland of Rasa's brother and sister co-owners that allows the restaurant to truly shine.
Rasa is named after a small village north of Kuala Lumpur, an impoverished place where Tommy and Camie Lau were raised, and the place serves as a standing tribute to the comfort style street fare prepared in the region. Their kitchen and restaurant experience in the states spans three decades, including Tommy's previous kitchen stewarship at Union Square's Laut which was afforded a Michelin Star under his culinary direction. Similarly, Rasa is a neighborhood gem of hole-in-the-wall fame on a relatively quiet side street.
Inside, Rasa is tastefully subtle with dim lighting and exposed brick walls providing a minimalist decor that allows you to focus on the incredible smells emanating from the kitchen as you first walk in. Music is delicately played in the background, but acts as white noise- a pleasant surprise considering how loud and noticeable the sound can be elsewhere. The small marble bar is illuminated by several orb-like bulbs hanging from above and the banquettes that line the walls allow Rasa to mesh a lounge setting with a neighborhood eatery quite effectively.
The friendly staff is constantly buzzing from table to table- bringing out dishes like "Fried Anchovies with Peanuts" and "Mango," "Guava" and even "Lychee" infused shots to sip upon while perusing the place's expansive menu. Though you can certainly credit the restaurant for expanding their fare to other styles of cuisine to attract a wider audience, the place's bread and butter lies in the authentic Malaysian dishes- recipes which are constantly being cultivated and tinkered with to appease the fickle dining habits of never satisfied New Yorkers.
Sticking with mostly small plates and comfort fare, Rasa's best offerings were some that we often take for granted. The crunchy, crispy deep fried "Malay Curried Wings" crackled with each bite as the juicy tender meat buckled in our teeth. Served beside a small helping of chili sauce, the pairing of savory and sweet worked together admirably- though they pailed in comparison to the offering of squid dishes we'd also enjoy. First the "Crispy Calamari" dusted with spices and a drizzle of dark chili sauce was a revelation. Each tangy flash fried bite was surprisingly light and deliciously chewy with an explosion of flavor that rivaled the inventively crunchy "Singapore Crispy Squid." Each tiny tentacle was marinated in sambal chili but was never overly fiery- delectably crackling with every mouthful.
Known for their inventive sauces, the "Chili Crab with Fried Mantou" managed to provide the most eccentric collection of distinctive flavors with pillows of fluffy bread to be 'ripped and dipped' into a small red bowl of spicy chili tomato sauce, soft shell crab meat, garlic and eggs. The currently off-menu "Crispy Tofu Puffs" provided an equally delicious sweet soy chili sauce for dipping the soft cubes of tofu, and candidly, anything else that we could find on the table worth dousing in the scallion filled base.
Though we can't in good conscience remember a time where we've knowingly opted to dine out for Malaysian, it's probably a result of habit rather than taste. The sheer array of sauces and dishes served, despite the fact that we stuck to a mostly appetizer filled evening of eats, showed a restaurant with an uncanny penchant for delivering inspired and traditional regional dishes. In Malaysia, Rasa might mean 'taste,' but in New York City, Rasa means 'satisfying.'
Rundown of the Meal
Appetizers
Fried Anchovies with Peanuts
Singapore Crispy Squid*
Crispy Calamari*
Indonesian Crispy Tofu Puffs (Off-Menu)
Malay Curried Wings*
Seaweed Salad with Vinaigrette Dressing
Chef's Specialties
Chili Crab with Fried Mantou
Sushi
Spicy Mackerel Roll (Off-Menu)
*Meal Highlight
Related Articles
Share
About Author
(0) Readers Comments