Check out our coverage from 2013′s "Aki Matsuri" here.
No organization is as appreciative of the lineage and customs of Japan's remarkable culinary history as The Gohan Society, whose initiatives toward expanding the knowledge of such a storied heritage reaches is focused on reaching the likes of chefs and journalists, artists and artisans- and any City inhabitants in between. Thursday evening, the organization returned to Williamsburg's Brooklyn Brewery and with the help of some of New York City's most esteemed restaurants and chefs, hosted 2014′s "Aki Matsuri," a one night only walk around food tasting of some of the City's most mouthwatering Japanese-inspired dishes. For three full hours, a few hundred guests would be treated to unlimited pours of beer, sake and wine, a live taiko performance and an unparalleled array of eats from some of the most recognized restaurants in the country.
The term "Aki Matsuri" is a celebration of Japanese heritage and as such, the word celebration is perhaps the best way to describe Thursday evening's tasteful affair. The Brewery was swarmed by guests filling up on cups of "Brooklyn Blast" and "Brooklyn Oktoberfest" among eight other alternatives as they weaved their way from food station to food station. With more than a dozen purveyors on hand, there was no shortage of delectable fare from which to choose- though we certainly had earmarked some of our favorites prior to stepping inside.
It's certainly a rarity to see the likes of Jean Georges, Morimoto, Boulud Sud, Gramercy Tavern and Red Rooster Harlem manning tables all in one place, but with the evening's cause such a noble one, each restaurant seemed to prioritize having a presence at "Aki Matsuri." With an oil-lacquered bread stick jutting out from the otherwise clear bowl, Jean Georges' "Sea Trout and Oyster Tartar" was an immaculate way to begin our evening. The chilled raw seafood was incredibly fresh and with a lemon squeeze, paired excellently with the crisp and soggy salted brown bread. Speaking of savory pairings, the "Pork Belly Adobo Ramen Burger," though a bit of a departure from the classically invented collaboration, was still delicious in its own right. The team of Keizo Shimamoto (Ramen Co.) and Neil Syham (Lumpia Shack) enveloped fatty hunks of pork belly in Sun Noodle patties atop a dousing of chili and soy glaze and the final product worked together admirably.
Between bites, we joined dozens of other guests in perusing the long table of silent auction items which ranged from Japanese knives to one-of-a-kind New York City dining experiences at spaces like Oceana, Talde, Bouley and more with all of the proceeds going to the Gohan Society's Chef Scholarship. The result of the evening's fundraising? To send two local and accomplished chefs to Japan to apprentice under some of the country's finest culinary minds. Though our resulting bids came up short, it was encouraging to see the philanthropic guests in attendance all bidding up their auction items in friendly competition for such a worthy venture.
From there we picked on some fantastic "Passed Hors d'oeuvres" of sushi courtesy of Hasaki and some freshly boxed "Hako Sushi" from Blue Ribbon before moving a bit away from the seafood. The newly re-opened Park Avenue Autumn's pork-based "Kurobuta Schnitzel" was utterly fantastic. Deep fried and topped with a pear slice and some capers for garnish, the result was a piping hot and well seasoned delicacy that mixed sweet and savory elegantly. And while we're used to consuming only the freshest selection of raw fish from Nobu, the restaurant's "Umami Wings," traditionally meaty and tangy with lime and pepper for garnish were equally as sought after. But we'd be remiss if we failed to mention Hakata Tonton's outstanding "Braised Pork Belly with Sansyo Rice." Beautifully plated with a rich and savory flavor profile, the restaurant's barking chef immediately drew our attention to his dish and after tasting the piping hot offering, which combined a wasabi glaze with the salty cured pork, we made sure to return for seconds.  Maybe even thirds.
As the affair neared its conclusion, our friendly conversations were halted by the booming sounds of drumbeats and the entire room of guests filed near the front of the space to collectively marvel at the evening's live taiko performance. The four musicians captivated the remaining crowd, managing to veer their attention away from the sea of food that surrounded them and focus solely on the dulcet flute notes and banging drum sounds that filled the Brewery's space. In many ways, closing out the evening with the musical performance was indicative of the 2014 "Aki Matsuri" as a whole in that it was completely unique and even garish in that it served to show off all that is wonderful about being a part of Japanese culture in everyday City-life. And that's certainly something worth celebrating.
- Jane Van Arsdale

Food Photos from the 2014 "Aki Matsuri"

Boulud Sud: "Miso Cured Salmon with Charred Nori Aioli, Citrus Ponzu & Crispy Tapioca"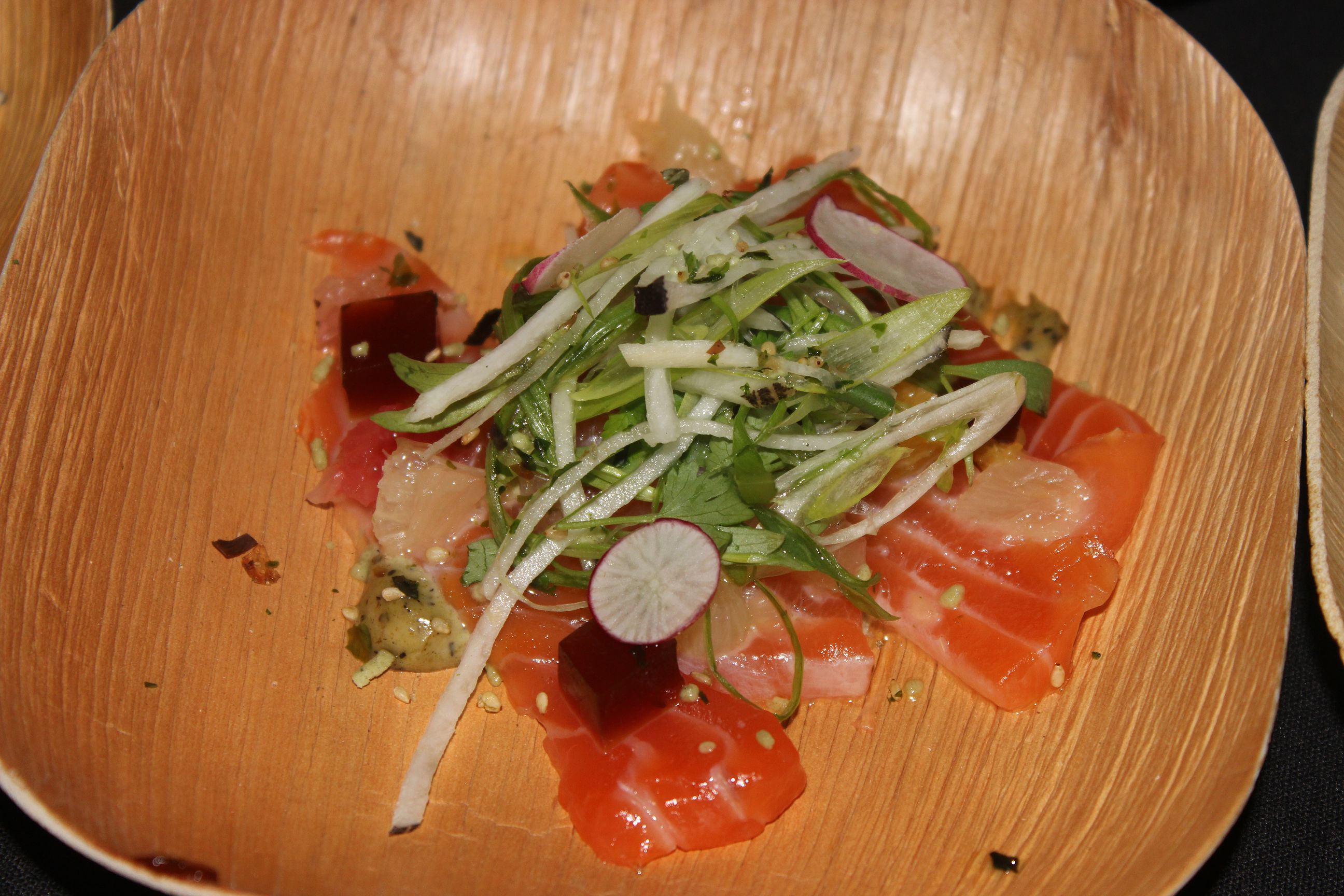 All'onda: "Soba Noodle with Tomato Water and Shio Konbu"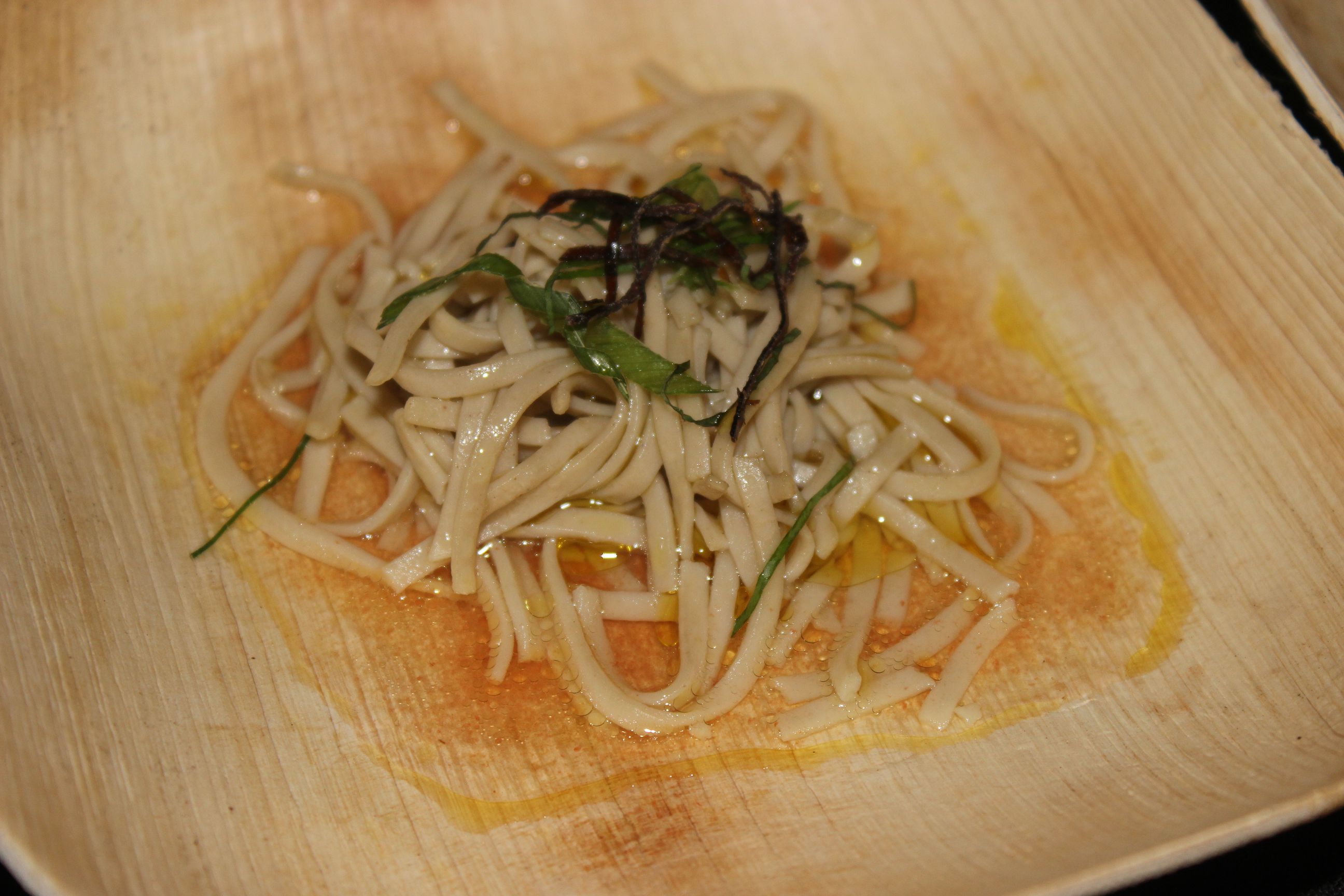 Park Avenue Autumn: "Kurobuta Schnitzel with Pear Mustard & Crispy Capers"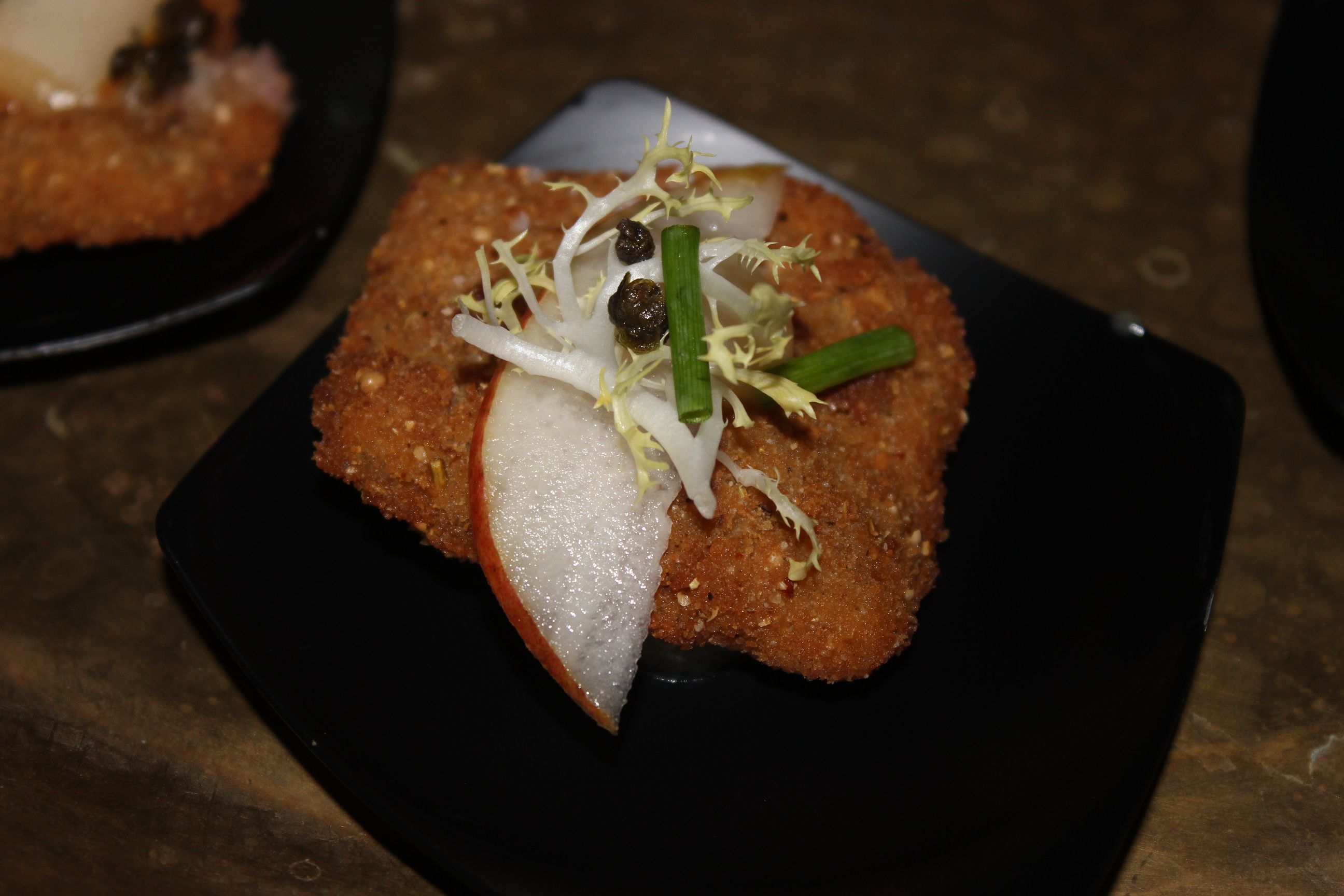 Jean Georges: "Sea Trout and Oyster Tartar"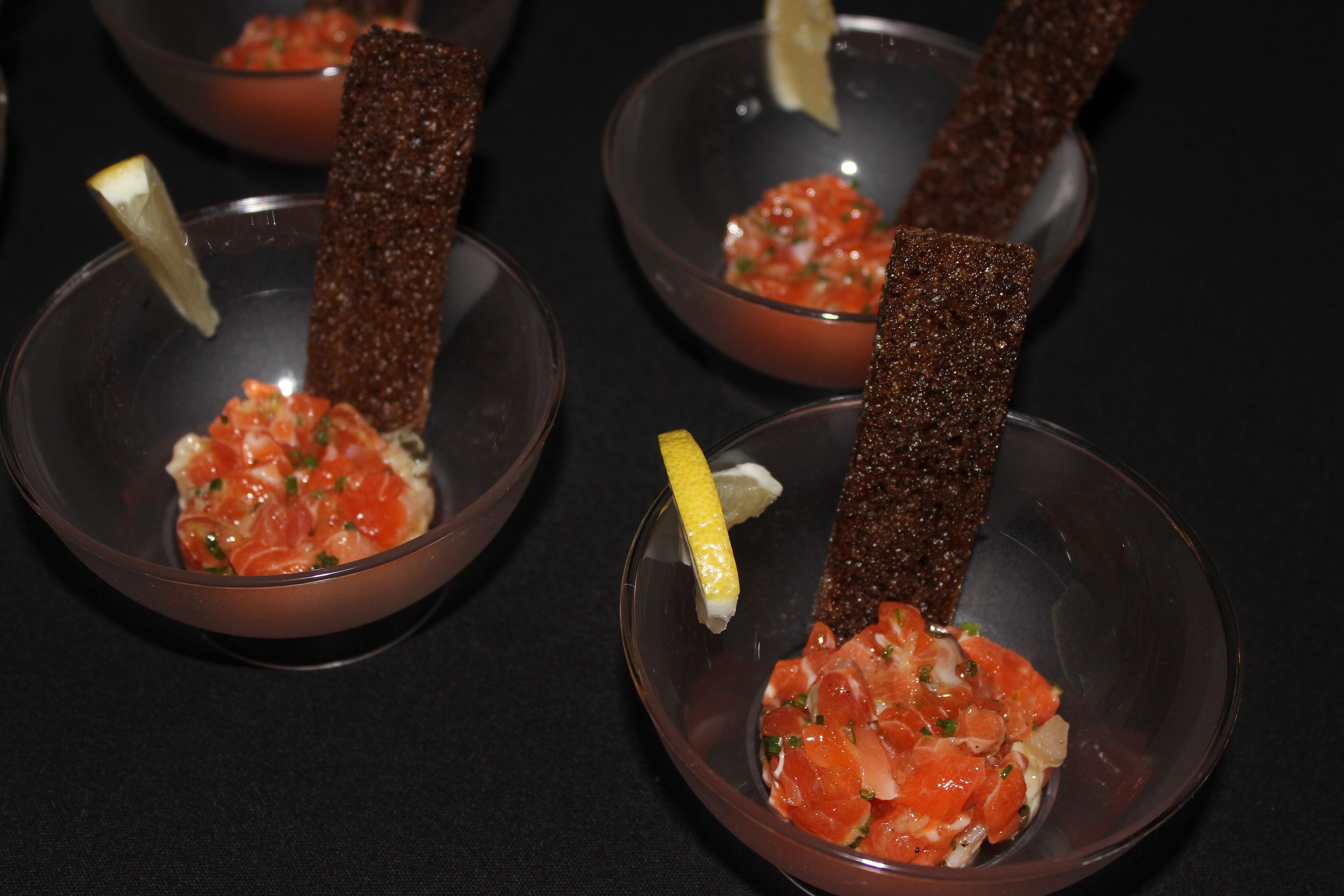 The Sea Grill: "Aji Tataki with Matsutake Gohan 'Chazuke'"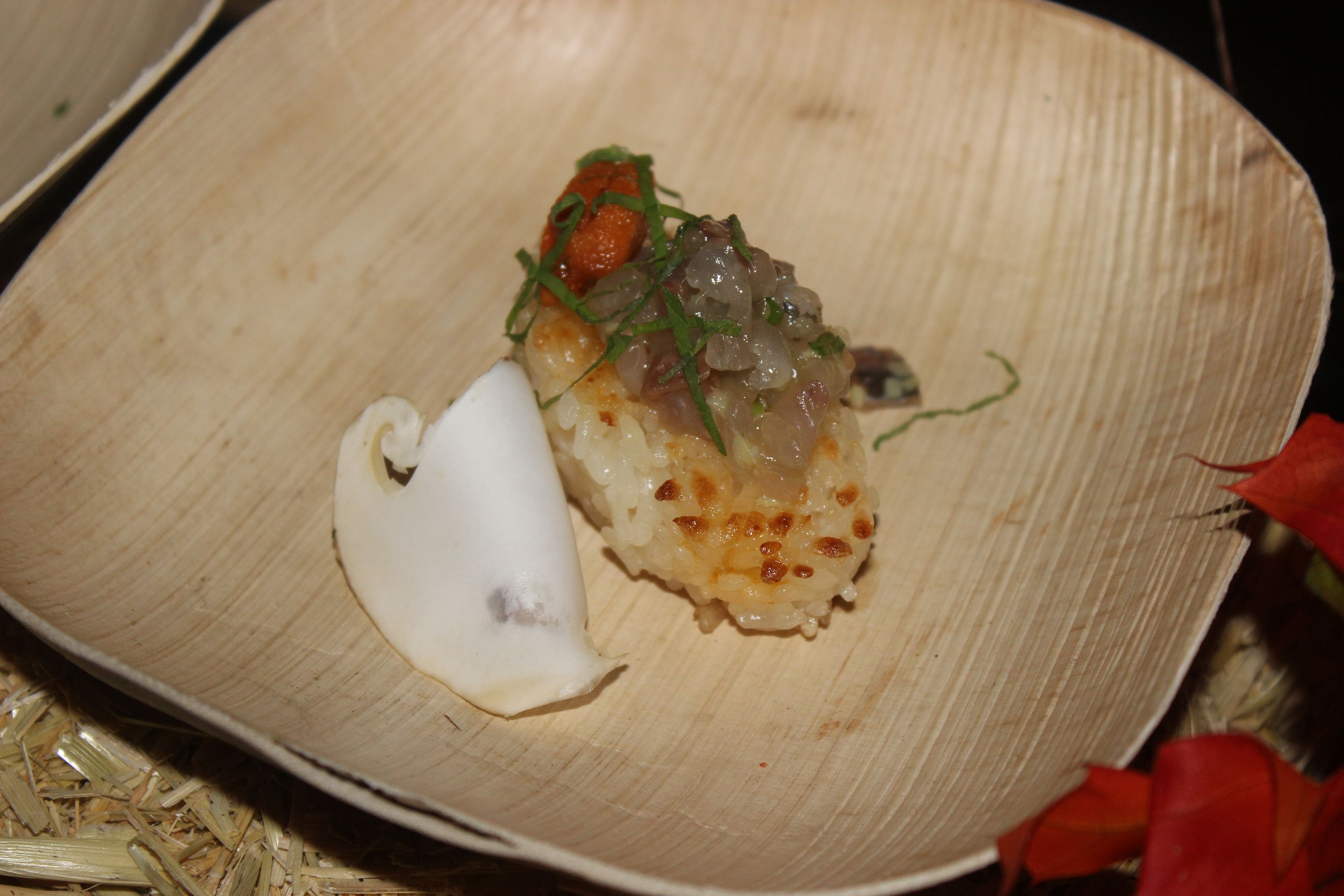 Keizo Shimamoto x Neil Syham: "Pork Belly Adobo Ramen Burger"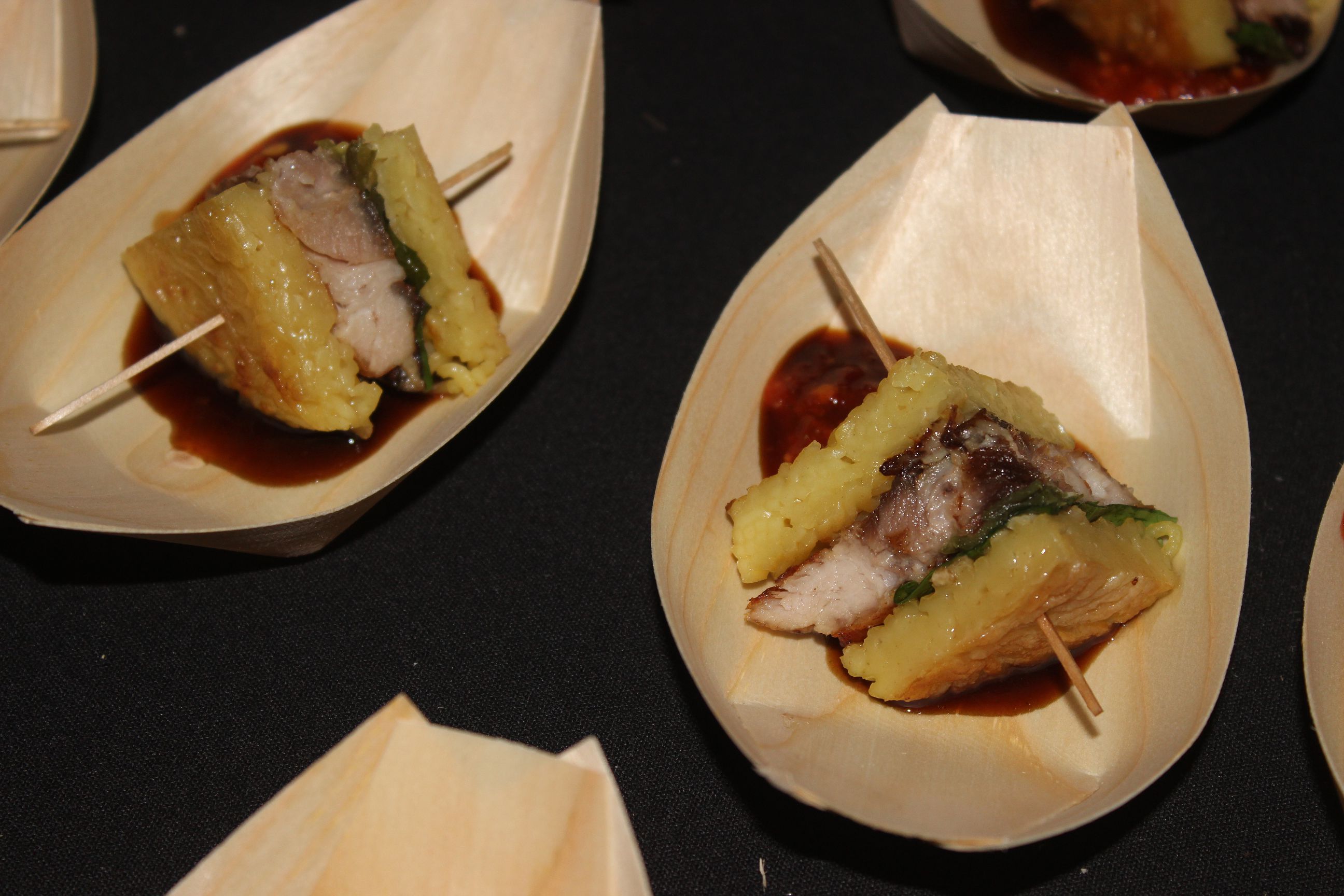 Hasaki: "Passed Hors d'oeuvres"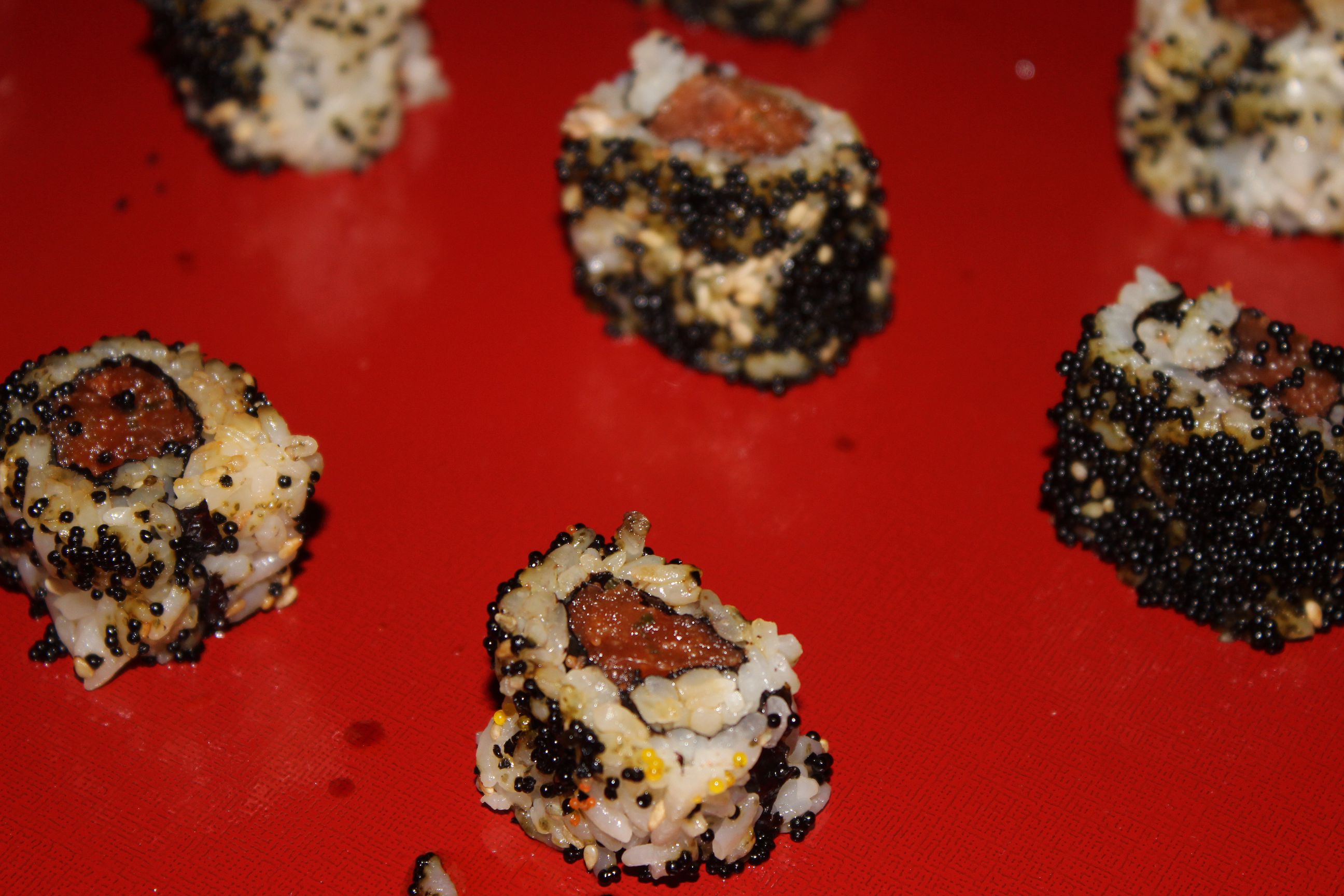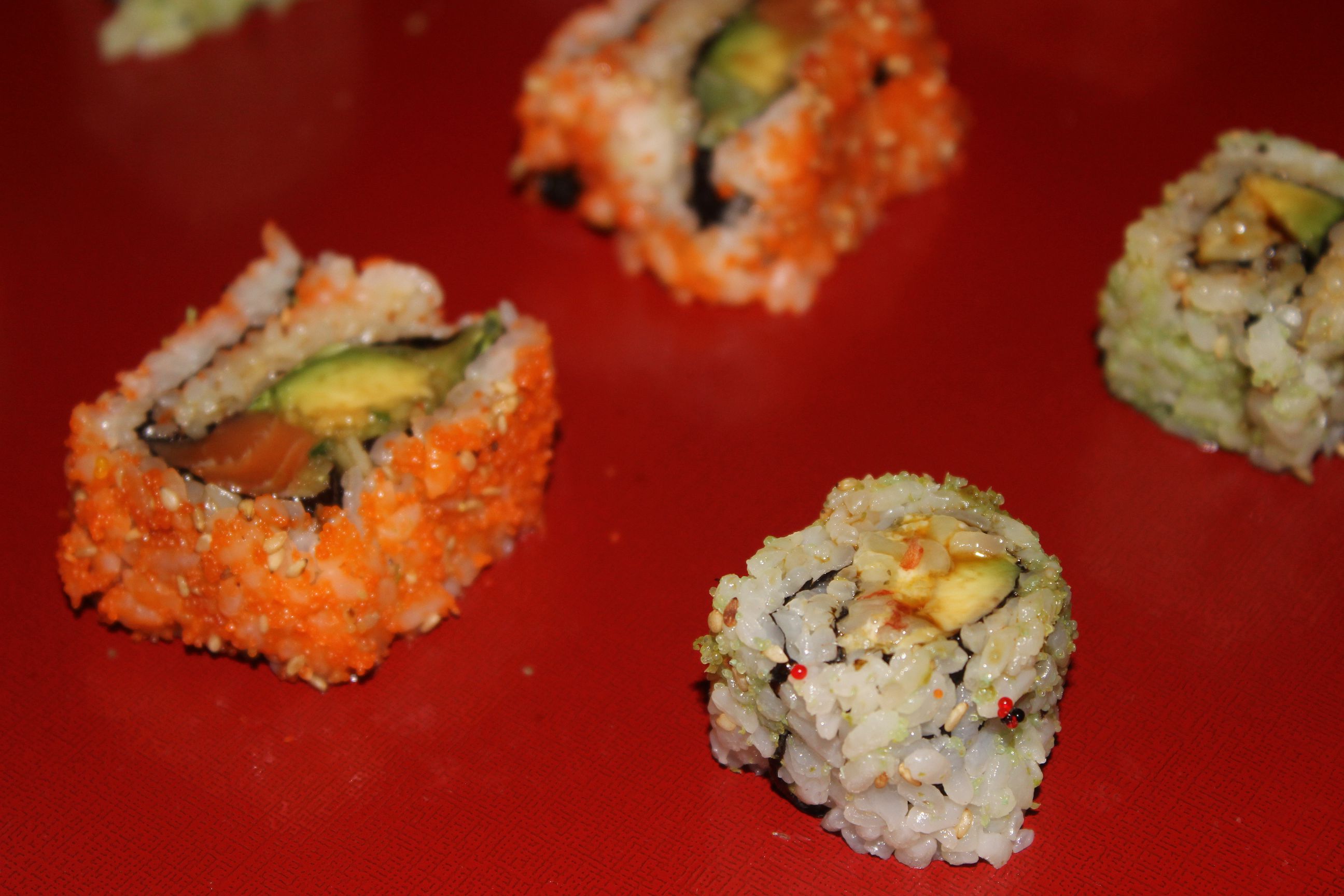 Blue Ribbon: "Hako Zushi"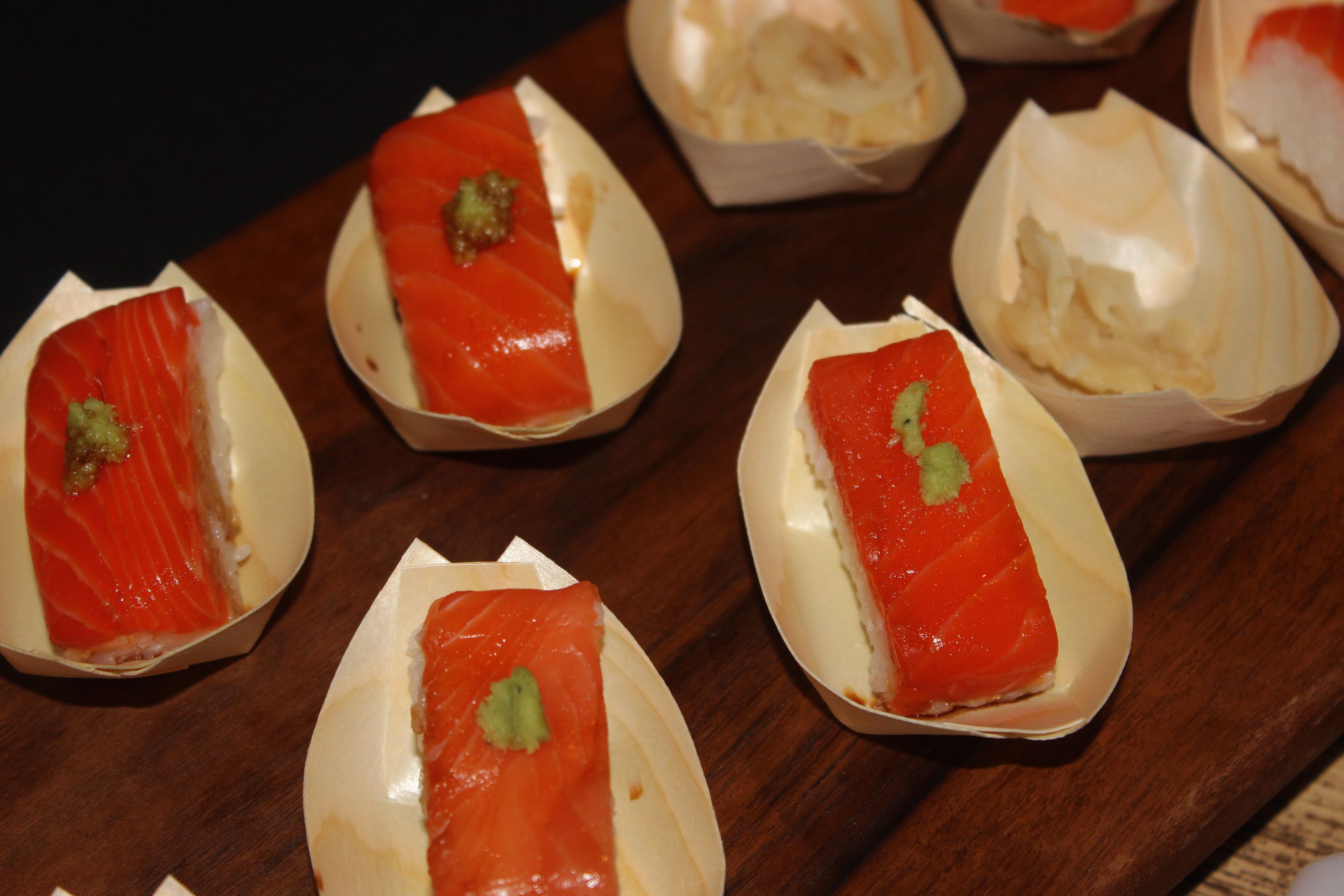 Nobu: "Umami Wings"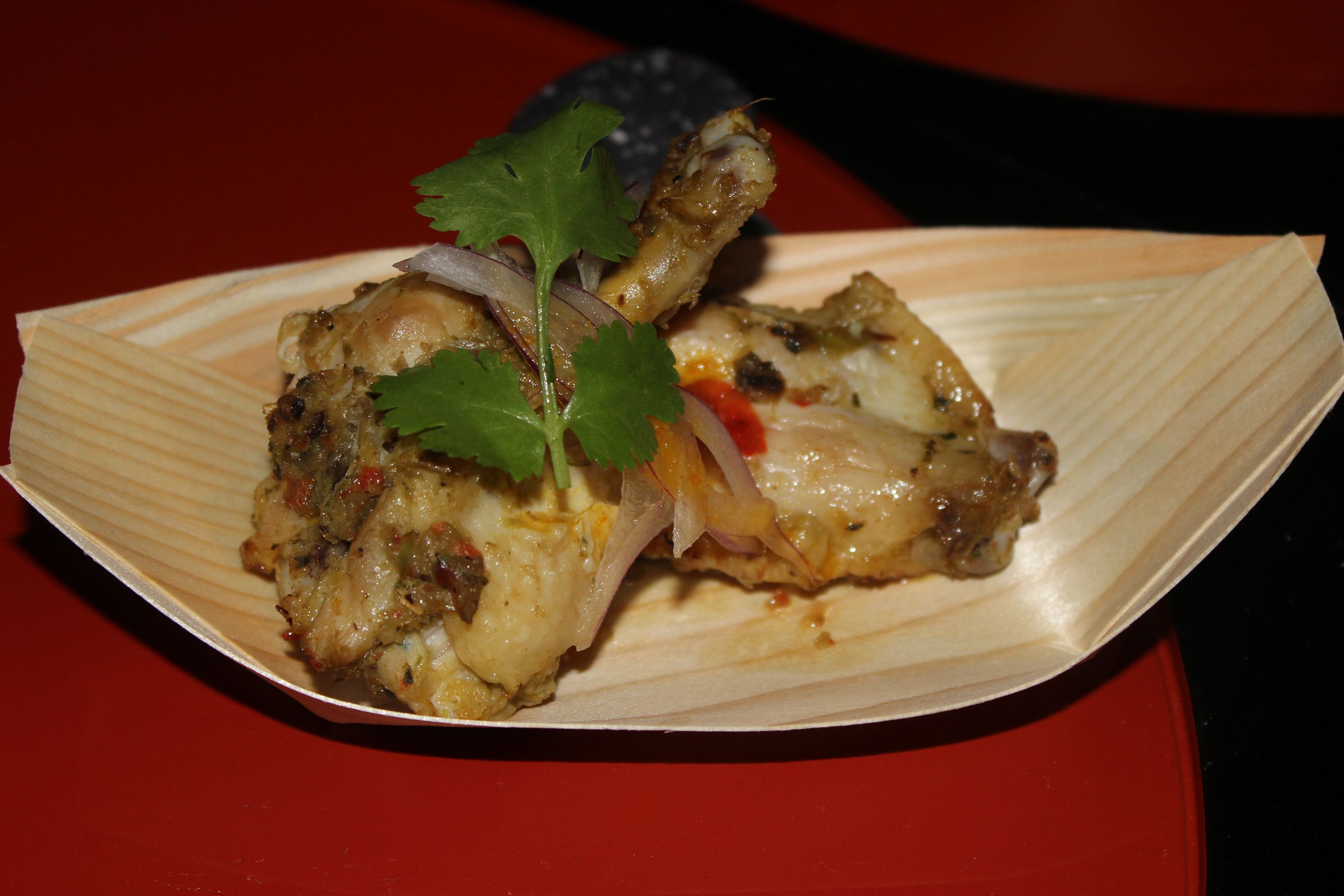 Red Rooster: "Black Sesame Panna Cotta with Devil's Food Cake and Kumquat Jam"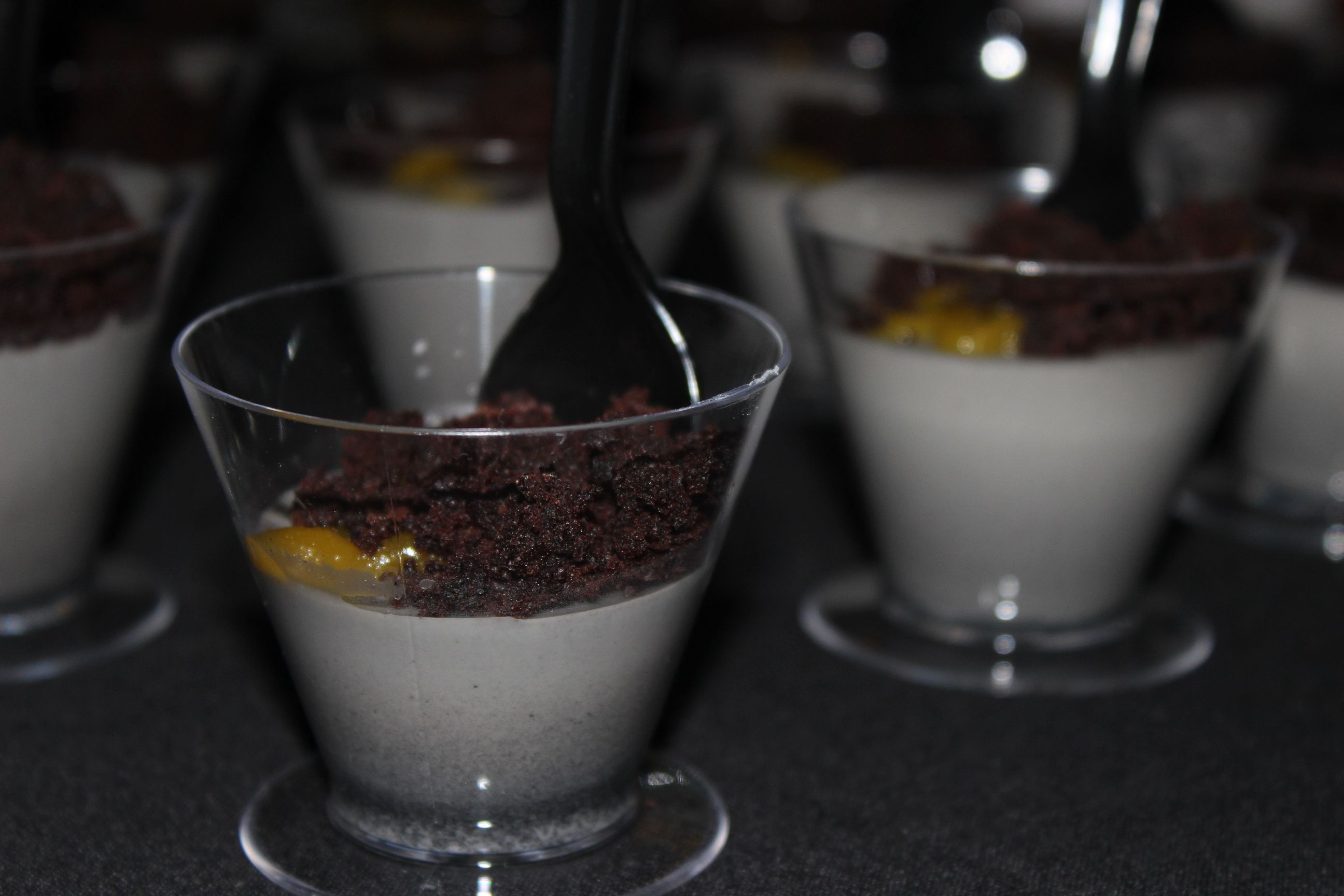 Morimoto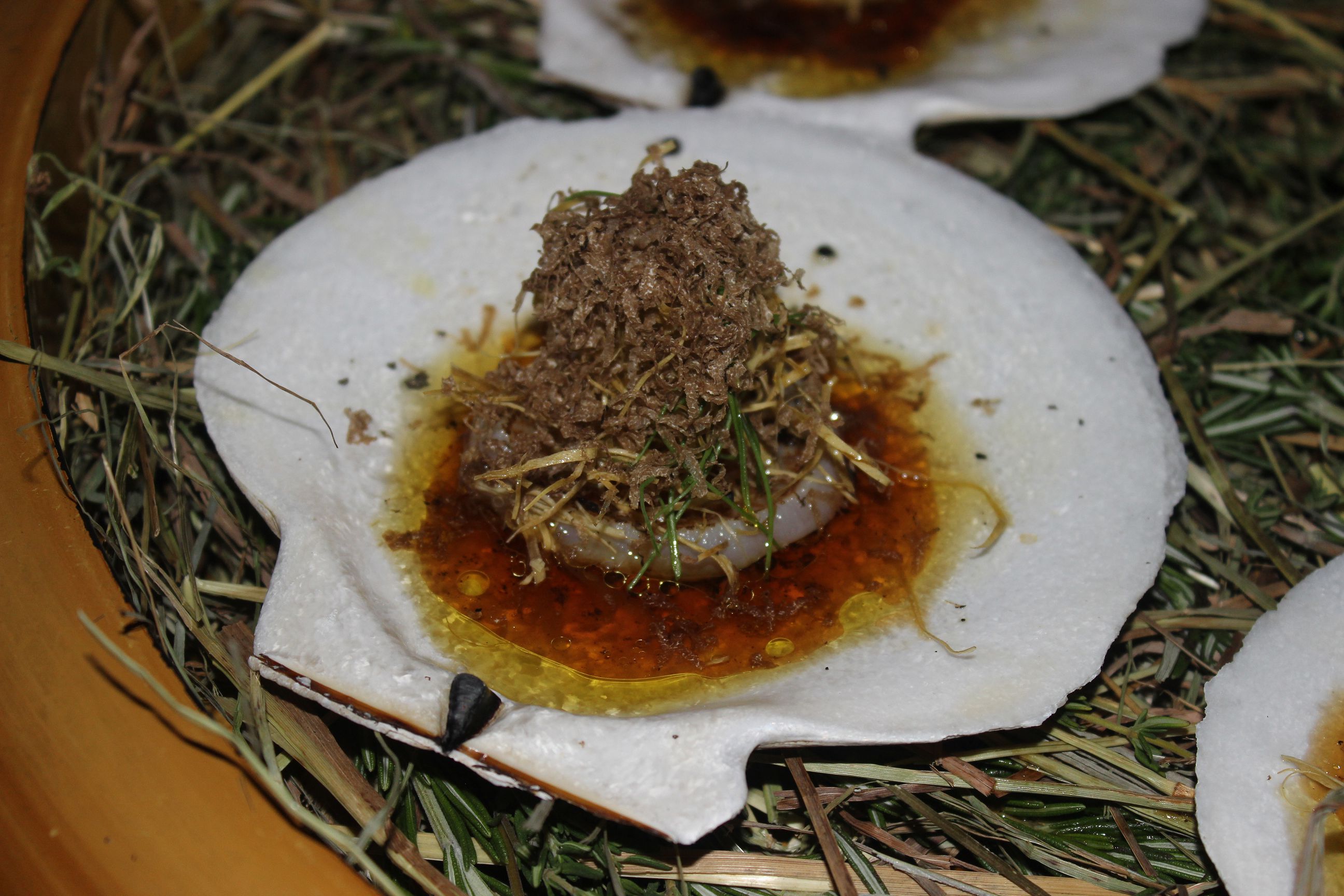 Gramercy Tavern: "Marinated Fluke, Citrus, Radish and Trout Roe" & "Grilled Wild Mushrooms, Corn and Mushroom Broth"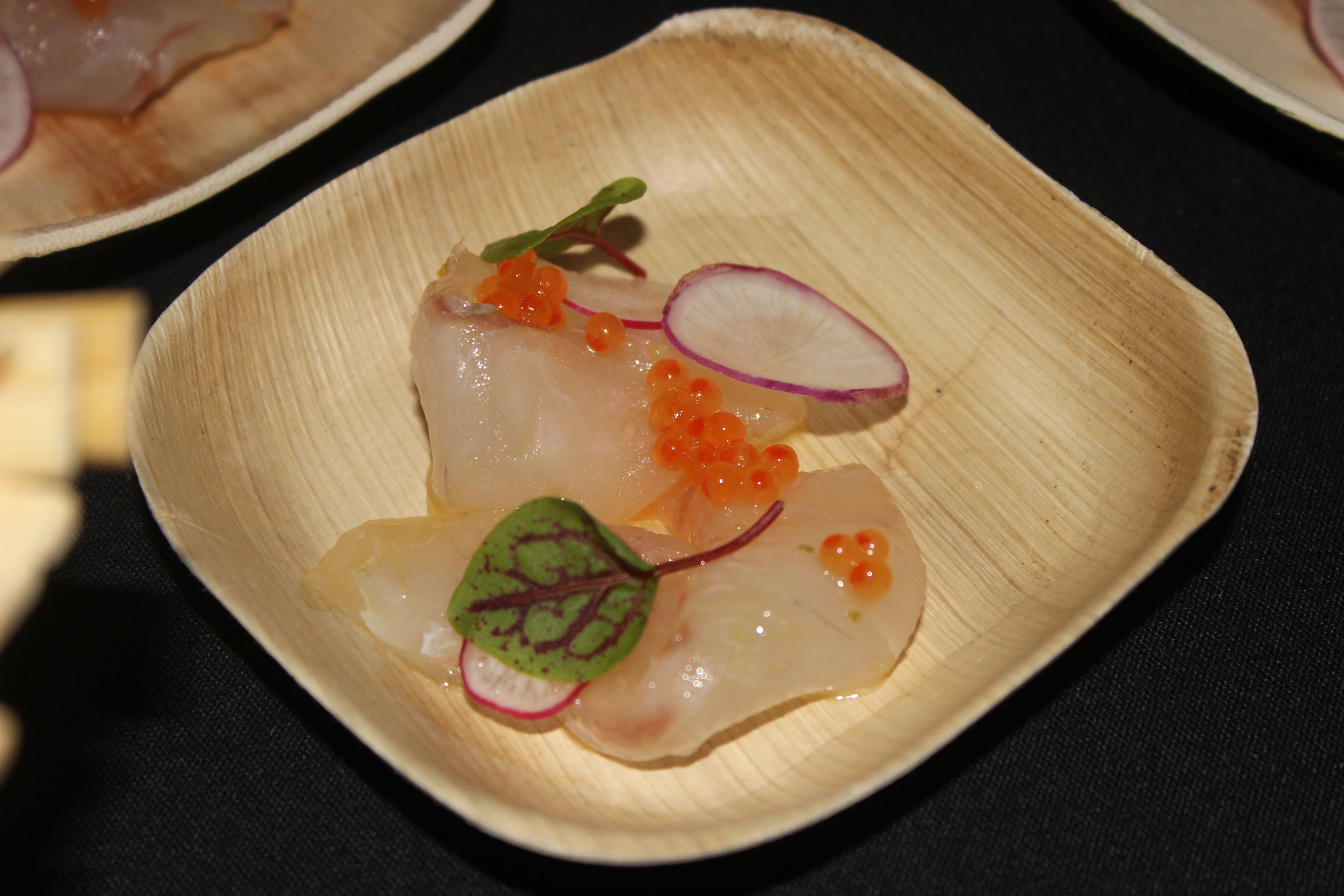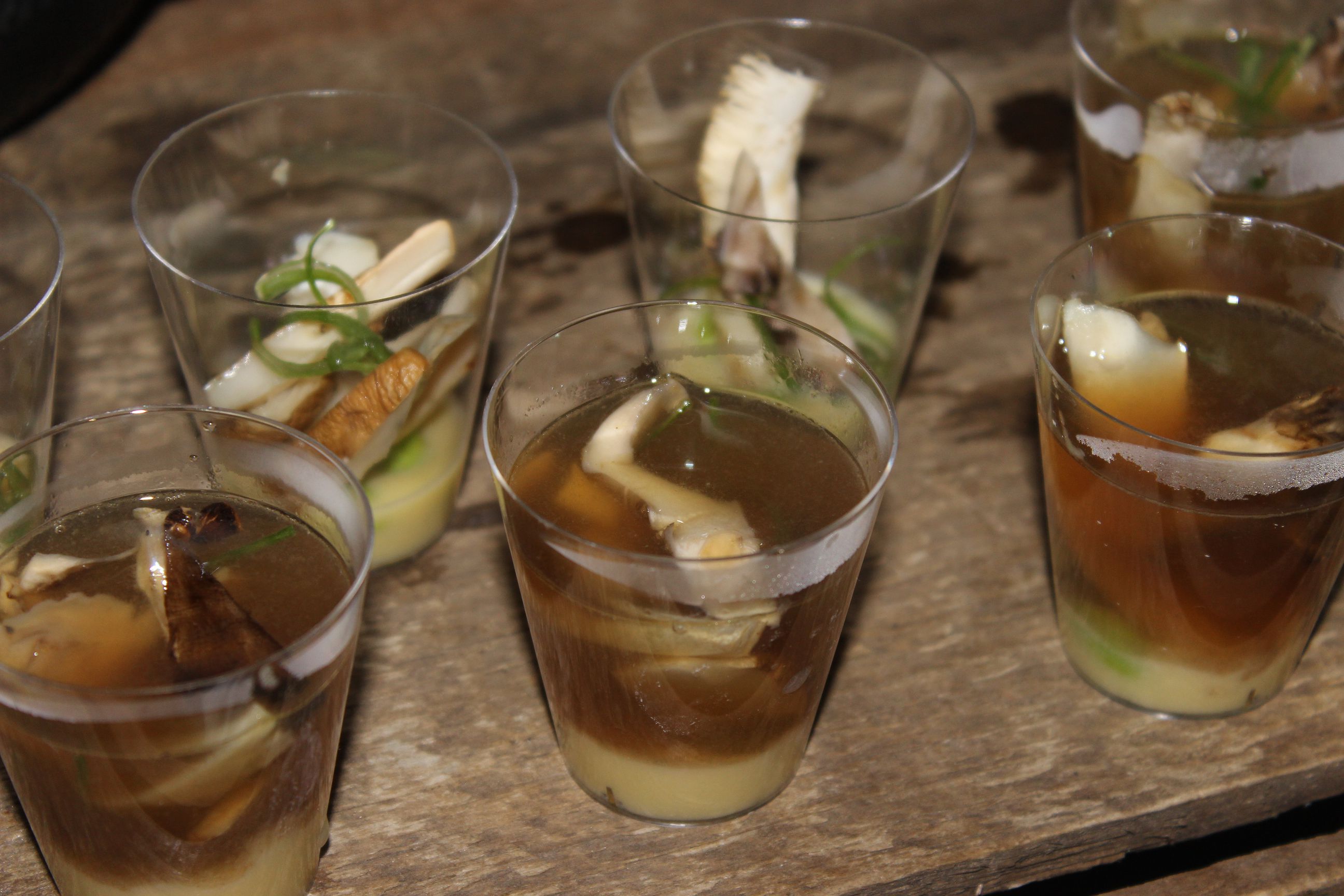 Hakata Tonton: "Braised Pork Belly with Sansyo Rice"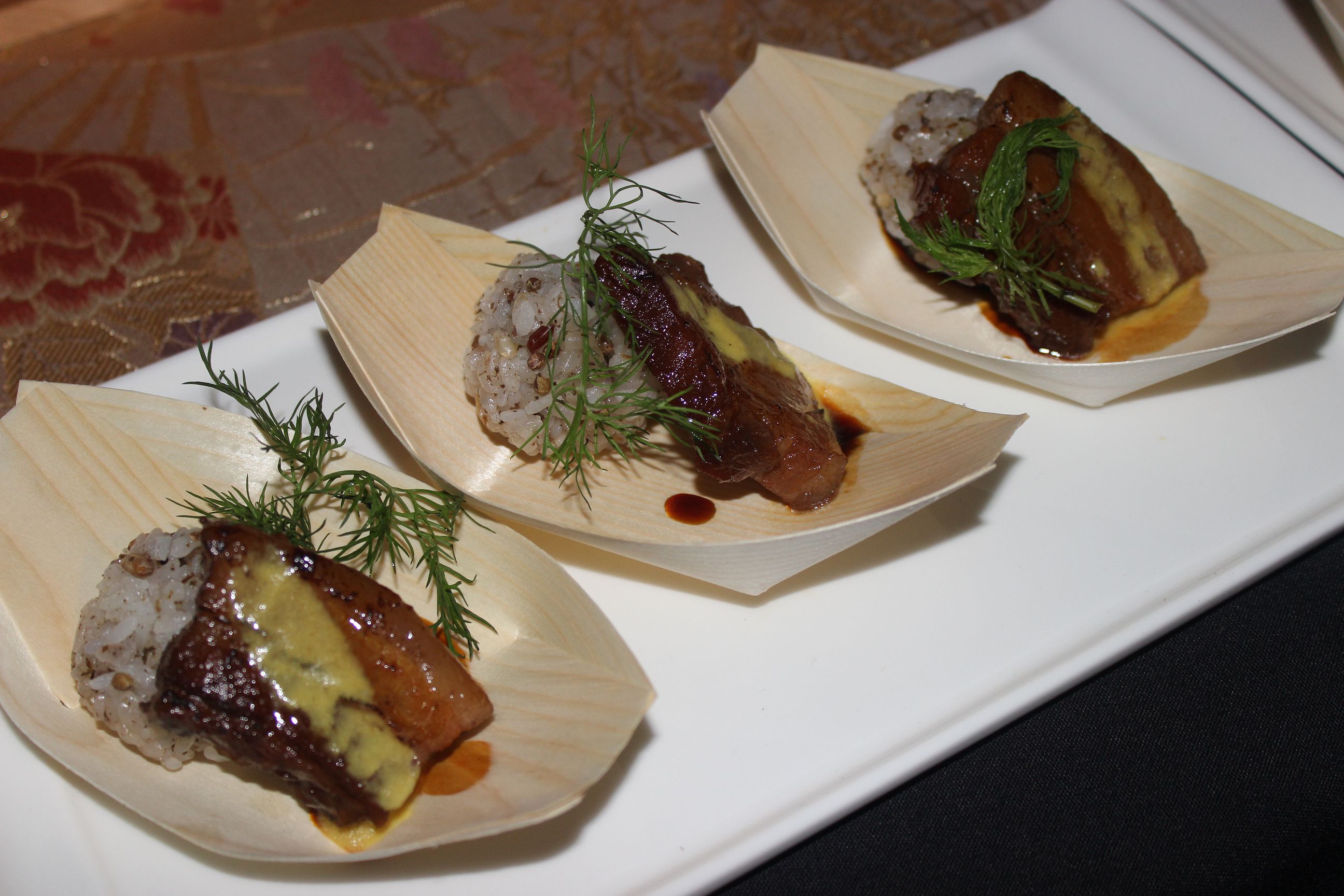 Related Articles
Share
About Author
(2) Readers Comments