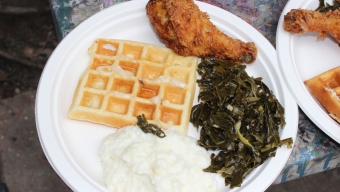 Blog: Taste Talks '14 - Chicken and Waffle Brunch
Some of the country's most highly regarded chefs would converge this weekend in Williamsburg as the Taste Talks festival would return for a second banner year. The weekend long program, replete with panel discussions, interactive sessions and of course, a multitude of food tastings, would be curated by Chefs Mario Batali and Danny Bowien. Best of all, the weekend's happenings were affordably priced so that any local with even a passing interest in the food game, would be welcome to attend.
With panels like "Do Restaurant Reviews Matter?", "Is Brooklyn the Next Manhattan?", and the "Future Food Expo" slated for this year's Taste Talks, the Saturday session kicked off in signature fashion with an understated and low-key brunch for a few dozen guests. While 2013′s Taste Talks began nearby with a similar event at Brooklyn Bowl, this year the scaled down "Chicken and Waffles Brunch" would emanate from the Taste Talks hub at the Colossal Media space where guests would be seated in their casual outdoor patio. Though the live music was eschewed this year, fortunately the delectable tastes were not and the pairings proved to sufficiently satiate even the hungriest appetite, despite a 10am kickoff.
As guests clamored for seats in the admittedly limited space, a team of five cooks from Kurent Events catering was working hard to prepare a particularly bountiful spread. Our plates toppled over with the likes of the subtly sweet "Belgian Waffle" topped with rich maple butter and a dollop of syrup, piping hot "Braised Collard Greens" with hunks of smoked bacon, a decadent pile of "Cheesy Grits," and of course, the "Buttermilk Fried Chicken," which was juicy, tender and perfectly seasoned for a morning food pairing. The Southern-style breakfast was incredibly hearty- though that didn't prevent some of the hungrier guests for returning for repeat visits. Taste Talks began nice and early on Saturday morning in Brooklyn and with bellies full, attendees began event-hopping, with the "Chicken and Waffles Brunch" being the jump-off point.
- Jane Van Arsdale
Related Articles
Share
About Author
(0) Readers Comments