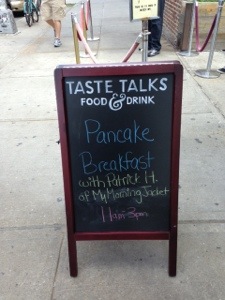 LocalBozo.com is live blogging from Taste Talks in Brooklyn. Refresh this page to see what's going down in real time!
12:08pm: The culinary world converges with rock music Saturday morning in Williamsburg Brooklyn as the weekend long Taste Talks festival kicks off in style. Amid the pins being smashed in the background, one part bowling alley, one part concert venue- Brooklyn Bowl plays host to a "Pancake Breakfast with Blue Ribbon and My Morning Jacket's Patrick Hallahan." Dozens of hungry eaters converged upon the spacious venue this morning for a bountiful array of fluffy pancakes, grits, eggs, fried chicken…and yes, deliciously salty pulled pork, courtesy of the rock band percussionist.
The all you can eat feast lasts four hours today, allowing guests to come and go as they please while the remainder of today's schedule of Taste Talks events emanates at the nearby Wythe Hotel. But this morning's festivities highlight the My Morning Jacket drummer's affiliation with tasty barbecue. Hallahan has been working the smoker in his Kentucky hometown for years. While some fans of the band have surely come out for a glimpse of one of their heroes, it's Hallahan's outstanding cuisine that makes the trip to Brooklyn all that more noteworthy.
12:18pm: The selection of sour gherkins meshes wonderfully with the sweet pancake syrup and shredded tender pork. Squirts of barbecue sauce also accompany the doughy pancakes, perfectly seasoned and prepared. And the smooth, creamy grits make a suitable compliment as well. Needless to say, it all works together impeccably well.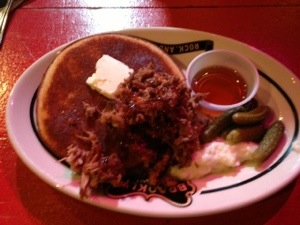 12:35pm: We get our first appearance of our two most sought after pieces of today's event as the next batch of Blue Ribbon fried chicken is brought out. Deliciously crispy and perfectly seasoned, each bite yields an ideal amount of tender white meat and the familiar kick-laden skin. The chicken pieces are no bigger than the size of traditional buffalo wings, but they are an absolute revelation- served all the time here at Brooklyn Bowl.
We also get our first shot of My Morning Jacket's Hallahan who could not be more gracious or welcoming. Spending time with some friends and family, we pull him away for a quick photo opp in front of the working bowling lanes. Hallahan has never prepared this amount of food before and truly has never cooked for a reason other than a hobby before this morning. But his pork hits it out of the park.
12:45pm: The Outerborough Brass Band takes the stage and the seven piece band launches right away into the kind of weekend afternoon feel good music that you can really eat along to. A full horns section takes up the front of the stage as the smells of delectable barbecue, crispy chicken, and homemade waffles fill the air behind us. Life most certainly is good.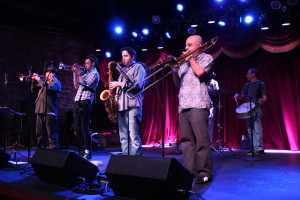 - Jane Van Arsdale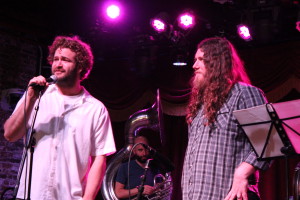 Related Articles
Share
About Author
(0) Readers Comments