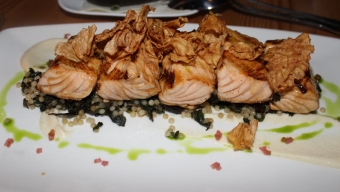 Turnover is particularly constant in the New York dining scene but the new and exciting openings shouldn't be the only places celebrated within these pages. Staying power and expansion deserve commendation not neglect and with that, from time to time, we'll be revisiting some staples of the New York restaurant scene, reflecting upon how they've adapted to the perpetually changing tastes of the City's high brow clientele and how they've remained relevant in spite of an audience that's always seeking out what's coming next. Our latest installment returns us back to the grandiose New York City gamechanger – Lower East Side hotspot, Beauty & Essex.
Beauty & Essex
A LocalBozo.com Restaurant Review
146 Essex Street near Rivington Street, Lower East Side
212-614-0146
Getting There: F to Delancy Street; J,M,Z to Essex Street
http://www.beautyandessex.com

Original Visit: December 2010
What We Said Then: "Beauty & Essex is going to become a sure-fire New York City hotspot. Its location and its ambiance are ideal. Its menu and its method of entrance are both attractive and inventive. And its service is impeccable, from a management team with a proven, winning track record. Beauty & Essex does everything right and manages to make a night out feel incredibly special, and in New York City, that's everything we were hoping for." You can read our initial review of Beauty & Essex at this link- pardon the particularly awful photos.
Then and Now: A recent repeat visit to Beauty & Essex revealed that not much had changed over the three and a half years since the restaurant's high profile debut. The gaudy yellow signage still hangs over Essex Street with its inviting presence. The kitschy pawn shop remains open out front for guests to peruse as they enter and exit the building. The lavish multi-level space is still regularly busy, although today it's far easier to secure a coveted reservation. Even the gratis flutes of rose and sparkling wines are still being poured in the ladies room on the basement floor- which remains to this day a nice touch.
Hand Cut Prime Steak Tartare ($16) & Tuna Poke Wonton Tacos ($16)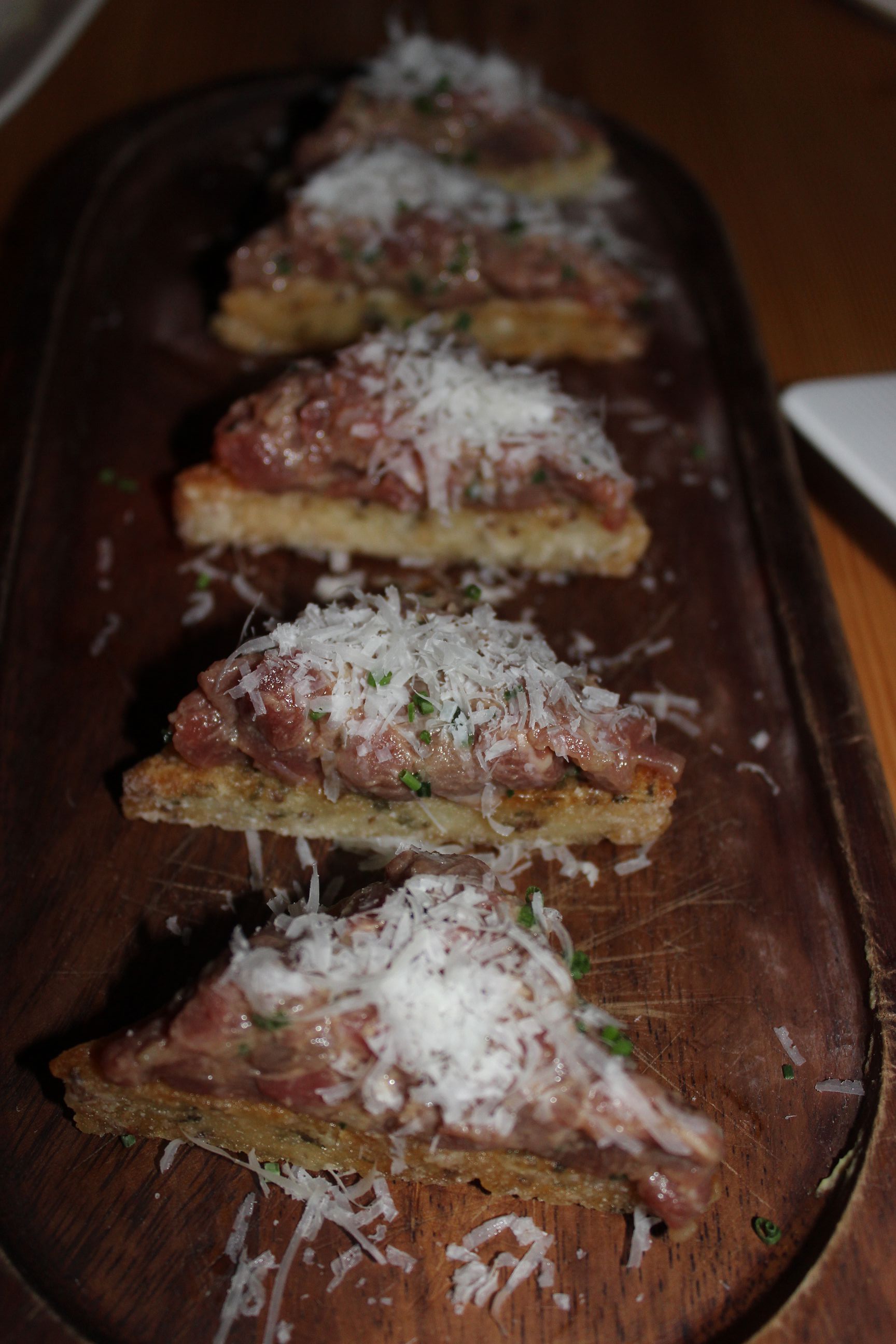 Beauty & Essex continues to be a destination that reeks of opulence- from the fur walls that hug its semi-circular staircase leading upstairs to its bar and lounge area to the grand light fixtures that sit above the many tables in the main dining room. By looking over the menu in advance, you might well underestimate the overall cost of dining here. Our advice to you though is to enter with your eyes and ears open, because the cost of dinner here- especially given the vast and affordable looking menu options- can skyrocket in a hurry.
Similar to sister restaurant The Stanton Social, the small portion plates created by Chef Chris Santos are served American tapas style and are meant to be shared. And while our previous visit afforded us some stellar service, we had no such luck in our follow-up go-round, where our server seemed more focused on going through the motions and working quickly than exchanging pleasantries with our table of hungry, excited diners. What's worse- considering that the plates are served with three-to-four pieces per dish, she made no mention of the substantial additional charges when adding servings to each portion for our larger party. Tasty as the food was, we would have simply shrugged off paying an additional $6 per "Chicken Meatball" or the whopping extra $9 surcharge per piece for a diminutive cut of "Salmon." But alas, our server kept it hush hush, until of course our bill arrived.
Prime Beef Carpaccio ($14)
Now, our less-than-stellar service aside, Beauty & Essex delivered us course after course of especially delicious food. Our trio of appetizers from the "Raw Bar" section of the menu were each outstanding. Topping the list, the "Hand Cut Prime Steak Tartare" ($16) was served atop sticky rice triangles and embedded with seasoning before being topped off by shredded crispy mustard flakes. The textural contrast here was similar to the "Tuna Poke Wonton Tacos" ($16), wrapped in a crunchy shell and overstuffed with pickled vegetables, cilantro, sesame seeds and fresh hunks of fish and finished with a dollop of sticky and flavorful sauce that brought all of the ingredients together brilliantly. The "Prime Beef Carpaccio" ($14) was inferior but only slightly, as the thin slices of savory red meat littered the entire plate. Topped with salty potato straws, smoked bacon and an intense grain mustard caviar, the dish was far more complex than its appearance might imply, as our table argued over which of the three starters worked best.
Kale & Apple Salad ($12) & Market Pizza- Grilled Peaches ($16)
Surprisingly, the "Kale & Apple Salad" ($12) was another excellent addition to our meal in that it was of generous proportion and incredibly tasty. Doused in an apple cider vinaigrette, the combination of savory pancetta, creamy shaves of goat cheese and sweet pecans paired together nicely and was substantial enough for our entire table to sufficiently enjoy.  On the other hand, you can steer clear of the "Market Pizza" ($16), a perfectly passable flatbread that sounds better than it tastes (ours was topped with grilled peaches) and the "Grilled Cheese, Smoked Bacon & Tomato Soup Dumplings" ($15) which are served in single bite red soup spoons and while flavorful, you're better off ordering elsewhere from the restaurant's extensive and diverse menu.
Grilled Cheese, Smoked Bacon & Tomato Soup Dumplings ($15) & Oven Braised Chicken Meatballs ($18)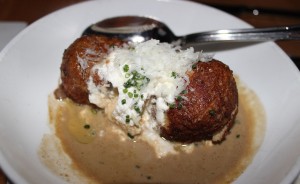 Our beef with the salmon aside, and the "Grilled" ($28) dish was perhaps the best that we dug our forks into. Beautifully plated, the tender fish was perfectly cooked and sweetened up by a sherry vinegar glaze atop a hearty bed of couscous.  We'll often eschew salmon dishes in favor of more eclectic fare, but the preparation here was absolutely top notch.  The aforementioned "Oven Braised Chicken Meatballs" ($18) meanwhile were also excellent. Each tender sphere offered up a crispy exterior sitting in a wild mushroom broth meshed with truffles and topped with creamy sheep's milk ricotta. You can't go wrong with either of these main course offerings, just be prepared for substantial upcharges if your party requires additional fare.
Grilled Salmon ($28)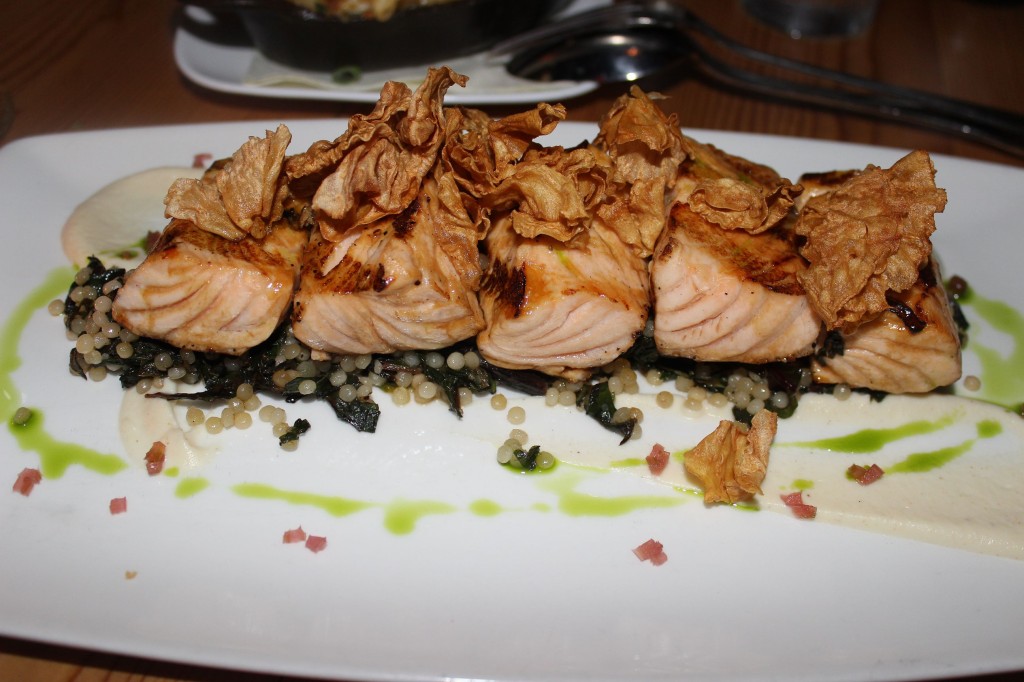 The indulgent "Lobster Mac & Cheese" ($15) covered with bread crumbs and the sweet and sticky "Heritage Baby Back Ribs" ($19) lacquered in a thick barbecue sauce were other notable if not standout dishes to conclude our dining experience. Truth be told, because we ordered such a variety of dishes some stood out more than others- but every dish that was brought out to our table was really very delicious. An evening out to Beauty & Essex, replete with drinks in the $15 range certainly isn't going to be a cheap night out, but you're also essentially guaranteed to leave with a meal that you enjoyed and an experience that you won't soon forget.
Lobster Mac & Cheese ($15) & Heritage Baby Back Ribs ($19)

The Bottom Line: Put the gimmicky entrance and the ostentatious atmosphere aside, and you've still got a wonderful restaurant on your hands. And that's the real beauty here.
Rundown of the Meal
Raw Bar
Prime Beef Carpaccio ($14)*
Tuna Poke Wonton Tacos ($16)*
Hand Cut Prime Steak Tartare ($16)*
Main
Kale & Apple Salad ($12)*
Grilled Cheese, Smoked Bacon & Tomato Soup Dumplings ($15)
Market Pizza – Grilled Georgia Peaches ($16)
Lobster Mac & Cheese ($15)
Oven Braised Chicken Meatballs ($18)*
Grilled Salmon ($28)*
Heritage Baby Back Ribs ($19)
*Meal Highlight
Other Re-Reviews
The Re-Review: The Meatball Shop, Williamsburg
Related Articles
Share
About Author
(0) Readers Comments