Sticky's Finger Joint
A LocalBozo.com Restaurant Review
484 Third Avenue at 33rd Street, Murray Hill
212-777-7131
Getting There: 6 to 33rd Street
http://www.stickysfingerjoint.com/
Restaurant Review: Sticky's Finger Joint
It's important that you set all aspersions aside when you consider dining at a spot called Sticky's Finger Joint, a place that recently opened their second Manhattan outpost on a friendly Murray Hill corner. To describe the place as fast food would be unfairly labeling the niche eatery whose finished product far exceeds what you might expect to taste from an anything-but-ordinary ode to the chicken finger. And with the younger skewing neighborhood, replete with a bar at every step, it's clear that this location of Sticky's is set to do some bonkers business especially with the late night crowd.
There's a small and colorful sign that sits atop the black brick exterior at Sticky's that reads 'Perhaps the greatest chicken finger you have ever had.' Alone, the sentiment certainly seems well intentioned- that is until you walk beneath the bright 1970′s style neon orange signage and step inside the Finger Joint to give Sticky's a taste for yourself. Inside, there are a handful of seats- which is fine considering that you're going to want to eat these at home so that nobody can see you. The space is brightly lit, showing off the massive menu above the counter which is equipped with enough sauces and styles to make your head spin. While you wait for your order, take some time to gaze at the place's eye-catching mural that contrary to popular opinion is not actually 3-D wall art.
At Sticky's, there is no shortage of ordering options from single fingers to poppers, classic or spicy style and that's before considering a multitude of sauces and toppings. While some offerings are certainly better than others, much of ordering at Sticky's depends greatly upon your personal tastes and perhaps even more so, your mood at the time. Feel like having a chicken finger just one way? No problem. Care to customize your own? No problem. Whatever the preparation, their chicken fingers are absolutely scrumptious. The crunchy bread crumb laden exterior is fried to a crispy crunch, but inside the strips are undeniably tender and never dry. Over the years, over-cooked and juiceless chicken fingers have been given a bad name by Bar Mitzvahs, weddings and other catered affairs which essentially have them tanning under a warming light for the better part of nine hours. Sticky's gets the basic finger just right and all of the accoutrements work to enhance these flavors admirably.
"French Onion Supreme Fingers" ($10.10) & "Bacon Mac Fries" ($5.51)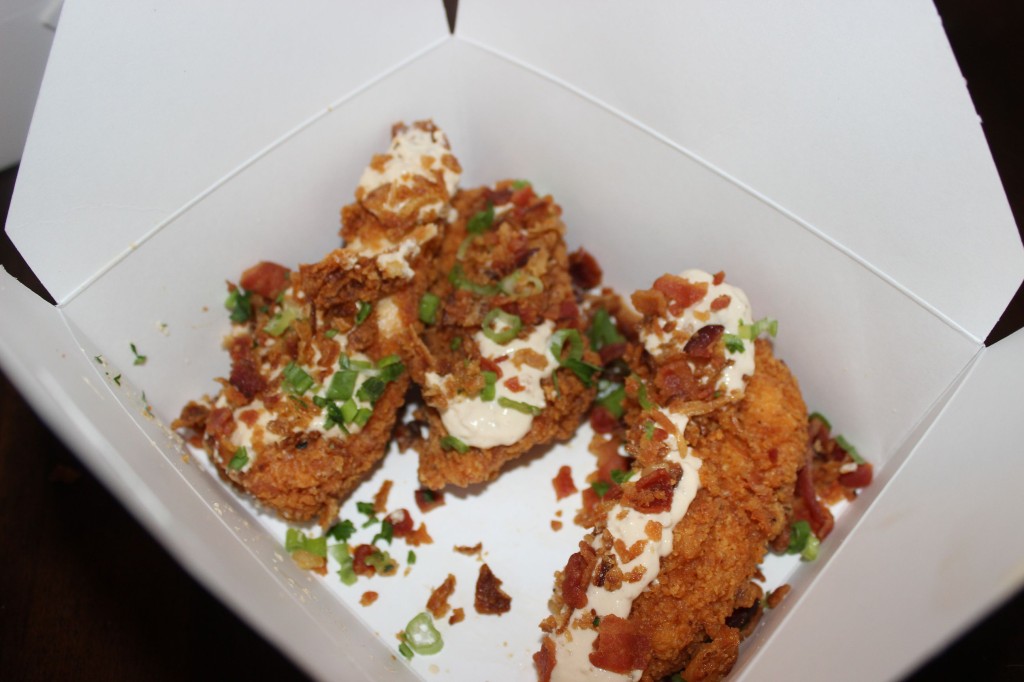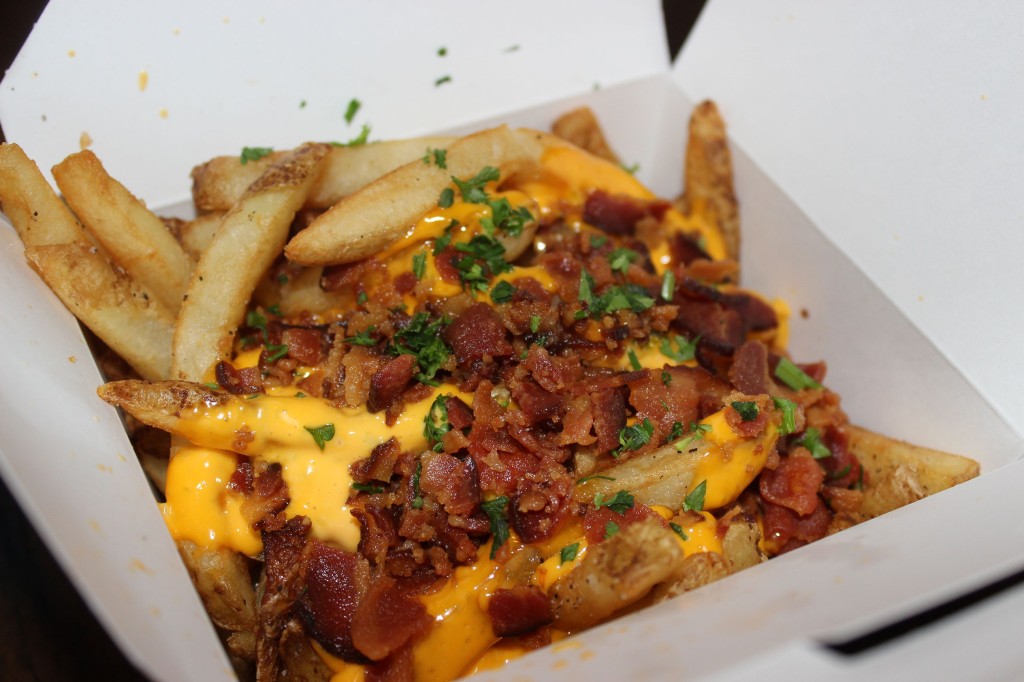 Signature offerings like the "Cool Tikka Masala," a subtly sweet curry-style coconut sauce and the "French Onion Supreme" topped in crispy bacon, tasty scallions, fried onions and a rich onion cream were both notably delicious. But the move at Sticky's is to simply order up some plain fingers and choose a variety of sauces for dipping. Additional sauces are priced at just .92, so there's no sense in being conservative here. While the "Jalapeno Mac Sauce," which lacquered the (pardon the pun) finger-licking "Bacon Mac & Cheese Fries" ranked up there with the very best gooey cheeses that we've ever tasted, we went absolutely wild for our other two selections- both of which are must tries. First, "Sticky's Sauce" is like a savory cinnamon bun frosting- a not overly sweet white barbecue sauce that is rich and creamy, like no sauce you've ever tasted. Somehow, just as spectacular, the "Buffalo Balsamic Maple" infuses maple syrup and balsamic vinegar with more traditional wing sauce in an incredible way. Sweet and tangy, the versatile sauce would be a fine pairing with just about anything, but smothered on a soft, tender chicken finger- it's simply delectable.
"Large Classic Fingers" ($11.48) & "Cool Tikka Masala Finger" ($3.21)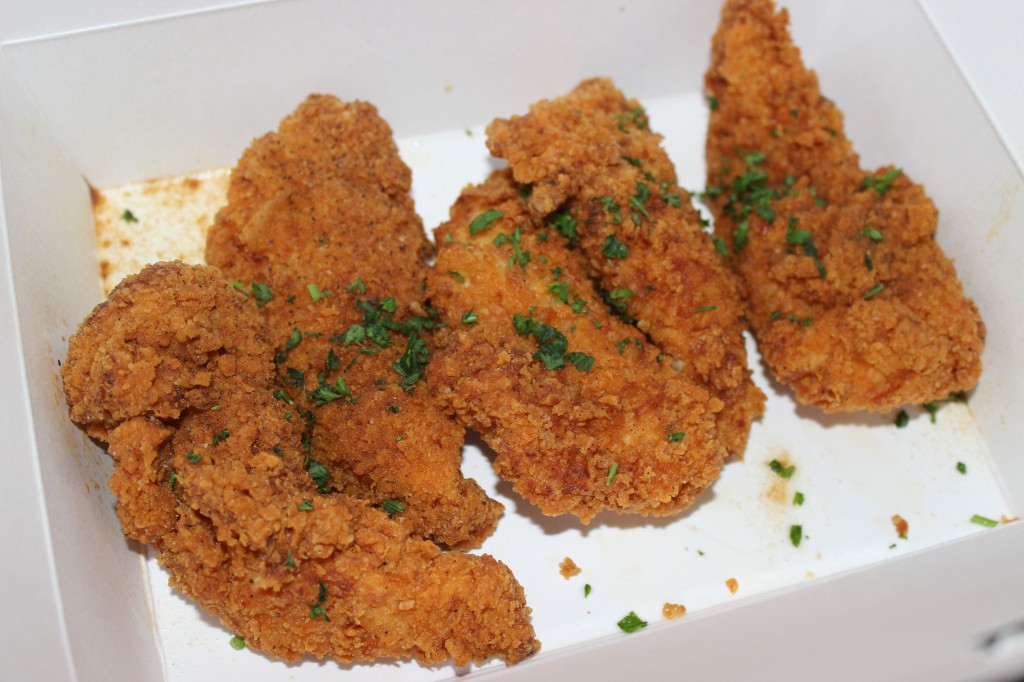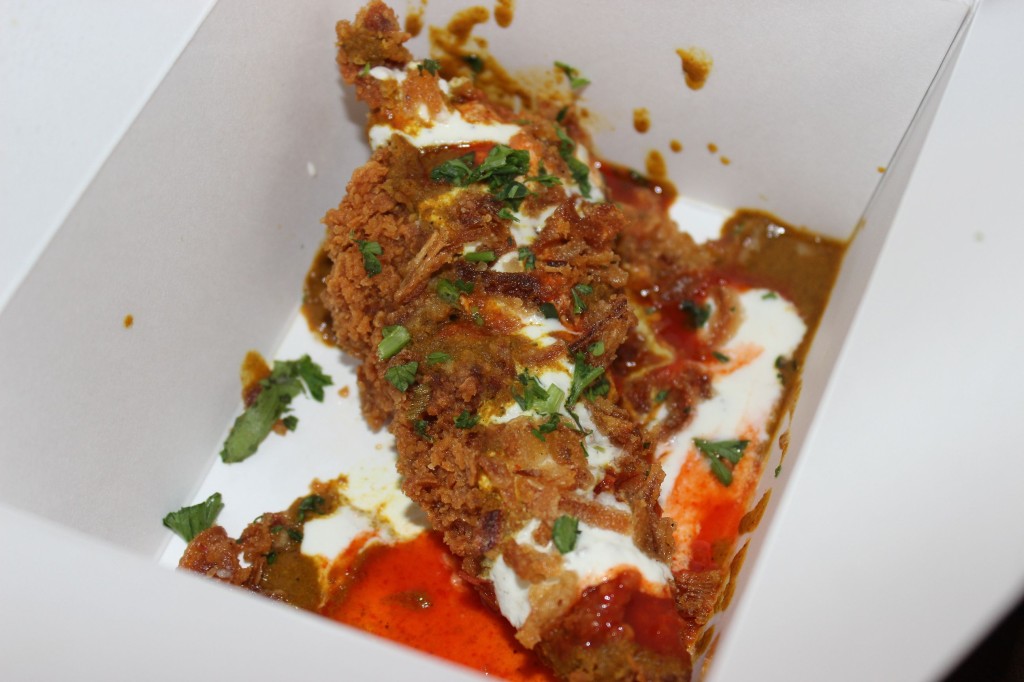 Keep your expectations tempered when going in and then prepare to have your mind blown at Sticky's Finger Joint, a fast-casual, mostly takeout spot that caters solely to an audience of comfort food lovers and drunk young-ins. Forget all those that you've had before Sticky's, because one thing is certain: you've never had chicken fingers quite like these. We'd like to give them a finger of our own- a resounding thumb's up.
Rundown of the Meal
A La Carte Fingers
Large Classic Fingers ($11.48)* – 5 Fingers with Two Sauces
Homemade Sauces ($0.92) – Sticky's Sauce*, Buffalo Balsamic Maple*, Jalapeno Mac
Signature Fingers
Order of 3 ($10.50, $3.21 per additional) – French Onion Supreme, Cool Tikka Masala*
Fries & Sides
Bacon Mac Fries ($5.51)*
*Meal Highlight
Related Articles
Share
About Author
(1) Reader Comment