Hanjan
A LocalBozo.com Restaurant Review
36 West 26th Street near Sixth Avenue, Flatiron District
212-206-7226
Getting There: N,R,W to 28th Street
http://www.hanjan26.com/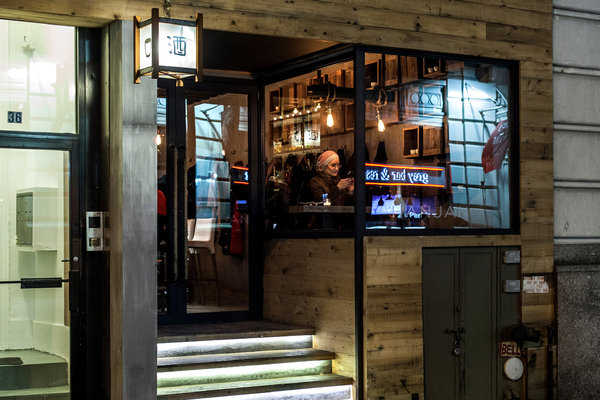 (Photo Credit: NY Times)
With the cavalcade of ostentatious sigange that pervades West 26th Street, finding diminutive modern Korean gastropub Hanjan was no easy feat. The small, square wood paneled entrance sits in the shadows of far more grandiose setups like Hill Country Barbecue and Flatiron Hall, where swarming crowds appear to be either leaving or arriving together at all times. But the sister restaurant to Hells Kitchen's Danji doesn't need a gaudy display to be effective. The creative and inspired cuisine being served does just fine without it.
The Hanjan space is both modernized and narrow. The entrance opens to a ten seat L-shaped bar which occupies much of the front of the restaurant before long communal tables take up much of the main dining area in back. An array of colored and patterned backseats line banquettes on one side opposite a handful of more intimate tables for two, hugging the discolored gray shaded wall across the room. Overhead, a center beam wrapped in a dozen or so thick rope nooses dangle sole bright light bulbs from each- a novel approach to lighting up the entire room in ornate fashion.
As we grasp around for our menus, we find them tucked directly beneath the wooden tabletops in front of us, similar to how you might store your books in a middle school desk- though the concept feels a bit more grown up here. Hanjan's menu is divided equally between 'Traditional' and 'Modern' fare, offering up a nice array of Korean style shared plates. The chicken dishes offered jump immediately off the page, described as 'Freshly Killed' throughout the menu. Rest assured, there is no pen in the back of the house. But Chef Hooni Kim prefers only the freshest poultry and as a result, utilizes chicken that has been butchered day of, to fully maximize the animal's flavor.
"Grilled Chicken Wings 'Freshly Killed'" ($12) & "Scallion Pancake w. Local Squid" ($16)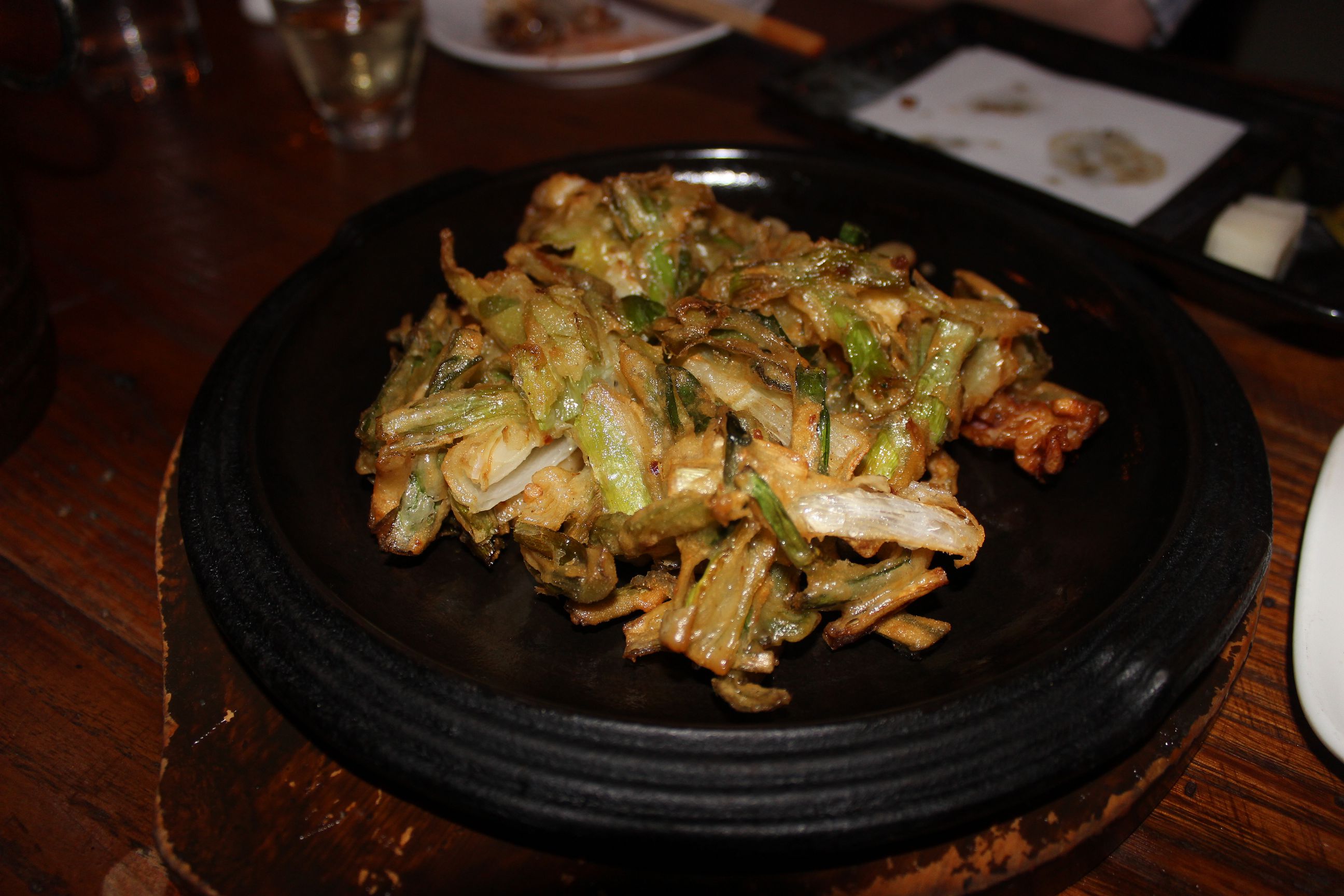 The soy-sake marinade "Grilled Chicken Wings 'Freshly Killed'" ($12) to Chef Kim's credit, were some of the juiciest grilled wings that we've ever tasted. Smaller than the bulbous 'buffalo' style that we've been accustomed to eating on football Sundays, the six wings were especially meaty and tenderly moist with the delicious grill char pleasantly flavoring each bite. It was the "Scallion Pancake w. Local Squid" ($16) however which was among our earliest favorites. Though pan-fried, the composition tasted fairly light with the consistency and appearance of a funnel cake holding together all of the ingredients. Divided into quarters, each deliciously partitioned piece would somehow remain in tact from the plate to the small bowl of salty soy-scallion dipping sauce to our mouths, where each brilliant and greasy hunk would land and subsequently perish. Similarly battered with a light crispy exterior were the "Crispy Perilla Leaf Dumplings" ($10) stuffed with shrimp and pork, which though tasty, were a bit inferior to the pancake.
"Crispy Perilla Leaf Dumplings" ($10) & "Pork Fat 'Ddukbokki'" ($13)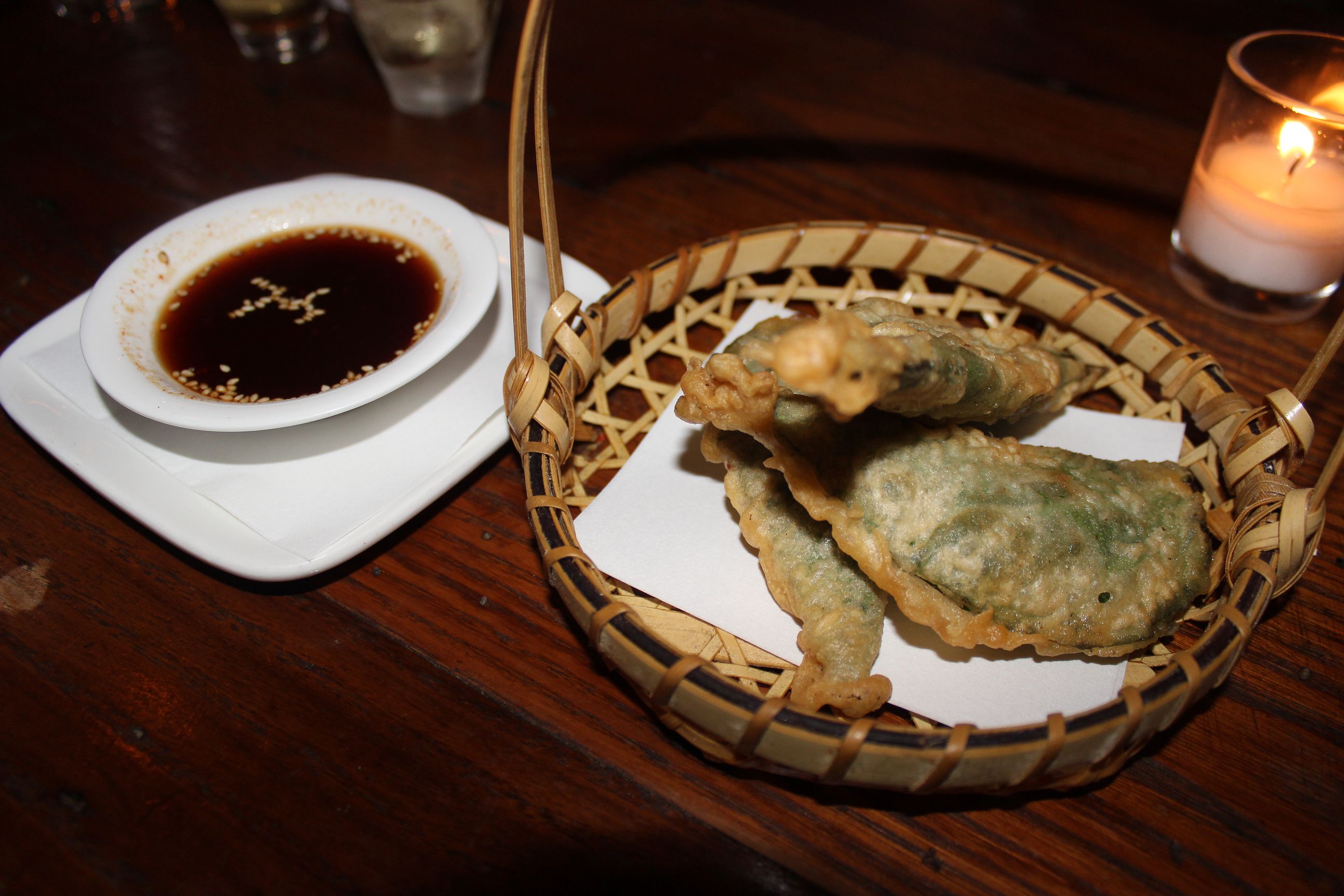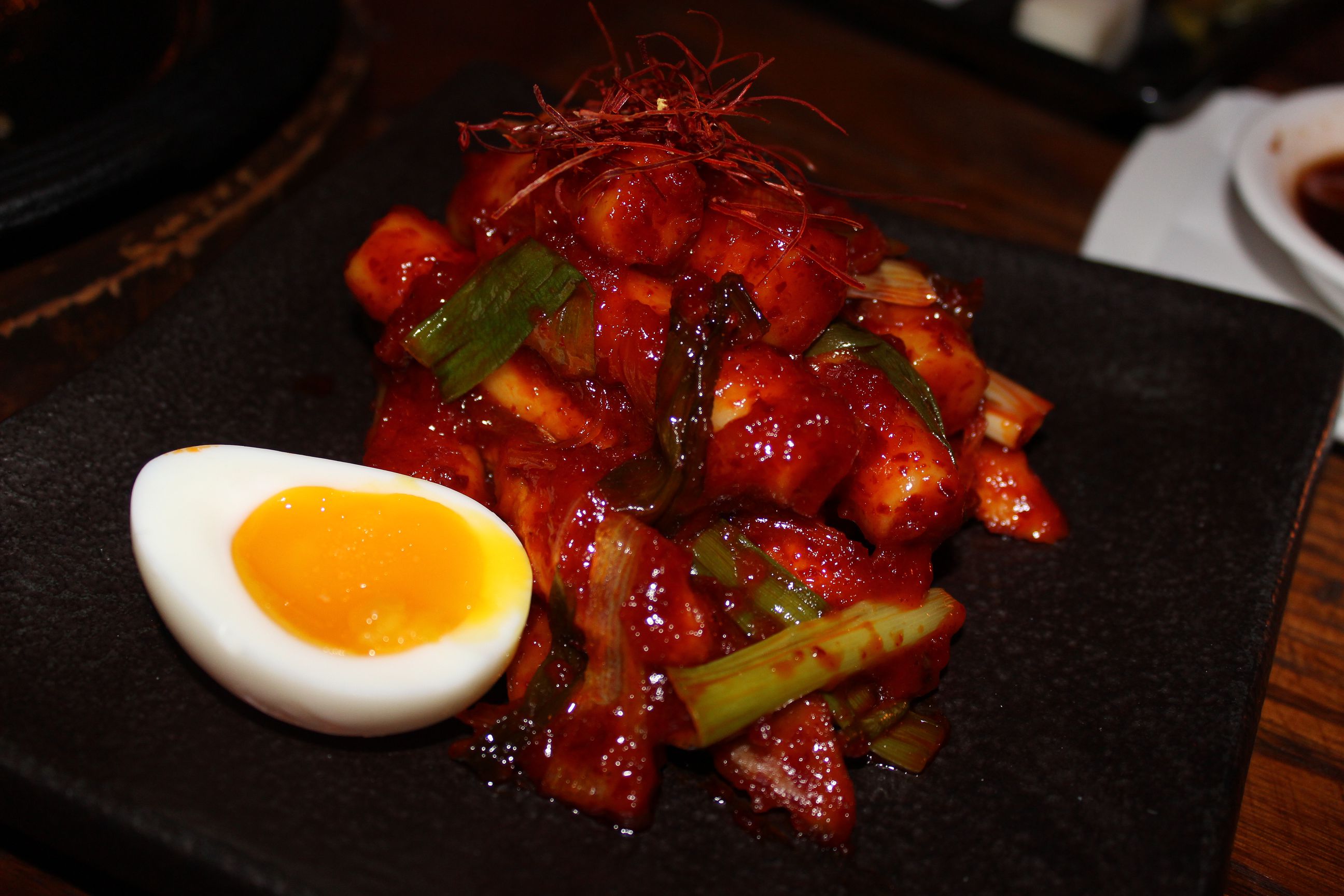 You can't dine on Korean fare and not be prepared for some truly spicy dishes and while the "Pork Fat 'Ddukbokki'" ($13) wasn't the kind that made your eyes water and your nose run, the fiery flavor profile was certainly noticeable. The sticky tubes of rice and fishcakes were exceptional- absolutely doused in red chili paste and sided with a partially runny fried half-egg, the yolk from which made for delicious contrast in putting out the fire some. Meanwhile the "Spicy Short Rib Braised in Korean Red Pepper" ($22) joined by a handful of chunky potatoes was less spicy than the aforementioned 'Ddukbokki' but the thicker red sauce perfectly complimented the tender braised meat which pulled apart seamlessly. And deliciously.
"Kimchi & Brisket Fried Rice" ($20) & "Spicy Short Rib Braised in Korean Red Pepper" ($22)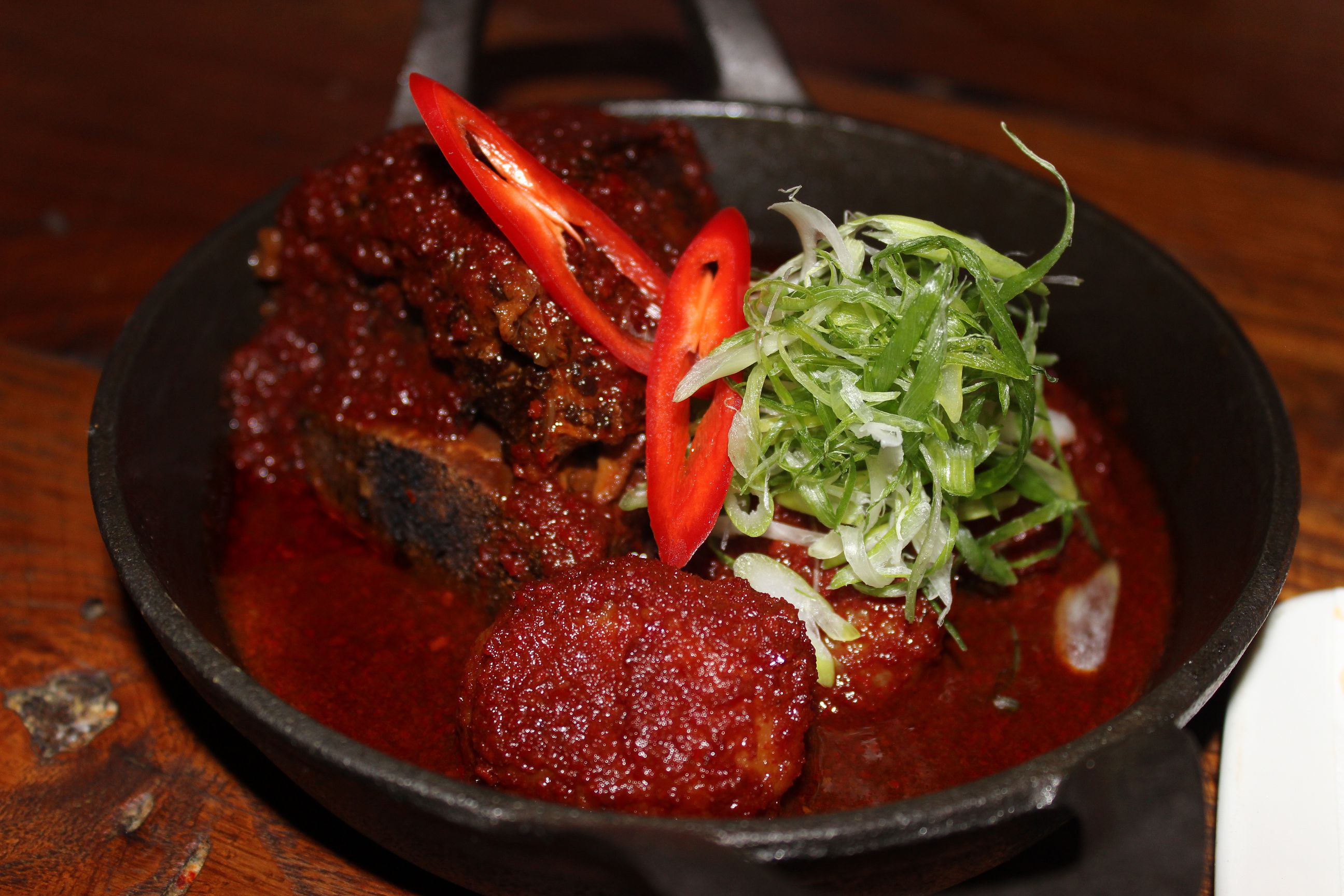 Before and after each dish, we sipped on chilled shot glasses filled with SoJu- a high alcohol content, highly drinkable Korean liquor priced between $18-$20 per bottle that carries a 12-24% abv, which means you'll be feeling the buzz in a hurry. The slightly sweet spirit is an excellent alternative to Japanese Sake, but be forewarned- the drink packs a wallop. Approaching the remaining sip in our bottle, closing our meal out with a large starchy plate of "Kimchi & Brisket Fried Rice" ($20) was an utterly brilliant stroke. Meaty slices of brisket were interspersed throughout the paella=like serving beneath a runny sunny side up egg. Spiced with pepper, diced kimchi and scallions, each piping hot mouthful richly blended all of the elements together in admirable fashion
What gets lost in the tornado of tasty dish after tasty dish was the level of tremendous service which we experienced. Each course was perfectly paced. The staff appeared to be serving the same dishes to those around us and as a result, seemed to prepare and bring them out to each table together. Whatever the case, the meal was perfectly paced, our water glasses never empty and our server's recommendations were all outstanding. Next time, we'll make sure to return a bit later in the evening where Hanjan's "Korean Spicy Ramyun" ($16) is rumored to be exceptional, though it's only served after 9pm. Until then, the lasting memory of this dazzling meal will have to suffice.
"Kimchi Duo" ($5)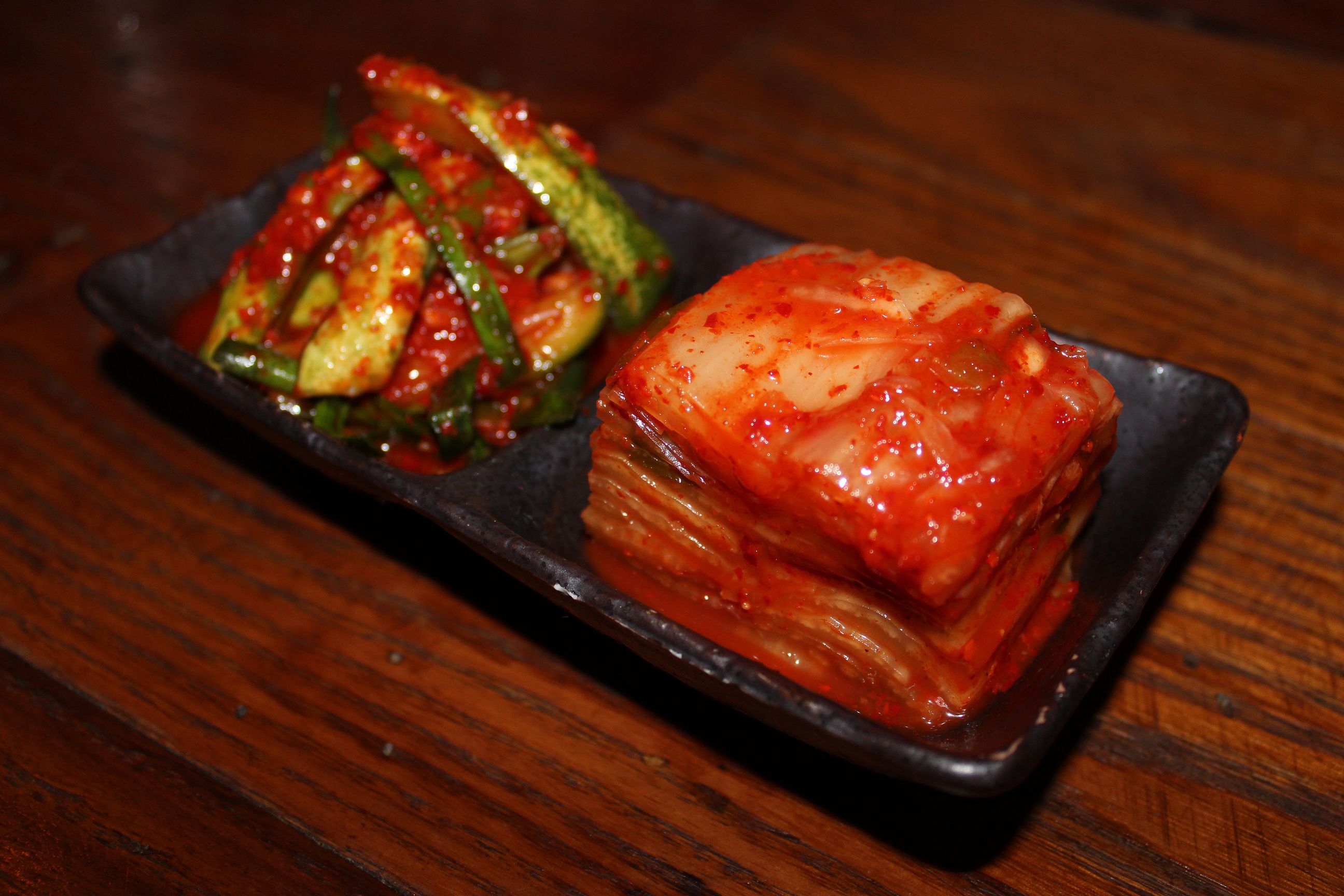 Rundown of the Meal
Traditional
Crispy Perilla Leaf Fumplings with Shrimp and Pork ($10)
Scallion Pancake w. Local Squid ($16)*
Spicy Short Rib Braised in Korean Red Pepper ($22)*
Kimchi & Beef Brisket Fried Rice w/ Egg ($20)*
Modern
Pork Fat 'Ddukobokki' ($13)*
Grilled Chicken Wings 'Freshly Killed' ($12)
Sides
Kimchi Duo ($5)
*Meal Highlight
Related Articles
Share
About Author
(0) Readers Comments