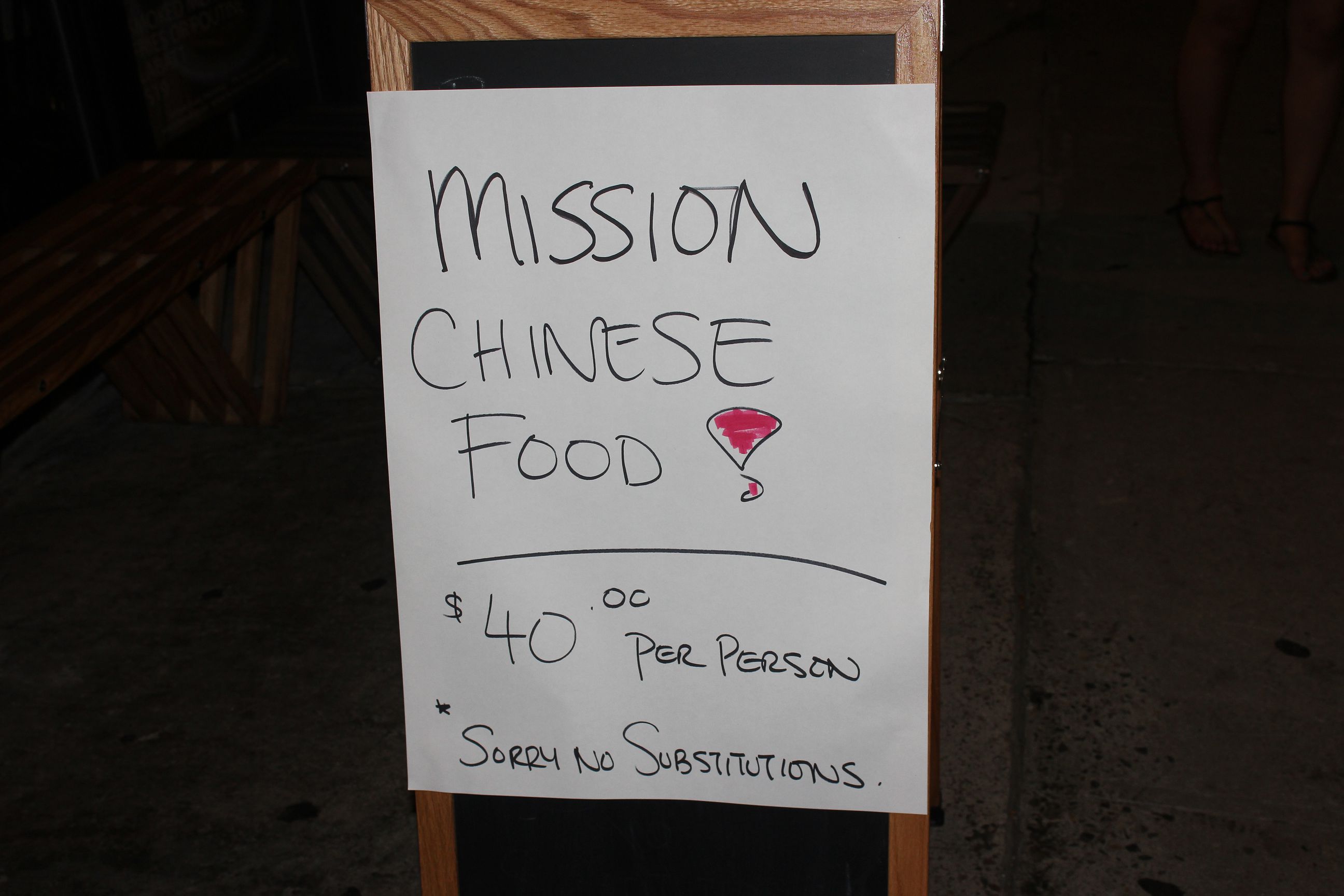 Since arriving in New York City, San Francisco Chef Danny Bowien has cultivated an intense following under his 'Mission' umbrella. Roundly praised west coast eateries Mission Chinese Food and Mission Burger have paved the way for his east coast emergence, first opening Manhattan's version of Mission Chinese in 2012, followed by 2013′s wildly successful Mexican inspired Mission Cantina. Less than a year ago MCF was forced to shutter for a variety of reasons and despite its crticial acclaim, has yet to secure a location that suits its strengths. Undeterred in the meantime, the 2013 James Beard Award Winner's sublime Asian cooking is not going under-utilized.
What spawned in Brooklyn as a part-time pop up on a handful of dates at Frankie's 457, has trickled into Manhattan for some summertime Sunday evening dinners inside of NoHo's Mile End Delicatessen. The reservation suggested (and pay in advance) feast is available at just $40 per head, not inclusive of alcohol or gratuity, but serves as a prix-fix style showcase for the Chef's absolutely remarkable culinary innovations. With eight different courses, none of which can be considered conventional, guests are treated to a an affordable glimpse at just what makes Chef Bowien among the country's most widely lauded kitchen stars. And with this intricate setup, what also makes him a savvy restaurateur.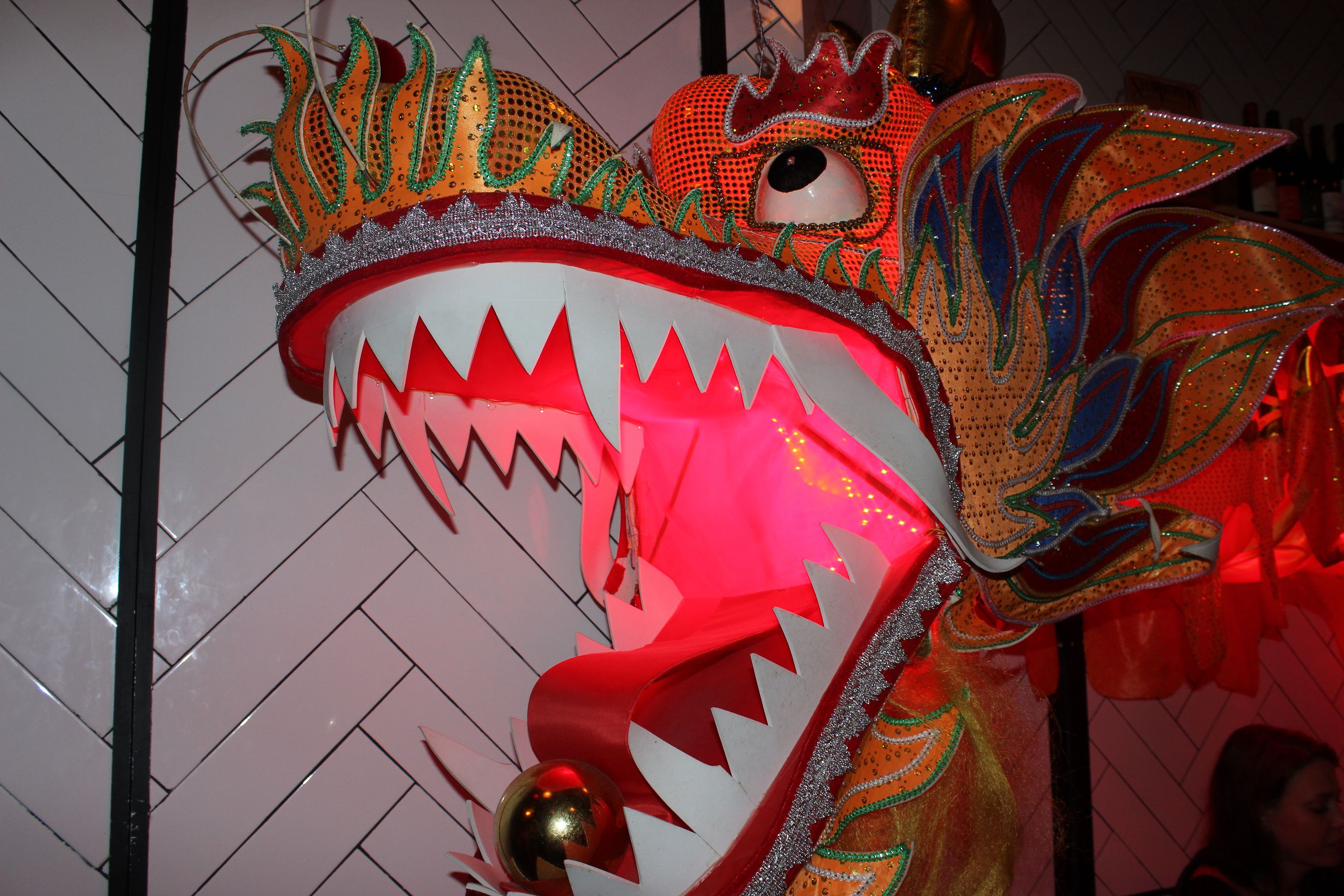 The Mile End space is adorned with very basic decor- some red lighting for effect and some paper decorations (one of which includes a large dragon) line two of the space's walls opposite the evening's menu- each course of which is written by hand on poster board and displayed for guests to take notice. The place is run a bit haphazardly in that courses tend to be served rapidly, the handful of servers are whizzing around to keep track of which table is on which course and drinks are available for purchase at the place's front counter. But the experience of enjoying Chef Bowien's delicious food is less about the setup of the Mile End space, which is essentially just a vessel being utilized to serve its greatness.
We'll run through the course by course feast below:
Course 1: "Market Tomatoes, Fennel, Black Vinegar, Lentils" & "Koji Fermented Cucumber, Umeboshi, Black Sesame"
 
The Verdict: Perfectly fine as a starter course. The small dishes were each served chilled providing a nice temperature contrast to the courses that followed. The mini-tomatoes were drowned in tangy vinegar and exploded with a burst of fresh juice with each bite. Alternately, the cucumbers were a little bit less to write home about. Thin films of salt plums and black sesame seeds draped over the thin pickled vegetables which were simply not as flavorful overall as the accompanying dish.
Course 2: "Red Cabbage Salad, Sesame Anchovy Dressing, Puffed Buckwheat, Hijiki"
The Verdict: You'd be hard pressed to find someone willing to order a red cabbage salad with such a preponderance of alternative dishes, but what Chef Bowien accomplishes here is truly extraordinary. Each crunchy morsel of red cabbage is held together in blocks, covered in crunchy puffs of buckwheat and lacquered in some exquisite sesame anchovy dressing. Though each bite will make you question whether you've cracked a molar, the totality of flavors here is supremely impressive and distinctive, making the idea of eating red cabbage an absolute pleasure.
Course 3: "Chong Qing Chicken Wings, Explosive Chili Spice"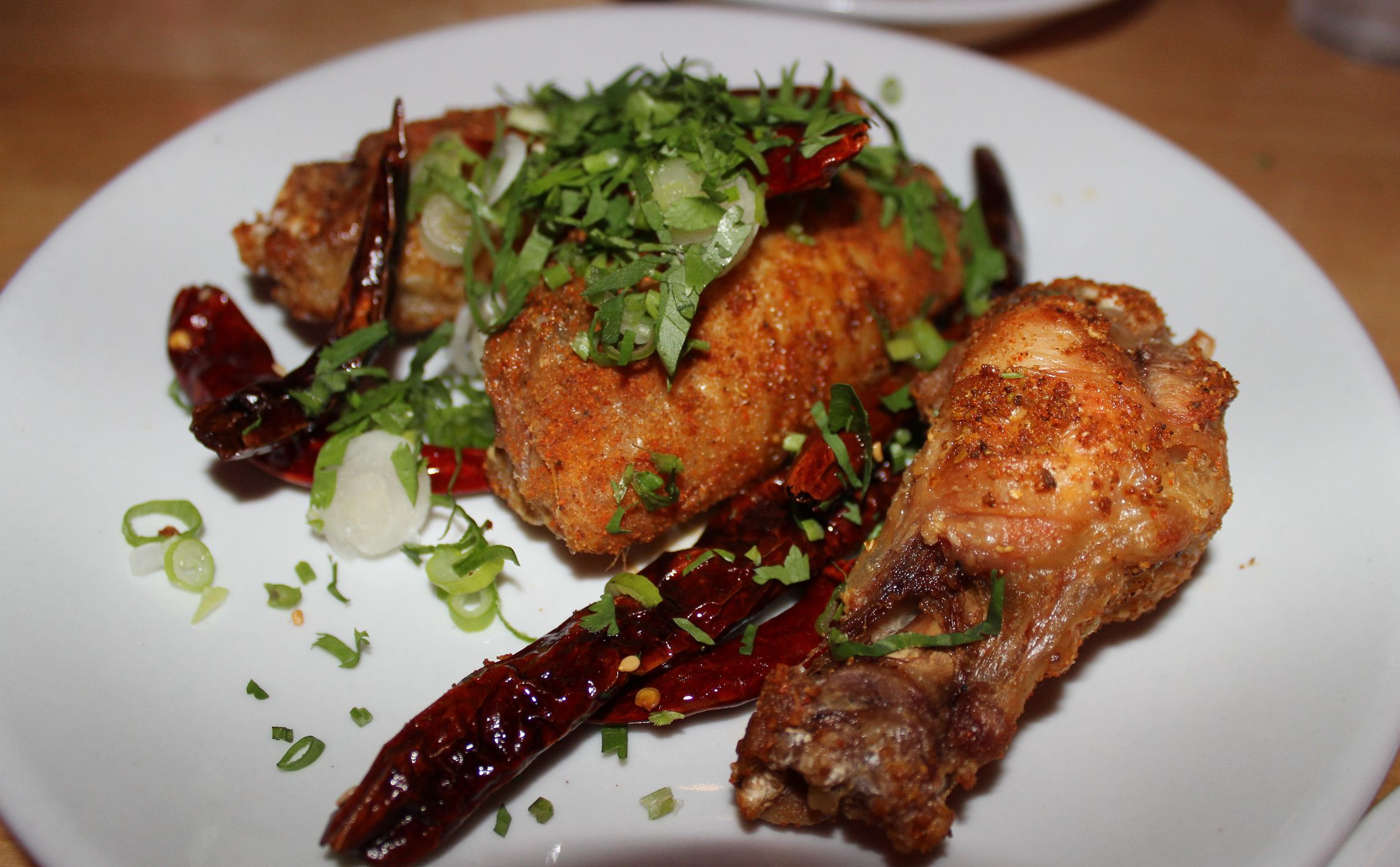 The Verdict: We're going to spend some time on this paragraph more than any other because this dish was unlike anything that we've ever tasted. Chef Bowien's masterful take on the age-old chicken wing serves to highlight his true innovation. Dubbed an 'explosive chili spice,' the wings are decidedly pungent in smell but their taste quite literally awakens nerves in your tongue and mouth that you didn't know existed previously. The first bite into the meaty, tender wing unleashes an eye opening amount of spice- think a thousand mini daggers poking at your tongue. Trust us, that's the most suitable description here- it's not eye-tearing, nose running spice- in fact, it's the kind that somehow makes you salivate. But damn is it delicious. Forget about the most distinctive chicken wings that we've ever tasted- this was one of the most unique overall dishes that I've ever put in my mouth. And it's certainly one of the most memorable. Have some water and beer handy, and dig right in.
Course 4: "Ramen Noodles with Peanut Sauce"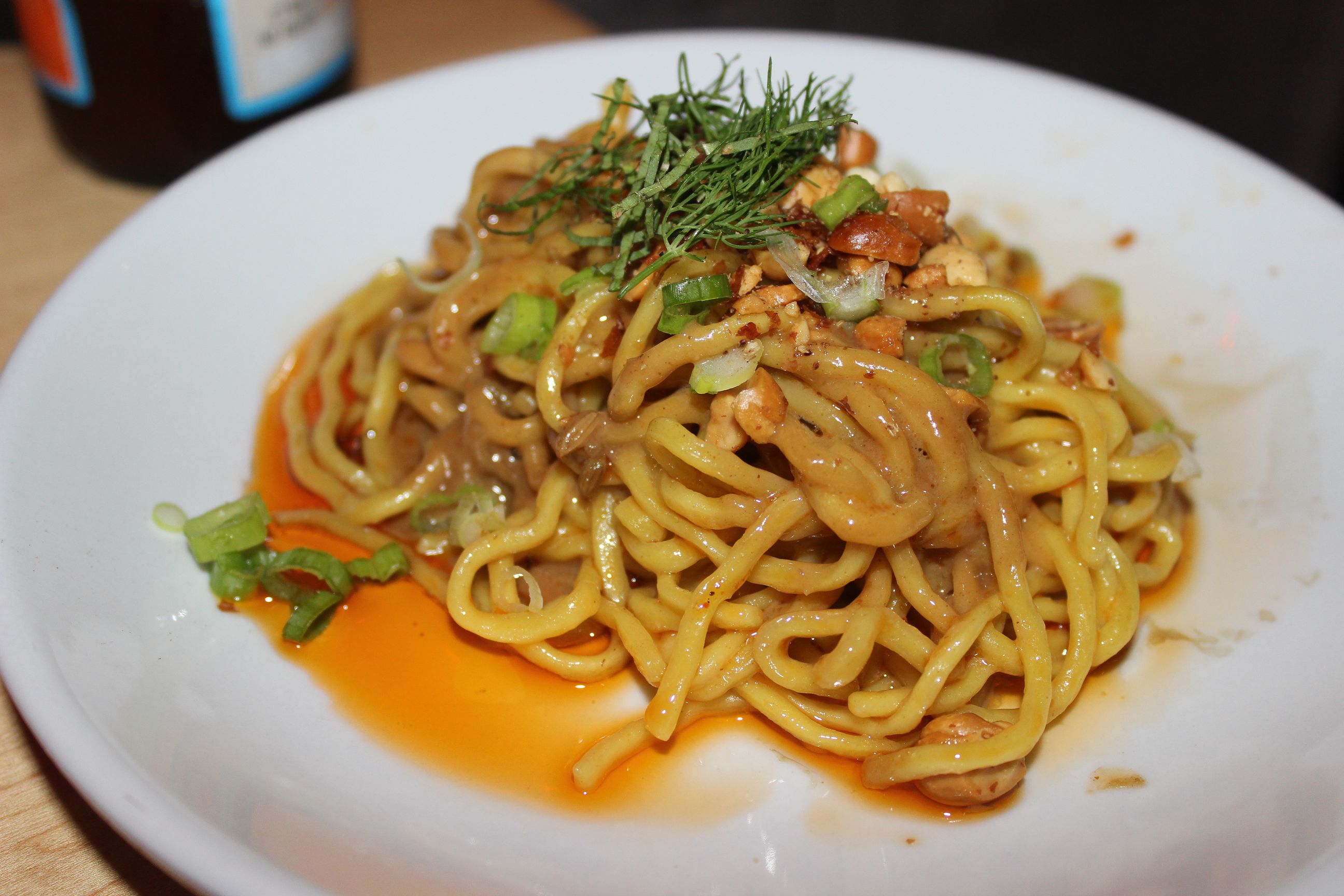 The Verdict: This is the only 'off-menu' dish that we are served, so the ingredients utilized here are a bit vague. Texturally (our mouths were still in recovery from the wings), the nicely cooked noodles were decorated with peanuts placed in and around the thick, creamy sauce. The flavors here were certainly tasty, but far from transcendent- considering the courses which preceded and followed this one.
Course 5: "Benton's Bacon and Rice Cakes, Bitter Melon, Inari"
The Verdict: An unbelievably smoky flavor was evident in each bite of "Benton's Bacon and Rice Cakes," where hunks of thick cut bacon were surrounded by thin rice patties. Deliciously oily and sprinkled with plenty of pepper flakes for additional heat (as if we needed it), the dish was an inventive take on a traditionally styled Chinese noodle dish. The patties were silky smooth and flattened out like rock sized pancakes and paired deliciously with the fat-laden cured meat slices. A truly piquant array of differing flavors in this clever dish, which was pleasantly intense.
Course 6: "Mapo Tofu, Braised Pork Jowl, Sichuan Pepper"
The Verdict: Thanks to the bulbous hunk of tofu inside of this small serving bowl, we managed to get through perhaps the evening's most fiery dish. A layer of chili oil sat at the very bottom of the soup-like serving where tender and salty braised pork and incredibly spicy peppers paired together marvelously. Though the offering had us gasping for glass after glass of water, the flavor profile of the collaborating ingredients was fantastic. Each mouthwatering morsel combined elements that were savory and spicy, coupled brilliantly with the soft and smooth blocks of white tofu.
Course 7: "Hananese Sausage Rice, Ginger, Scallion, Peanuts, Lettuce, Pork Fat Vinaigrette"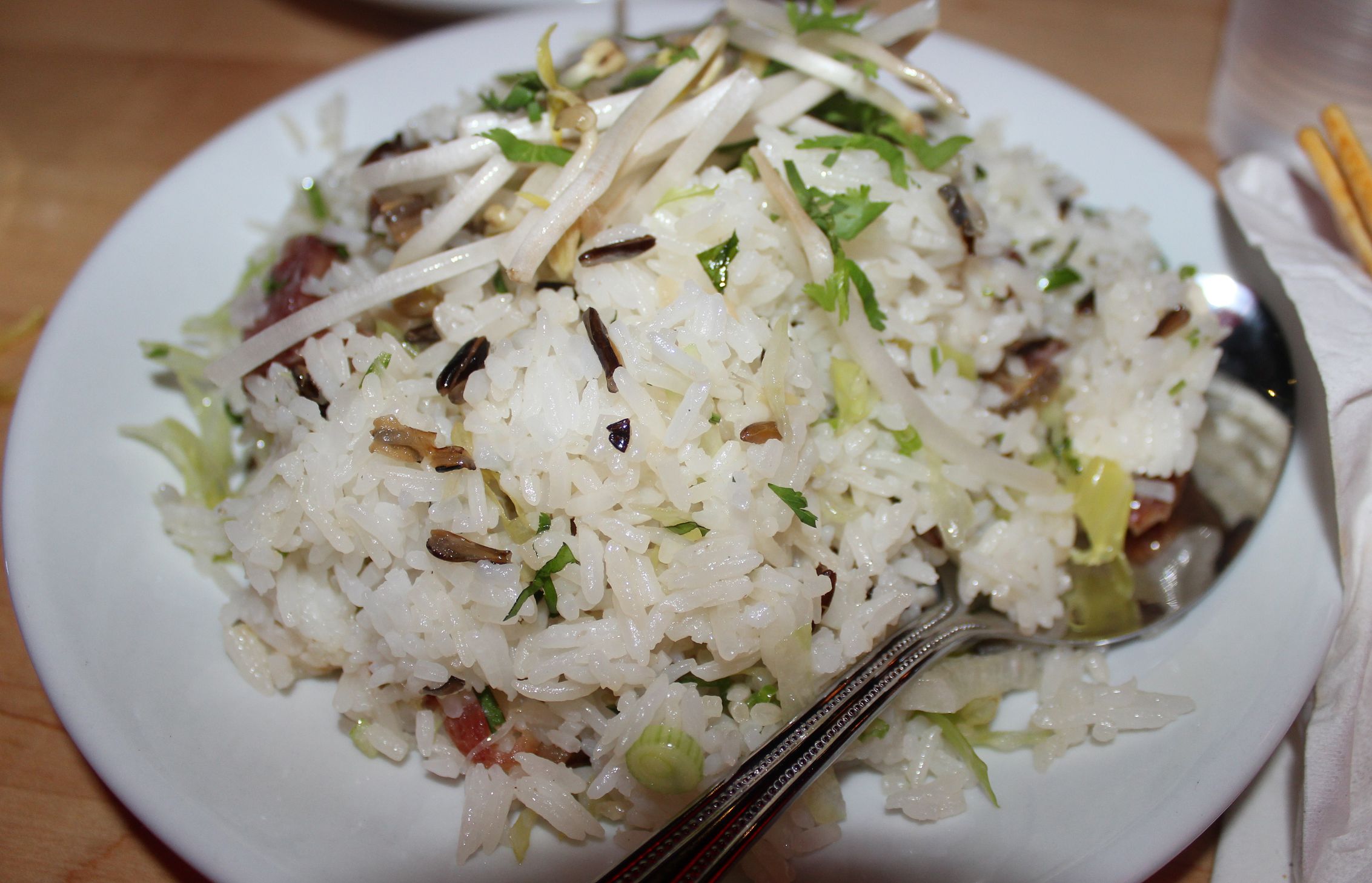 The Verdict: The sausage rice dish was the much welcomed subtle starch dish that we had been anticipating with the noodles and had all of the elements to alleviate the burning fire that raged within our mouths. White rice was a perfectly cooked base here, with the green scallions and lettuce spliced intermittently with slices of sausage and crunchy peanuts. Served as a side more than a standalone dish, this one proved to be an ideal compliment for the far edgier and ingredient-laden dishes that had preceded it- and also for lapping up any of the sauces that remained at the bottom of our empty bowls.
Course 8: "Beef Brisket, Chinese Broccoli"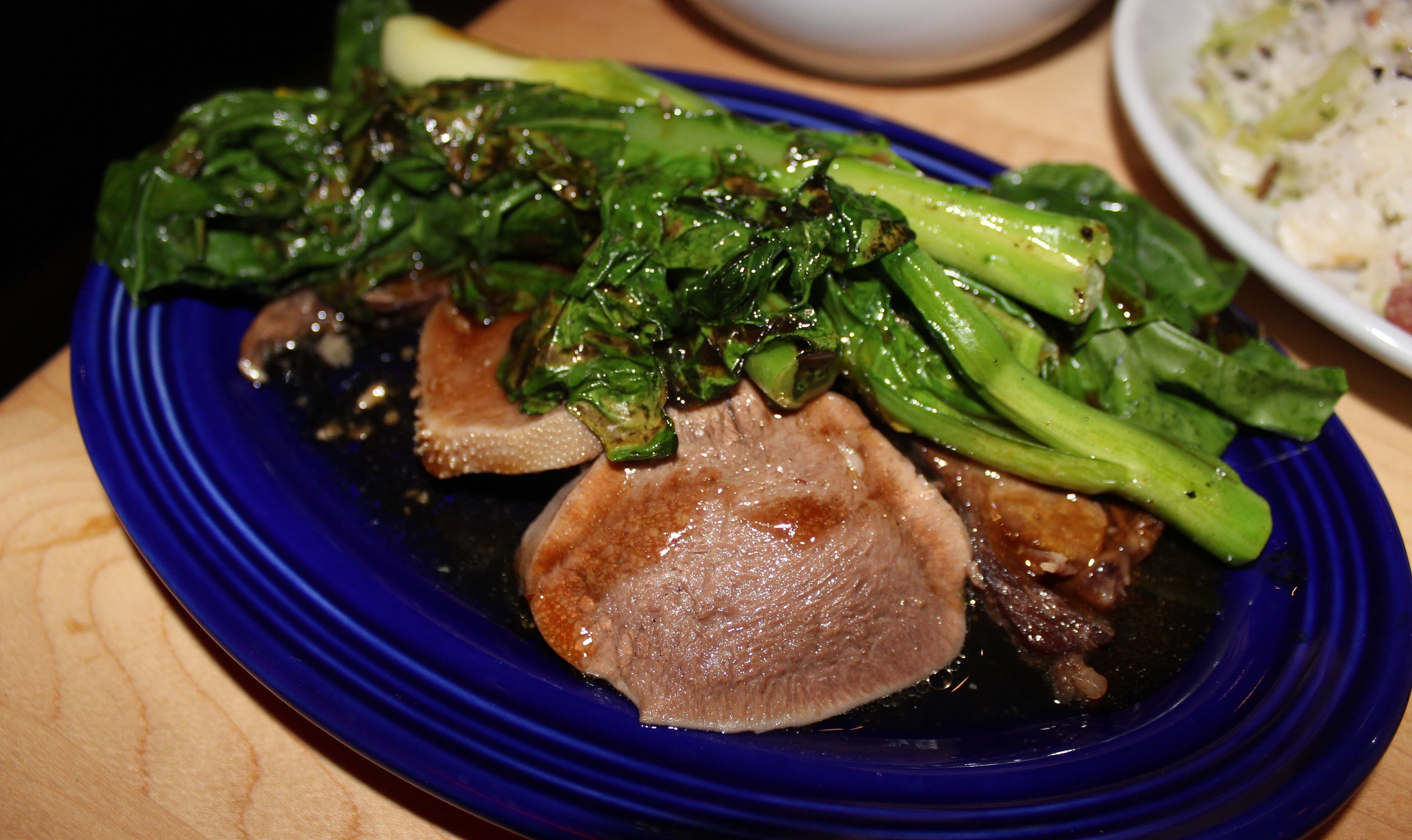 The Verdict: The term 'beef brisket' used to describe our final course was a bit of a misnomer. Brushing back the long green stalks of soaked broccoli, we dug our forks into full on slices of thick beef tongue. The chewy consistency was soft and tender as you'd expect, doused in a requisite dark sauce that was both rich and salty. In taste, the dish was sufficiently savory, but more conservative diners might have a bit of a hard time stomaching the realization of what's in front of them especially considering the meat's rough, bumpy edges analogous to our own appendage.
_____________________________________________________________
The Final Verdict: Chef Bowien's mastery was on full display on Sunday evening with no real misses to speak of in any of his eight different servings. Granted the spice level involved was not for the faint of heart- neither was the salt- but for $40, the Mission Chinese Food Pop Up at Mile End Delicatessen is one of New York City's true bargains- a smorgasbord of imaginative eats curated by one of the country's top young chefs. Our only hope is that the inspired kitchen creativity being served in this location extends far into the fall.
The Mission Chinese Food Pop Up at Mile End Delicatessen continues on August 10th and August 17th. For more information or to buy advance tickets, check out: http://missionchinesefood.com/ny/
Related Articles
Share
About Author
(0) Readers Comments