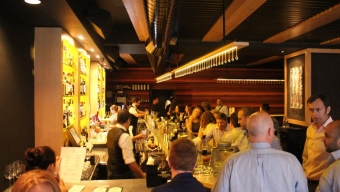 Our correspondent vowed to have a drink at every single bar in Hoboken and did so successfully with Spirits in the Sixth Borough. Every Friday morning, we'll pick up where he left off, showing you distinctive bars in each New York City borough perhaps for the very first time, perhaps to refresh your memory of a fun place you've ducked into, or perhaps to suggest a new spot for you to check out as you gear up for the weekend. You can follow our sudsy travels every week with LocalBozo.com's "Drink Here Now."
Cedar Local
25 Cedar Street at William Street, Financial District
212-344-3467
Getting There: 2,3,4,5 to Wall Street; J,M,Z to Broad Street

Drink Here Now: Cedar Local
Down in the Financial District, there's nothing quite like newly opened bar Cedar Local, a quaint little cocktail style bar on a quiet off-the-grid street. Unless you work in the area, there's a good chance you haven't been on Cedar Street, which houses a handful of lunch spots for locals. But part of the place's charm is it's off the beaten path locale and a drink menu gimmicked to suit the neighborhood.
The bar's exterior is basically the equivalent of an open door, which leads to a dimly lit cocktail bar setting, brightened up some by the natural light peering in. Much of the modernized space is surrounded by dark wooden paneling surrounding the long and narrow L-shaped bar and adjacent table seating, perfect for some of the place's light eats. Though Cedar Local serves close to ten beers on tap at a time, each of which are interesting selections of craft beers, it's the drink menu that's truly exotic.
Playing off of the Wall Street vibe, which sits just two blocks away, the cocktail list is divided between "Old Money" (traditional cocktails like "The Mint Julep" and "The Ultimate Pimm's Cup") and "New Money" (inspired drinks like the "Whiskey Rebellion" – a tasty rye and Pimm's mix on the rocks- and the "Hamilton Punch" – bourbon, sherry and black tea with mint), each of which is served at $13 a piece. The bar is a much welcome addition to an admittedly tired part of town that for whatever reason can't seem to get much of a lift off. Stone Street nearby remains perpetually packed but is tired and many of the remaining area bars simply aren't that special. Cedar Local brings something just a bit different to the table in creative fashion. And that's somewhere we're happy to invest.
The Rundown
Bar Type - A quaint cocktail bar on a quiet Fidi street.
When to Visit – I don't know how much time you're spending in the Financial District on weekends, so you'd be best served coming by after work for Happy Hour. The place opens at 4pm, so you'll be among the first to arrive- and potentially the last to leave.
Value - Happy Hour specials run weeknights with $2 off all beers. $5 Guinnesses might not seem like a ton of value, but you could certainly do worse than that. $13 cocktails meanwhile are right in line with competitive pricing in the area- and around NYC for that matter. You're going to spend money here- just depends on how much.
The Lowdown – Cedar Local is likely to attract an older crowd in that it's a quiet place that slings hand crafted and inventive cocktails a bit removed from the rich, frat boy suits that inhabit other surrounding bars. There's certainly a time and a place for those experiences, but every now and then it's nice to grab a seat at a more relaxed place where you can converse with your party without having to scream and sip on something a bit more refined than a Bud Light bottle. That's where Cedar Local fits in by sticking out- and does so quite nicely.
- Alex Corrine
Related Articles
Share
About Author
(0) Readers Comments