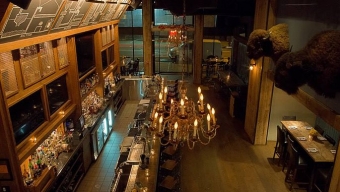 Our correspondent vowed to have a drink at every single bar in Hoboken and did so successfully with Spirits in the Sixth Borough. Every Friday morning, we'll pick up where he left off, showing you distinctive bars in each New York City borough perhaps for the very first time, perhaps to refresh your memory of a fun place you've ducked into, or perhaps to suggest a new spot for you to check out as you gear up for the weekend. You can follow our sudsy travels every week with LocalBozo.com's "Drink Here Now."
American Whiskey
247 West 30th Street near Eighth Avenue, Midtown West
212-967-1070
Getting There: 1,2,3,A,C,E to 34th Street-Penn Station
http://www.americanwhiskeynyc.com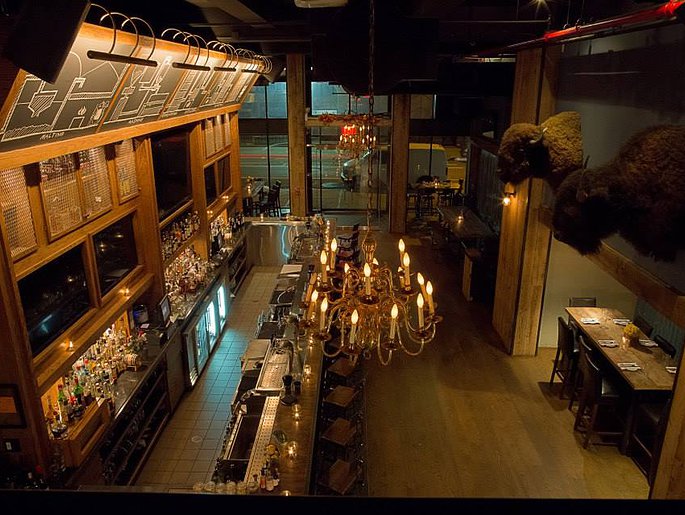 There's a lot to like about American Whiskey. The fact that it's a noteworthy and worthwhile bar in the vicinity of Madison Square Garden is a big plus. The fact that it's a more upscale take on a traditional sports bar is another. And the place's adherence to a nice variety of brown colored spirits makes the bar especially worth frequenting.
The American Whiskey moniker doesn't really do the bar sufficient justice because in name, the place sounds like your run-of-the-mill dive with an old pool table and an old crabby bartender. But the Midtown West haunt is instead a modernized multi-level space with a cavalcade of friendly and attractive servers and a staff that goes out of their way for their guests. The bar itself is decorated by a plethora of big screens and an ornate candelabra which hangs overhead, giving light to the mostly wooden space. Mounted animal heads hang on the opposite wall which, in conjunction with their whiskey selection, makes American Whiskey a bar that allows a man to feel like a man. The bar has a definitive Southern woodsiness to it that screams with rah-rah Americana charm.
As I arrive, the second floor space is charmingly crowded for a private affair, but the first floor is nicely buzzing with the staff whizzing around from table to table doling out some of the 150 varieties of domestic whiskey housed on site from rye to bourbon and everything in between. The place's Jim Beam infused "Brown Derby" is an especially excellent cocktail, prepared with some subtly sweet honey and grapefruit juice but other selections like their Four Roses based "Giggle Water" and the vodka based "Peach Cobbler" are equally satisfying.
Though the food at American Whiskey isn't cheap (sliders run $4 each), there's a nice selection to pick on while slurping down some draught beers or hitting on that girl at the bar- though you may want to put down that "Fried Jumbo Shrimp" before making your approach. And perhaps surprisingly, the place is constantly filled by good looking folks (whether or not they're actually looking to be approached probably depends on you). The downstairs "Barrel" also plays host to more private affairs but the festive vibe on Whiskey's main floor is good enough for us. It's 2013 arrival in this space, with a dearth of equally memorable bars nearby, has been nothing short of welcomed.
The Rundown
Bar Type - A modern, upscale sports bar with a setup and whiskey list fit for a man's man.
When to Visit – Anytime you find yourself in the neighborhood. Be it for a workplace Happy Hour or a sports game, there's plenty of reason to drop into American Whiskey. Though, be advised there aren't a slew of surrounding bars from which to hop. So come in for one, and stick around for five.
Value - Their Happy Hours roll until 8pm nightly and during my Thursday stop, domestic draughts at $4, craft specials for $5, wines for $6 and cocktails at $8 successfully marked off my four check boxes in short order.
The Lowdown – Finally. A place near the Garden that's not sterile. American Whiskey is a nicely sized space that makes use of its name and its setup. Not a whiskey drinker? No problem. The place has a craft beer rotation and a wide selection of bottles along with the requisite fully stocked bar and an above average array of diverse eats. That the staff here is this good though really puts American Whiskey into the next stratosphere. Drop by before or after a trip to Madison Square Garden or after work one night with a few buds. The place is can't miss, especially in light of the surrounding neighborhood.
- Alex Corrine
Related Articles
Share
About Author
(0) Readers Comments