Amazing 66
A LocalBozo.com Restaurant Review
666 Mott Street near Bayard Street, Chinatown
212-334-0099
Getting There: 6,J,N,Q,R,Z to Canal Street; B,D to Grand Street
http://www.amazing66.com/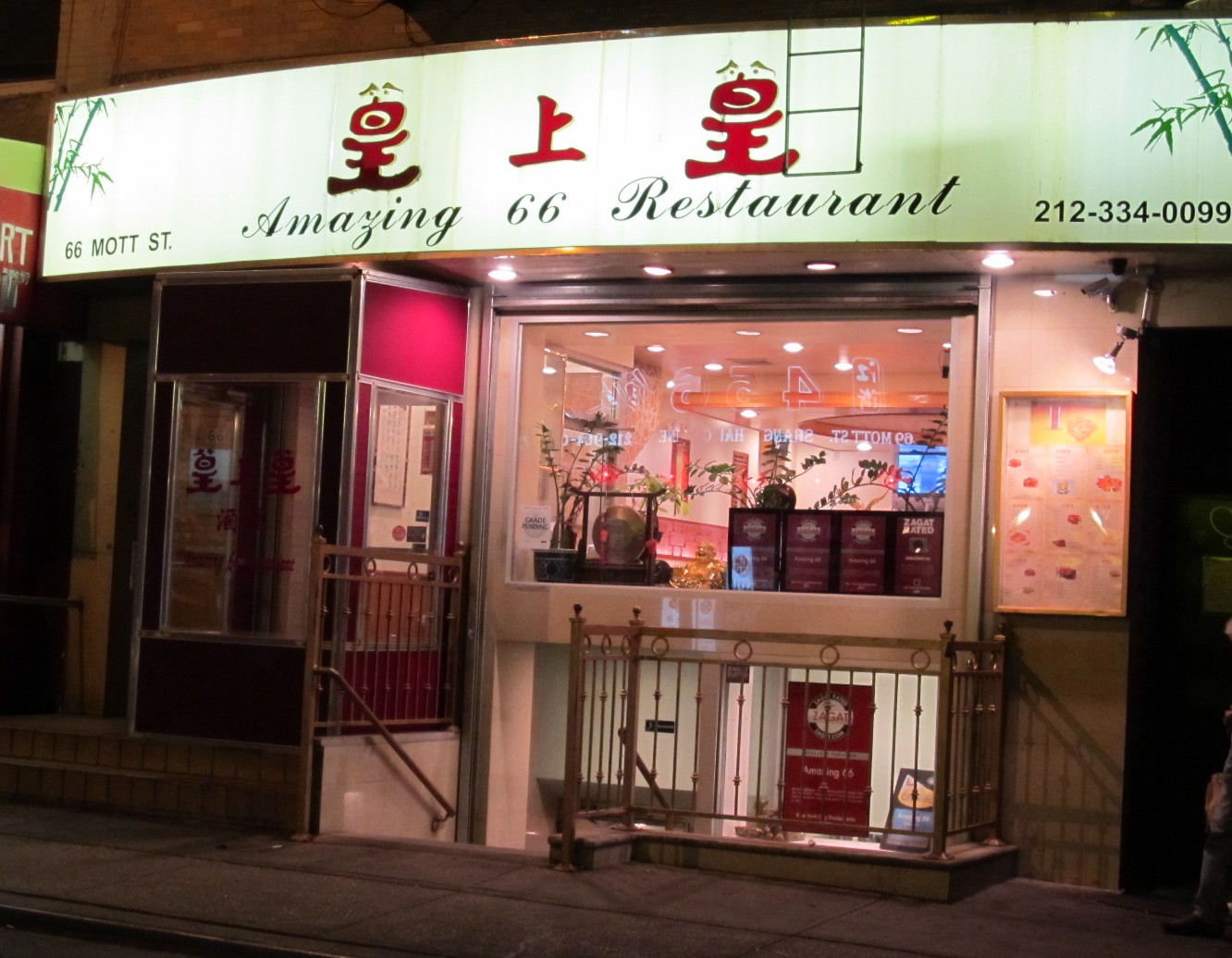 It takes a good deal of confidence to use the word amazing to describe anything. In fact, probably your friendly neighborhood Spider-Man is perhaps the only person that can use the descriptive term in the third person because time and time again he's proven that he can back that up. Though the Chinese restaurant that sits at 66 Mott Street has certainly dubbed itself as such, our results have been middling at best in each of our visits. But Middling 66 simply doesn't have as clever a ring to it.
We've been dining in Chinatown for as long as we can remember dining out anywhere. The dated, dimly lit basements with a penchant for incredible smelling Szechuan cooking and lackluster upkeep are still among our fondest and most delicious dining memories. But as any local will tell you, over time, the staples of the still bustling area have moved around from location to location until eventually disappearing. And even today, the most ardent recommendation from in-the-know diners often still are disappointments considering what Chinatown used to be.
The Chinatown of today is largely an experience that you'll undergo in a trip to Amazing 66, where many of the large tables are packed with families and large groups which serve to reinforce your selection of choice. Compared to many places in the area, Amazing 66 is pleasantly clean and the staff here is attentive and mostly friendly during the course of our meals. Unfortunately, the one place where you'd hope to find the most consistency is where the experience is at it's most up and down: the meal.
"Steamed Dumplings Shanghai Style" ($7.95) & "Chinese Broccoli" ($8.95)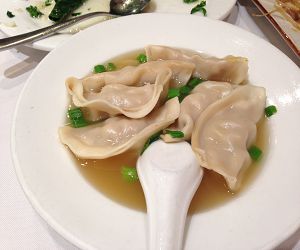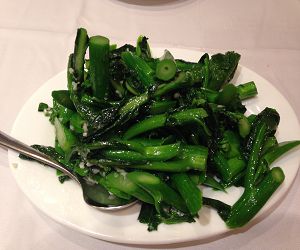 Much as the standard is in Chinatown, the menu at Amazing 66 is quite vast, broken up by different proteins and dish styles, described barely with their surrounding ingredients. Shying away from the shrimp, beef and chicken dishes- after all, we are in Chinatown- we are delivered first a side of fresh green "Chinese Broccoli" ($8.95). Crunchy and well flavored, the garlic adorned dish is surprisingly not oily and the generous portion is among the best dishes that we'll bite into all evening. The "Steamed Dumplings Shanghai Style" ($7.95) meanwhile, was a fair compliment- served piping hot and six to a serving which resembled a bowl of wonton soup. The salty broth and scallions decorated each pork enveloped noodle, which were under-whelmingly flavored comparatively.
"Fresh Squid with Spiced Salt & Pepper" ($11.95) & "Sliced Pork with Mixed Vegetables" ($9.95)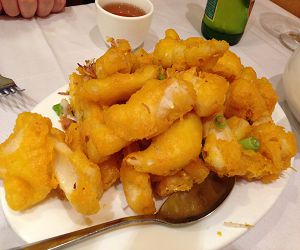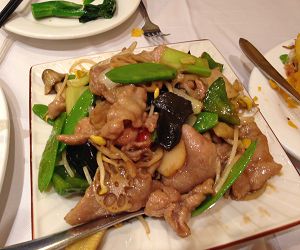 Unfortunately, the most disappointing dish came in the form of our main course where the "Fresh Squid with Spiced Salt & Pepper" ($11.95) might imply a tentacled dish plucked right from the ocean and plated table side. Instead, the dish was the equivalent of deep fried zeppoles, overly breaded with tough tendon-like white squid curls at each thick yellow core. Pungent scallions and jalapenos covered much of the dish but didn't play a role in the deep-fried seasoned breading which surrounded the flavorless squid chunks. But despite being a bit undercooked, the "Sliced Pork with Mixed Vegetables" ($9.95) still managed to essentially salvage the meal. Though we would have preferred a saucier component to lacquer the chewy slices of pork, the collection of water chestnuts, fresh green peppers, carrots and baby corn- in traditional fashion- worked to bring out all of the savory elements in the pork. And the assortment of bean sprouts and pea pods added plenty of additional flavors to the dish on their own.
Though we weren't trying to crown Chinatown's finest eatery, we expected more from Amazing 66, whose reputation for delivering delicious and fast Cantonese dishes had preceded it. Heck, we had even been here before. But with the inconsistency during the entirety of our most recent visit (our forgotten orders of white rice aside) has forced us to reconsider exploring some of the neighborhood's side streets to uncover a different gem to begin frequenting. Though we were certainly well intentioned, our trips to Amazing 66 recently have truly been anything but.
Rundown of the Meal
Sides
Chinese Broccoli ($8.95)*
Appetizers
Steamed Dumplings Shanghai Style ($7.95)
Pork
Sliced Pork with Mixed Vegetables ($9.95)
Seafood
Fresh Squid with Spiced Salt and Pepper ($11.95)
*Meal Highlight
Related Articles
Share
About Author
(0) Readers Comments