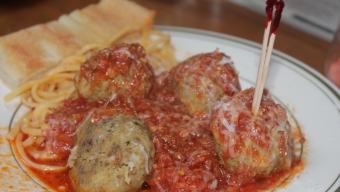 Turnover is particularly constant in the New York dining scene but the new and exciting openings shouldn't be the only places celebrated within these pages. Staying power and expansion deserve commendation not neglect and with that, from time to time, we'll be revisiting some staples of the New York restaurant scene, reflecting upon how they've adapted to the perpetually changing tastes of the City's high brow clientele and how they've remained relevant in spite of an audience that's always seeking out what's coming next. Our first installment plants us at a bustling Brooklyn table inside of Williamsburg's The Meatball Shop.
The Meatball Shop
A LocalBozo.com Restaurant Review
170 Bedford Avenue near 7th Street, Williamsburg, Brooklyn
718-551-0520
Getting There: L to Bedford Avenue
http://www.themeatballshop.com

Original Visit: June 2010
What We Said Then: "Since its official opening, the Managing Partners, Daniel Holzman & Michael Chernow have taken a hands on approach to their business. In fact, when our wait time approached the one hour mark, we were delivered a fresh meatball stromboli on the house, to accompany our affordable red chianti, while sitting at the bar."  You can read our initial review of The Meatball Shop at this link- pardon the particularly awful photos.
Then and Now: In just over four years, The Meatball Shop has experienced one of the most phenomenal periods of growth in New York City. As restaurants continue to shutter at historically rapid rates in the face of rent hikes and fickle dining crowds, the casual come-as-you-are approach from the boys at The Meatball Shop has expanded their brand to the tune of four new locations on top of their perpetually popular Lower East Side outpost, the site of our first visit. Our follow up trips to Chelsea and most recently to Williamsburg have equally replicated the memorable experiences that we enjoyed our first few times out and while the wait times have declined some, the business most certainly has not.
The Kitchen Sink Salad – Chicken + Classic Tomato ($11) & Spicy Pork + Spicy Meat Sauce ($8)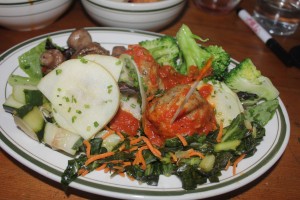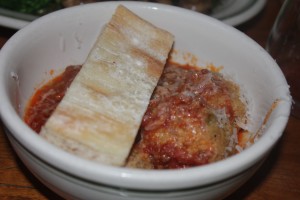 Conceptually, the restaurant is a relaxed place that caters customized meatballs to each guest in terms of meat, dressing and serving style- but The Meatball Shop is best utilized for shared portions amongst unselfish diners. Their protein packed "Naked Balls" are deliciously served four in a bowl with a slice of thick focaccia bread for dipping- the standout being the 'Spicy Pork,' which is always nicely salty, tender and terrific. Truthfully though, you can't go wrong with any combination.  Each delicate sphere is lacquered in your sauce of choice- the 'Spicy Meat Sauce' and 'Parmesan Cream' are as good as it gets here. This time out, we pass on the bulbous heroes, smashes and sliders in favor of three varieties of 'Nakeds' and "The Kitchen Sink Salad" which is a plate piled high with sides from apple slices to kale, broccoli, cucumbers and mushrooms. The different flavors and temperatures work well enough together here, but first timers are better off opting for some of the restaurant's more traditional fare as the "Sink" is more of a plate thrown together at a buffet salad bar, albeit topped with deliciously old-fashioned meatballs and savory sauce.
Classic Beef + Spicy Meat Sauce ($8) over Spaghetti ($5) & Chicken Cordon Bleu + Parmesan Cream Sauce ($8)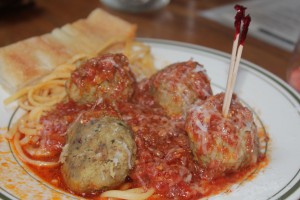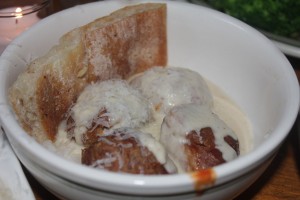 Every day, the place unveils a special daily ball- we've run the gamut from 'Venison' to 'Buffalo Chicken' to 'Lamb' in previous visits. Fortunately, the 'Chicken Cordon Bleu' greeted us on this trip into Williamsburg, with a thin layer of ham wrapped around the ground chicken meat- a delectable combination that graced one of our 'Sink' salads. The Shop also offers side dishes which can be served underneath an order of balls or as a standalone side. In traditional style, we opt for the strands of perfectly al dente "Spaghetti" underneath a tasty batch of 'Classic Beef' meatballs, and sides of creamy "Polenta" and some fairly forgettable "White Beans," which though are textural compliments to the meats are also utterly bland. No trip to The Meatball Shop is complete though, without a sampling of their house made "Ice Cream Sandwiches" ($5) which again, allow total customization for cookie and ice cream pairings- the 'Snickerdoodle + Vanilla' was particularly memorable.
Despite the brand's lightning fast ascension, it's refreshing to note that The Meatball Shop's business model and quality of niche comfort food haven't changed much since our initial outing. Even more impressive is that the restaurant's consistency has translated impeccably from location to location, allowing diners across two boroughs to now have the opportunity to enjoy some of the most affordably delicious dishes that New York City has to offer.
The Bottom Line: There's no beating these balls.
Sides – White Beans ($5) & Polenta ($5)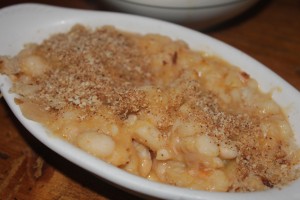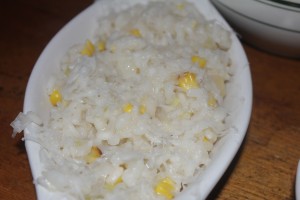 Ice Cream Sandwiches ($5)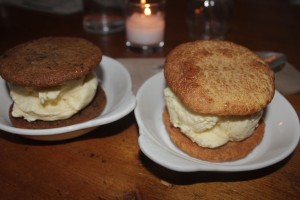 Rundown of the Meal
Naked Balls
Spicy Pork + Spicy Meat Sauce ($8)*
Classic Beef + Spicy Meat Sauce ($8) over Spaghetti ($5)*
Chicken Cordon Bleu + Parmesan Cream Sauce ($8)*
The Kitchen Sink Salad
Chicken + Classic Tomato ($11)
Sides
White Beans ($5)
Polenta ($5)*
Ice Cream Sandwiches
Chocolate Chip Cookie + Vanilla Ice Cream ($5)*
Snickerdoodle + Vanilla Ice Cream ($5)*
*Meal Highlight
Related Articles
Share
About Author
(0) Readers Comments