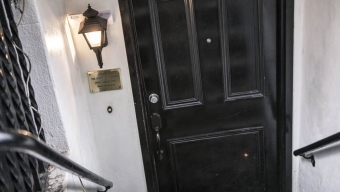 Our correspondent vowed to have a drink at every single bar in Hoboken and did so successfully with Spirits in the Sixth Borough. Every Friday morning, we'll pick up where he left off, showing you distinctive bars in each New York City borough perhaps for the very first time, perhaps to refresh your memory of a fun place you've ducked into, or perhaps to suggest a new spot for you to check out as you gear up for the weekend. You can follow our sudsy travels every week with LocalBozo.com's "Drink Here Now."
Raines Law Room
48 West 17th Street near Fifth Avenue, Chelsea
No Phone Number Listed
Getting There: 4,5,6,L,N,Q,R to 14th Street-Union Square; 1,2,3,F,M to 14th Street
http://raineslawroom.com/
You won't find any pictures in this review. That's because the place that we ducked into is a dimly lit speakeasy which essentially non-verbally mandates that you don't take photos at the risk of disturbing the atmosphere that's been forged inside. Raines Law Room has for years been among Manhattan's finest cocktail bars. But its sophisticated drink program seems to take a perpetual backseat to the unique and often exclusive ambiance that goes along with being granted access inside.
Pretentious as it may sound, your chances for getting inside of Raines Law Room during prime hours are not great. Their no reservations policy and limited seating purposefully leave them with walk-in clientele, in the most charming way possible. Step one- find the building's address and awning. Step two- walk down the stairs. Step three- ring a doorbell and await to be acknowledged. Step four- recite the number of your party. Step five- wait for a member of the staff to return with either good news or bad. At times, our group of six has walked right in. During others, our more intimate party of two were added to a two plus hour list and subsequently were never alerted that a table had been freed up. Your best bet is to arrive during an off-peak hour and hope for the best- because Raines Law Room is an exceptional experience.
Inside, you'll find a dark room with plush seating in the lounge and more private booths with drawn curtains in the parlor area fit for larger parties. There's also an outdoor patio, but you'll want to stay inside and even in the kitchen space where the resident mixologists are serving eclectic drinks around a center island counter bar. Waitresses flock around the diminutive space in throwback uniforms, responding only if the drawstring light is pulled behind your seats which indicate that you're in need of service. If it sounds overly elaborate, that's because it is. Forget about slugging down bottles of Bud Light here and splurge for some of Raines' excellent cocktails- the menu for which is about as extensive as you'll find anywhere in Manhattan. Figure out your specialty – 'Tall & Fizzy,' 'Short & Shaken,' even 'Fancy' makes the cut here- or dabble in something brand new for yourself. The slightly sweet "Bramble" ($13) makes for an ideal warm weather drink with gin, lemon juice and blackberries over crushed ice, while the liquor fueled "American Trilogy" ($14) will put some hair on your chest what with its mix of brandy whiskey and orange bitters. But the glass with a huge block of ice will make you feel as cool as Don Draper on his best night. And fortunately, while the place could gauge guests for drinks in the $16-$18 range, they don't more often than not. And we appreciate it.
The Rundown
Bar Type - An old prohibition style cocktail bar. An old fashioned place to have an old fashioned. See what I did there?
When to Visit – Whenever you can get in. Prime time evening hours during the week or weekend are likely to be fairly busy so your best bet is a bit on the early side, but make sure to leave yourself enough time to hang out and enjoy the scenery.
Value - You can sip on some craft beers for $7 or $8, or you can enjoy some not unreasonable cocktails in the $13 range. But Happy Hour? Come on now.
The Lowdown – Raines Law Room isn't some neighborhood spot to frequent every week. Instead, it's a place that's absolutely worth visiting once and awhile because it delivers a special experience. Whether you're bringing folks from out of town or you're enjoying a more intimate evening of fine cocktails, the ambiance to the drinks to the service- it's all down right impeccable. And with each visit, though this is hardly the case, it feels like you're letting your pals in on perhaps the City's best kept secret.
- Alex Corrine
Related Articles
Share
About Author
(0) Readers Comments