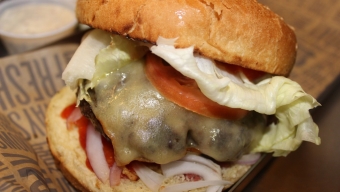 Big Smoke Burger
A LocalBozo.com Restaurant Review
70 Seventh Avenue near 15th Street, Chelsea
917-475-1995
Getting There: 1,2,3 to 14th Street
http://www.bigsmokeburger.com/

Restaurant Review: Big Smoke Burger
Despite having signed a lease more than a year ago, New York City's first outpost of Canadian import Big Smoke Burger hosted its grand opening on Tuesday evening, welcoming in guests all day long for the very first time. The modernized Chelsea space is still in the midst of being completed but boasts 74 seats inside of the restaurant and another 36 in their soon to be completed patio space out back. But that didn't prevent a multitude of yellow and black balloons from being propped up on tables throughout the room in celebration of the burger chain's arrival- of which there are reportedly more to come in Manhattan.
The layout of Big Smoke isn't all that dissimilar than we're used to seeing at similar New York burger haunts. Sure there are some communal picnic tables for seating, some seats at the back bar countertop and the aforementioned space out back- but the clean and conventionally narrow layout seems to take a page from other fast casual style settings. Though we arrive on opening night, the staff is over-the-top friendly, catering to our every need and ask as we place our order and then find a table to await our meal delivery.
Big Smoke Burger offers a completely customizable menu but also showcases more than a dozen of their own concoctions utilizing a variety of different cheeses, toppings and sauces alongside the requisite burger-staple condiments. The object of our desire however is the arrival of the restaurant's Canadian-bred and traditionally prepared "Poutine" (sm. $4.95, lg. $6.50), a mouthwateringly drenched batch of freshly cooked French fries, doused with dark savory gravy and littered with creamy Ontario cheese curds. Not only are these a fantastic alternative to the more traditional fries or onion rings also offered here, but they also compliment the selection of burgers nicely. Think about the best disco fries you've ever had and replace the cheese with even creamier, gooier and more delicious dairy hunks.
At the end of the day Big Smoke will live and die by their customized burgers. Each patty is a generously sized six ounces of straight Ontario beef. The size was the first point of interest as the bulbous bun shrouded much of the meat in seasoned secrecy. (We're told that smaller, more authentic style Big Smoke buns are set for delivery in the days to follow which fall more in line with the restaurant's expectations) That said, the burger meat was nicely cooked and pleasantly juicy throughout without being overly messy. The same couldn't be said for some of the condiments though. The lacquered "Lamb Burger" ($9.50) was doused in a creamy green cilantro-feta spread which made its way onto more than two of our fingers- but was particularly delicious nonetheless. The especially salty ground lamb meat was a nice taste and textural alternative to the piping hot "Cheese Burger" ($7.95), unsurprisingly our favorite of the trio that we sampled. Traditionally prepared and topped with smoked Canadian cheddar cheese, the flame grilled burger was perfectly seared, served with crispy lettuce and tomato and had sufficient ketchup to bring all of the flavors together cohesively. Big Smoke might claim to be from Canada, but their classic "Cheese Burger" is an absolute slice of Americana.
After literally slurping the remaining gravy from our small order of "Poutine" and an additional side order of hand cut "French Fries" ($4.25), we finished off with the "Crazy Burger" ($7.95). Topping off the all-beef patty with jalapeno jack cheese, coleslaw, chipotle mayo and barbecue sauce, the addition of hot peppers which sat beneath the burger proved to be the key ingredient. The creamy slaw, fiery pepper and the warm burger meat each added noticeable components to the sandwich, which fell just a notch below the other two.
So Big Smoke Burger has finally arrived in New York, with other spots across Canada, Saudi Arabia, Denver and coming soon to Chicago. How does the burger stack up? Let's weigh the options:
Price: Big Smoke's signature and classic burgers each fall below $10, but not by much, which prices them just above Shake Shack and a notch below the likes of Bareburger and Five Napkin Burger. Though the burgers are priced a bit higher than you'd expect from a fast casual dine-in or takeout spot, you're also getting a six ounce burger here rather than four ounces so the price isn't unjustified. $6.50 for a "Poutine" and $4.25 for a side of "French Fries" does sound a bit excessive in practice, but Big Smoke also offers combos at slight discounts as well.
Size: Again, the six ounce patties and the large buns that we experienced on opening night were sufficient enough that you can get by with a single burger and be completely satiated. You'll need two hands to bite this thing and also a spoon to scoop up whatever drops onto your plate as you do so.
Taste: Fortunately, the most imperative piece of the burger puzzle is where Big Smoke probably succeeds most. Though each burger was different, it was hard to find an issue with any of their tastes.  Nicely seasoned and deliciously juicy, their traditional "Cheese Burger" was their best offering, proving that you don't need to disguise their meat with an overload of toppings to supremely enjoy a Big Smoke Burger. Add in their lip smacking "Poutine" which was neither overly heavy or rich, and you've really got a burger spot to write home about.
The Final Word: Leave it to the other critics to dictate which burger spot is better than another. All you need to worry about is stopping in and tasting New York City's latest burger addition courtesy of our neighbors north of the border.
Rundown of the Meal
Classics
Cheese Burger ($7.95)*
Signature
Lamb Burger ($9.50)*
Crazy Burger ($7.95)
Sides
French Fries ($4.25)
Poutine (sm. $4.95, lg. $6.50)*
*Meal Highlight
Related Articles
Share
About Author
(0) Readers Comments