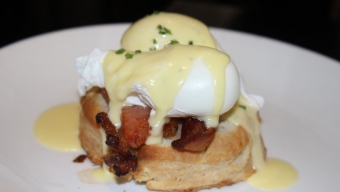 Parlor Steakhouse
A LocalBozo.com Restaurant Review
1600 Third Avenue at 90th Street, Upper East Side
212-423-5888
Getting There: 4,5,6 to 86th Street
http://www.parlorsteakhouse.com/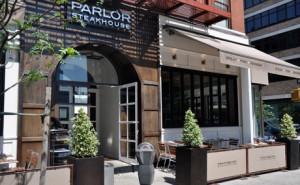 You won't find a deer head mounted on the wall nor a stuffy room filled with cranky old men rudely serving you plates of massive steak and ushering you out the front door like the very cattle you're about to sink your fork into. The Upper East Side's Parlor Steakhouse is instead more of a clean and chic space that happens to serve steak than it is a traditional palace serving thickly cut beef. And it might surprise you even further that we stopped in here to enjoy brunch.
Since opening in 2008, Parlor has embodied the fabric of the uptown neighborhood- less likely to be inhabited by packs of loud boisterous fellows and instead a more inviting scene for the families and other behaved folks that reside on these more quaint streets. The interior of the restaurant is almost entirely off white, well lit by both the natural daylight peering in from the fully windowed exterior and an array of overhead bulbs and chandeliers which accentuate the place's positives- plush banquettes, dark mahogany tables and a definitively modern setting that deserves to be shown off and not shrouded by poorly lit secrecy. And Parlor's young, friendly waitstaff continues to provide a pleasant change of pace to the decidedly passe standard of steakhouse servers that think they're doing you the favor by placing a side plate of asparagus at your table.
With an array of 'Steakhouse Classics' ranging from a 36 ounce "Delmonico" ($84) to an 18 ounce "Bone In Rib-Eye" ($46) and a host of tasty seafood options to choose from, you might ask yourself why we had been inclined to visit Parlor for brunch? Well the steakhouse just also happens to offer their signature 'Bottom's Up Brunch Prix Fixe,' which for $29 nabs up to five brunch cocktails alongside a signature brunch item over the course of two hours. While some might scoff at New York City's boozy brunches, you won't hear that from us. We know a good value when we find it- and with the relative dearth of noteworthy brunch spots in the neighborhood, a visit here proved to be long overdue.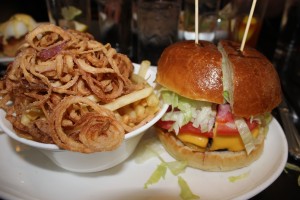 As a result of the neighborhood and because the place is so nicely laid out, you won't find the wild raucous brunch scene here that a bottomless setting might imply. Quite the contrary as a matter of fact. The guests here skew a bit older and are visibly more civil- seemingly an ideal element for the type of place we frequent. Though the abbreviated brunch menu offers just six choices, there are a multitude of other A La Carte options for those deciding to take it easy on the cocktails. The "Eggs Benedict" ($15) here is the restaurant's early afternoon standout- likely because of its use of a thick crusty buttermilk biscuit as its anchor as opposed to a tired English muffin. Warm salty cuts of flavorful bacon drape the rich flaky bread and doused with some deliciously creamy hollandaise sauce, the entire collaboration of competing flavors is an absolute home run. Just a notch below, the "Cheeseburger" ($17) was a fantastically bulbous arrangement served beside a full bowl of French fries topped with crispy deep fried onions. Draped in American, cheddar or gruyere cheese, the savory black angus beef patty was tenderly served at an ideal medium rare, topped with crispy fresh vegetables enveloped by a fluffy brioche bun.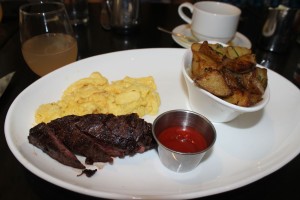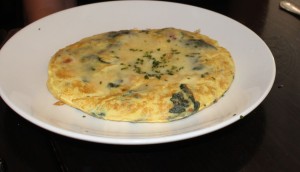 Surprisingly, it was the "Steak & Eggs"($15) that missed the mark for us, perhaps because of its simplicity. The thin cut of hanger steak was nicely seared, but lacked sufficient flavor especially considering the caliber of beef upon which we're used to indulging in Manhattan. Certainly serviceable, but the serving of steak here didn't exactly leave us wooed at the prospects of the restaurant's larger cuts. Fortunately, the tasty "'BLT' Frittata" ($14) salvaged that some, combining a generous portion of smoked bacon and spinach with a smattering of aged cheddar to yield a perfectly acceptable omelette.
For $29, we enjoyed a seemingly limitless supply of refreshing Bellinis and heartier Bloody Marys, both of which outshone a far too tangy blend of Mimosas and Parlor's friendly staff could not have been more friendly nor more accommodating to everything our party threw their way. Will Parlor Steakhouse be the finest steak that you taste in New York City this year? Perhaps- or perhaps not. But their Prix Fixed brunch provides an unbeatable value in the neighborhood, where the fare being served is satisfying and the space is both contemporary and pristine.
Rundown of the Meal
Parlor's Bottom's Up Brunch Prix Fixe
Eggs Benedict ($15)*
Steak & Eggs ($15)
Parlor Cheeseburger ($17)*
'BLT' Frittata ($14)
*Meal Highlight
Related Articles
Share
About Author
(1) Reader Comment