Our correspondent vowed to have a drink at every single bar in Hoboken and did so successfully with Spirits in the Sixth Borough. Every Friday morning, we'll pick up where he left off, showing you distinctive bars in each New York City borough perhaps for the very first time, perhaps to refresh your memory of a fun place you've ducked into, or perhaps to suggest a new spot for you to check out as you gear up for the weekend. You can follow our sudsy travels every week with LocalBozo.com's "Drink Here Now."
Rogue
757 Sixth Avenue near 26th Street, Flatiron District
212-242-6434
Getting There: N,R,1 to 28th Street
http://www.roguenyc.com/

 
Despite the arrival of a certain massive and spacious Italian food warehouse, the Flatiron District suffers from a notable dearth of good watering holes- places where you can kick back and watch a game, potentially meet other singles, or drop in with some buddies for a brew without any pretension. Enter Rogue, a sports bar for the everyman that could comfortably make its residence in just about any New York City neighborhood.
Although it fancies itself as a restaurant- implied by the guests dining on the patio as we arrive- we're here to grab a round of drinks. Immediately upon entering, Rogue's space is perhaps most striking. The two-tiered mostly wooden layout is particularly inviting and the setting feels clean and modern. Moreover, there's not a bad seat in the house with 14 large flatscreens and 2 huge projection screens strategically placed behind the bar and on seemingly every wall nook where exposed brick doesn't already exist. On non game nights, the laid back vibe continues as the place routinely plays some good music along with the requisite videos flashed up on all of the screens.
Where Rogue really excels though is with its uber-friendly staff and the value of their specials. Despite the fact that the bar seats are all occupied, the bartenders waste little time in pouring our draught beers and we grab a first-come seat at a nearby table. With the World Cup officially in full swing, Rogue is showing all of the games in their entirety- along with beer specials for almost every country during their games. Our apologies to you though, Ivory Coast. Otherwise, draughts are typically around $4 with some weeknight promotion saving you a few dollars just about every evening. The takeaway here: the space is large, the bar itself is nice, the team is attentive and the prices are moderate.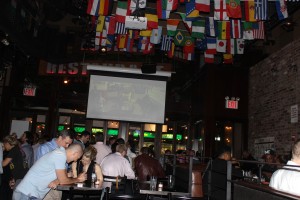 The Rundown
Bar Type - A laid back, modernized sports bar and restaurant that never takes itself too seriously.
When to Visit – Rogue is most definitely suited for weeknight evenings where Happy Hour specials and sports games lend themselves to trickling over into later evening partying. It's also a GREAT place to visit for a big UFC or boxing event, though you'd be best served to drop by early. And though we haven't stopped in, Rogue's weekend brunch is rumored to also be the real deal.
Value - Here's where Rogue comes through. Their Tuesday Happy Hours offer $4 drafts and $5 mixed drinks- and better yet, they've got $4 -$6 World Cup specials with beers from each country during games. From extended Happy Hours to promotions virtually every night, you'll find something here that saves you a few extra sheckles here and there with Rogue's competitively priced drinks.
The Lowdown – In our visit to Rogue, we encountered some friendly bartenders hustling quickly on our behalf, a couple feverishly making out at the bar as some Top 40 music blared overhead, a crew of young professionals on the other side of the room kicking back to watch a ballgame and a potential first date- all in one place. Most sports bars might be challenged to attract such an eclectic assortment of clientele. But not at Rogue, a sprawling modern sports bar that's seemingly fit for anyone.
- Alex Corrine
Related Articles
Share
About Author
(0) Readers Comments