Nossa Mesa Supper Club at Louro Presents:
"Chinese Throwdown"
Louro's Chef David Santos vs. Fung Tu's Chef Jonathan Wu
142 West 10th Street at 7th Avenue South, West Village
212-206-0606
Getting There: 1 to Christopher Street-Sheridan Square
http://www.louronyc.com/

As the rest of the New York City dinner crowd was likely ordering from atypical menus at restaurants all over town, Monday evening was a different animal altogether at West Village haunt Louro. As part of the space's weekly Nossa Mesa Supper Club series, the forward thinking American style restaurant would feature a friendly and competitive evening of eats between two chefs, focused on their eclectic takes on a singular style. Former Per Se alums would go face to face in a "Chinese Throwdown" as Louro Chef David Santos would welcome in Fung Tu's Jonathan Wu to duke it out over four distinctive courses during a one night only affair. And at just $48 and a loose BYOB policy for wine and beer, the evening offered unbeatable value for the array of delectable fare that would be placed in front of us.
We'll run through the matchup course by course below:
_____________________________________________________
Course 1- Salads: Chef Wu's "Beet Salad" vs. Chef Santos' "Marinated Pig's Ear Salad"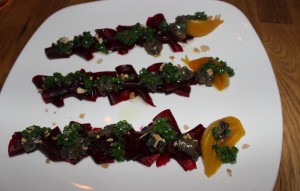 After a basket of thick rustic bread served with a pork fat spread, we are served two dishes to be doled out family style. Chef Wu opens up with three rows of thinly woven sliced beets, topped with a smattering of diced chives, garlic and oil and a century egg, which nicely balances the typical pungency of the beets. Texturally, the dish is sprinkled with dried doufu ru- crunchy cubes of fermented bean curd- which nicely mix up the consistency in each bite.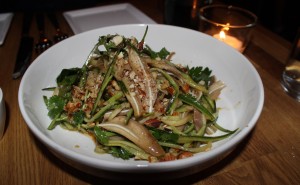 Chef Santos meanwhile serves up a family style bowl, where a heaping chilled salad shows off strip after saturated strip of sliced pig's ear. The gelatinous exterior is slippery and a bit flavorless on its own, but paired with a bed of cucumber strips and adorned with fiery piri piri, crushed almonds, garlic and cilantro, the dish's sweet flavor profile works nicely overall. The generous portion of pig's ear did not go unnoticed either as the crunchy cartilage also worked well between slices of leftover bread.
The Winner: Chef Wu's "Beet Salad" was both beautifully plated and infused plenty of favors to appease even non-beet lovers, like myself.
_____________________________________________________
Course 2- Seafood: Chef Wu's "Fish Balls with Kohlrabi" vs. Chef Santos' "Seafood Stew"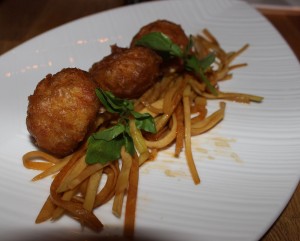 Straws of kohlrabi (turnip cabbage) sufficiently lacquered in a mala vinegar served as the bed for Chef Wu's next dish, where three delicately rolled "Fish Balls" would await each guest. Delightfully deep-fried, each tender sphere was soft in texture and subtle in fish flavor and the piping hot ball made for an excellent contrast with the sweet, soft vegetable strips laid beneath them.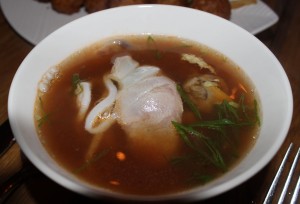 Summertime doesn't often evoke a yearning for stews, but the confluence of different flavors dancing together in Chef Santos' szchuan tomato broth were remarkable. Hunks of tilefish, squid, shrimp, clams, cabbage and spinach sat at the bottom of our bulbous per-person bowls, as our server poured the steamy, salty brown soup into each from a silver pitcher, drenching all of the elements. The fresh seafood in the perfectly crafted liquid yielded a truly complex taste and a welcomed temperature contrast to the previously chilled dishes.
The Winner: Chef Santos' "Seafood Stew" exhibited some truly excellent flavors as we slurped up every last drop in lips-to-bowl fashion.
_____________________________________________________
Course 3- Main Courses: Chef Wu's "China-Quiles" vs. Chef Santos' "Crispy Duck"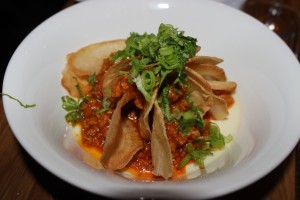 Choosing between this pair of prepared dishes proved to be the evening's greatest challenge because both entrants were so distinctive and so down right savory. Chef Wu's dish was perhaps the evening's most inventive- a bowl of Chinese steamed eggs served as the base for a dish that resembled a hearty chili dip. Crispy yucca chips jutted out from the smattering of fresh ground pork in a fiery sichuan sauce, marginalized by the soft and chewy bed of warm egg whites below. From the crunchy chips to the salty mounds of mouthwatering pork to the scallion garnish- tracking the number of flavors going on here proved to be a challenge in and of itself.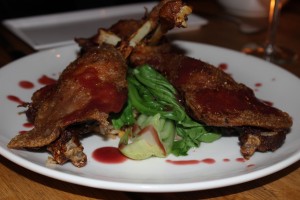 Equally as lip-smacking were the on-the-bone duck breasts fried to a crunchy crisp courtesy of Chef Santos and then delicately drizzled with a sweet and sour cherry glaze. Each morsel of plucked dark meat was unbelievably tender and moist, served over some steamed bok choy stalks and a blend of garlicky rice and soy beans. Though irrefutably flavorful on their own, the collection of ingredients together lacked the overall 'wow' factor of the "China-Quiles" and was subsequently and just barely, a runner-up.
The Winner: Chef Wu's "China-Quiles" though hardly resembling a main course by appearance, was outstandingly innovative and just a touch superior to its duck counterpart.

_____________________________________________________
Course 4- Desserts: Chef Wu's "Black Sesame and Berry Trifle" vs. Chef Santos' "Red Bean Turnovers"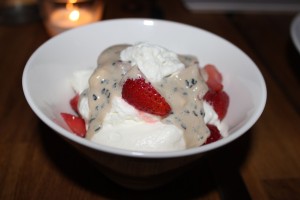 The battle of desserts was another tightly waged war as Chef Wu's light "Trifle" dish actually complimented Chef Santos' "Turnovers" quite well. Wu's layered bowl filled with fresh cut strawberries and whipped cream was decorated with a black sesame seed drizzle atop some dices of sweet custard-like cake. It's hard to find fault in a fruit-whipped cream combo and the depth of different flavors here was off-the-charts delicious.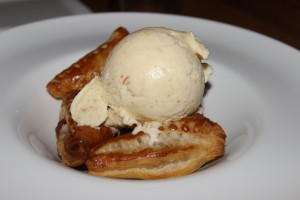 That said, Chef Santos chose to go a la mode with a scoop of amaretto-esque apricot kernel ice cream perched on sweet figs and red bean turnover pastries.  There was nothing traditional about this array of sweets as the melted ice cream merged with the baked goods especially deliciously and Chef Santos seemed to take a novel approach on a traditional dessert staple.
The Winner: Inventive ice cream desserts cut are the way to our hearts and in spite of heavy competition, Chef Santos' "Red Bean Turnovers" came out on top in the fourth and final course.
_____________________________________________________
Overall: Though the four courses were seemingly split between both chefs, our overall preference leaned just slightly (very slightly) to Louro's Chef David Santos, whose penchant for Asian inspired fare was showcased in tremendous fashion during Monday night's "Chinese Throwdown." Though the victor is due his spoil, Chef Wu's mastery- especially in his phenomenal main course- gives us added incentive to make Fung Tu undoubtedly our next stop as we trek out to Chinatown.  The battle was a close fought one- even leading to some argument at our table- but on this night, the home chef reigned supreme.
Louro's Nossa Mesa Supper Club occurs every Monday evening with a different theme and is BYOB. The traditional Louro dinner menu is not offered, so make sure to keep tabs on what's going down next at lournonyc.com.
- Jane Van Arsdale
Related Articles
Share
About Author
(1) Reader Comment