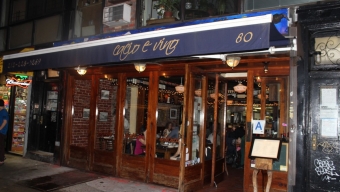 Cacio e Vino
A LocalBozo.com Restaurant Review
80 Second Avenue near 4th Street, East Village
212-228-3269
Getting There: F to Second Avenue
http://www.cacioevino.com/

Restaurant Review: Cacio e Vino
Each newly opened ode to a niche of regional Italian cuisine courtesy of the latest celebrity chef of the week can certainly cast a shadow upon the traditional neighborhood restaurant. Perhaps that's what makes the definitively Sicilian fare served at East Village bistro Cacio e Vino so refreshing. It's a rustic style relic of a more simplistic New York City. It's small and quiet and it sits just a few blocks from sister restaurant Cacio e Pepe, equally as charming in the same neighborhood.
Translated, the restaurant's name is the Italian equivalent to 'cheese and wine,' more than hinted by a blue awning that sits underneath some hand drawn bottles of red and white varietals. The entirely open door layout makes dining here a different experience altogether in warmer months with the buzz from a busy Second Avenue working its way inside a normally quaint little spot. Exposed brick walls surround much of the space with wine bottles serving as a border to the room. Small wooden tables are positioned closely to each other around the space adjacent to a four person countertop which acts as Cacio e Vino's bar during more crowded times.
Though the menu is far more expansive than that would imply, the friendly service during our experience was a bit uneven. Our chilled platter of eighteen oysters, made up of some "Blue Points" ($1.50) and some "Malpeques" ($2.50) is the last piece of our order delivered to our table- despite requesting otherwise. But our server's demeanor and attentiveness to our remaining needs salvaged what would have been an otherwise frustrating experience as we dug into the "Bufala Caprese" ($14). Three thick, creamy slices of fresh bufala mozzarella were decadently delivered in a tower layered with crisp tomato and basil with ample dollops of extra virgin olive oil for flavoring. Despite being a bit pricey for its size, the dish was delicious nonetheless.
We were less impressed by the "Wild Arugula" ($12) which was basically a plate of greens with lemon and capers and four pieces of unseasoned shrimp. The simple dish was enhanced slightly by the tangy and flavorful slices of Primosale cheese, but overall was far too basic to be anything special. The "Eggplant Parmigiana Timbale" ($10) however was particularly delicious. Mounds of melted pecorino cheese oozed from the cylindrical serving, reminiscent of a dessert dish but covered in thick red tomato sauce and a sprinkling of freshly grated parmesan. The sauce was traditional without being overly sweet and the perfectly cooked unraveled eggplant sopped up every bit of melted gooey cheese with each sauce covered bite.
Rather than load up on homemade pastas or oversized entrees, we decided to simply pop a bottle of Prosecco and enjoy some of Cacio e Vino's smaller dishes- with mixed results. The cozy atmosphere and friendly staff managed to make our experience sufficiently better than it would have been otherwise and the Sicilian style preparation of the eggplant was good enough that we'd be willing to give Cacio e Vino another go. But in a more competitive dining environment than ever before, we'd like to see some more consistency from a relaxed and comfortable neighborhood restaurant that's battling some culinary big boys for your dinner dollar.
Rundown of the Meal
Appetizers
Bufala Caprese ($14)
Eggplant Parmigiana Timbale ($10)*
Oysters (m/p) Blue Point, CT ($1.50) Malpeque, Canada ($2.50)
Salads
Wild Arugula ($12)
*Meal Highlight
Related Articles
Share
About Author
(0) Readers Comments