Gato
A LocalBozo.com Restaurant Review
324 Lafayette Street near Bleecker Street, Nolita
212-334-6400
Getting There: 6 to Bleecker Street; B,D,F,M to Broadway-Lafayette Street
http://www.gatonyc.com/

We arrive on a work night when the bar is already completely full and buzzing. Fortunately, our reservations were secured some three plus weeks prior in anticipation of such a frenzy. Others figuring to arrive as walk-ins aren't so lucky, standing around the host stand with a sole drink in hand with the hopes that by some force of nature they'll be granted a table before the additional two and a half hour wait time. There are some scant tables adjacent to the bar for such patrons which sit low to the ground, but alas, those are all completely filled by other folks that arrived just a bit earlier.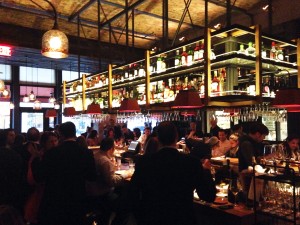 The bustling vibe inside of Gato, the newly opened modernized Mediterranean brasserie from culinary mastermind and restaurateur Bobby Flay is even more full of activity than we had anticipated. A glance toward the centrally located rectangular bar area is particularly eye grabbing, not so much because thirsty patrons are lined two and three rows deep behind those seated in high top stools, but because the bar stocks a good portion of its liquor overhead in a framework that descends from the ceiling, which not only saves space but is also particularly striking. Despite the preponderance of exposed brick around the sizable space, the decor is decisively modernized. The array of orb-like bulbs stationed overhead illuminate the dark pillars that give the restaurant stature and the wooden table and chair sets that scrape the ornate blue and white tile displays on the floor.
Despite our initial apprehension, our table near the bar is never an issue as the staff, though clearly still working through some of the kinks considering that Gato has been operational for just two months at this point, quickly and thoroughly addresses our every need. During the course of the meal, the noise level inside the hotspot hardly dies down but our enjoyment of the fare never wavers as a result of Flay's expertly crafted menu. Divided between 'Bar' and 'Kitchen,' the menu is a calculated effort to bring out dishes both small and large in the vein of a Spanish leaning Mediterranean cuisine that lists bean and yogurt spreads served with pita right alongside the likes of pizzas and chorizo crepes without incident.
The 'Bar' menu seems like an ideal place to begin, despite the diminutive sizes of the samples listed at 3 for $17. The "Piquillo Filled with Raw Tuna" is the first thing to touch our lips and is downright excellent.  The fresh pink cubes of fish covered in saffron sauce are wrapped in a surprisingly subtle rolled pepper which creates a delicate makeshift mini-hand roll. The rich and sweet hazelnut toast which houses the "Ricotta" and wild mushrooms makes for an equally exquisite collection of flavors which is a precursor for the remainder of our meal. Flay doesn't utilize any ingredient that goes unnoticed and it shows- specifically with the "White Anchovies" which are finished in a reduction that resembles an orange sherbert, just sweet enough that you acknowledge its presence.
The chunks of chewy bacon that surround the deliciously plated "Roasted Octopus" ($17) work well with the slightly sweet tangerine base beneath the one bulbous but shared tentacle. Though pricy for its overall size, the charred purple exterior is pleasantly moist and savory. The "Crab Risotto" ($18) meanwhile, prepared with garlic bread crumbs was similarly succulent and neither dry nor overly heavy. Hunks of crab meat are embedded in the starchy and salty orange dish- and if you order enough from the remainder of the menu, there's no reason to exceed the appetizer sized portion. Flay's aforementioned penchant for making every ingredient count is nowhere more prevalent than in his decadent "Charred Beef," ($35) the evening's undoubted highlight. Three thick slices of New York Strip are brilliantly marbled and lacquered in a subtle and thin brown butter and red wine style demi-glaze that works wonderfully with the touch of melting Valdeon Blue Cheese. Each bite delivered an assembly of sweet, creamy and savory and somehow, even the afterthought of the broccoli rabe-farro plated next to the beef was delectably garlicky. And the Mediterranean inspired "Roasted Cauliflower" ($10) complimented our main course well, doused in sticky agro dolce and surrounded by capers and sliced padron peppers which nicely bring all of the flavors together.
Though in recent history, some of Chef Flay's New York City outposts have shuttered, Gato proves that it's certainly not because his cooking has gotten stale. Each and every course thoroughly impressed us in a way that the previous had not and the detail afforded each plate no matter how small was particularly revelatory. The complimentary glasses of cream sherry to close out our experience were also a nice touch- but candidly, we would have had only complimentary things to say about Gato regardless. For all the acclaim that's been bestowed upon it by critics and casual diners alike, the restaurant is decisively worthy of all of it as perhaps the finest new opening of 2014.
Rundown of the Meal
Cocktails
Paco ($13) – Ketel One, Blood Orange Juice, Cava
Angelo ($12) – Old Overholt rye, Dolin Sweet Vermouth, Campari, Aperol
Bar
3 for $17
Piquillo Filled with Raw Tuna*
Ricotta*
White Anchovies
Appetizers
Crab Risotto* ($18/$28)
Roasted Octopus ($17)*
Vegetables
Roasted Cauliflower ($10)*
Entrees
Charred Beef ($35)*
*Meal Highlight
Related Articles
Share
About Author
(1) Reader Comment