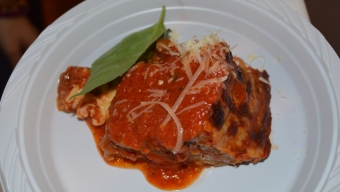 Blog: All the Tastes 2014
O
n Thursday night the team from
All the Tastes of New York
brought their typical collaboration of flash and flare to the posh
Midtown Loft and Terrace
for a seasonal food and drink tasting event called
"Cocktails and Eats."
Since their
"Fall Food and Wine Festival,"
we've been clamoring behind the scenes for another affair to attend and their springtime event served to satisfy our cravings. The views of Manhattan from the loft space were no match for the selection of tasty eats being served inside the spacious venue, with more than thirty different purveyors doling out their creations to the hungry masses.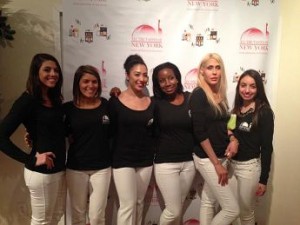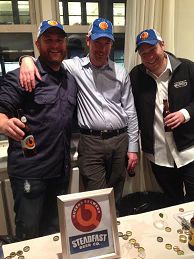 "Cocktails and Eats" served just the right amount of people as moving around the space was fairly easy and wait times for any particular dish were minimal. It was also a nice change of pace to not be shuffled around like cattle, which allowed us the opportunity to take some time and chat with many of the participating restaurateurs to discuss the preparation of each dish. Beginning quickly, we grabbed a cocktail called "Los Islenos" from Bo's which featured a wild chipotle tobasco dripped atop fresh cucumber for a spicy kick. The refreshing drink tasted like a cucumber margarita and with no sugar, each summery sip had us yearning for warmer weather. We also grabbed pours of Bartenura's "Moscato," a sweet Italian wine with hints of grapefruit and peach and some suds courtesy of Queens Brewery and Casquena, a Peruvian beer from Machu Picchu, both of which hit the spot before we began our frenzy of food tasting.
The array of eats was both entirely vast with a variety of cuisines fittingly represented in the room. The scents emanating from Ben & Jack's Steakhouse were utterly overwhelming and we were drawn to their "Mac & Cheese." Loaded with cheddar, the dish was baked sans breadcrumbs and served as a perfect precursor to their exceptionally flavorful and juicy "Porterhouse." Surprisingly though it was their "Stuffed Chicken" that had our mouths aghast. Prepared with a cream sauce and a hint of gorgonzola, the tender chicken was stuffed with spinach and roasted red peppers in a delectable white wine reduction. Que Magnifique! Nearby, La Giara continued the hearty fare with a delicious "Eggplant Parmigiana." Here, the sauce tasted so fresh that it's almost as if the tomatoes were plucked from the vine and squeezed atop the seven layers (!!) of non-breaded eggplant for a tasty and fairly lighter style than we're used to enjoying.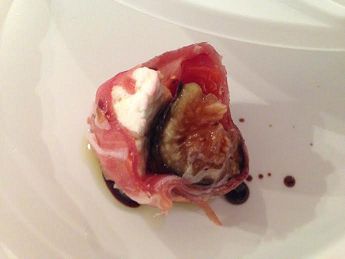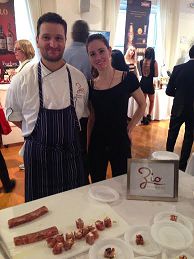 Also worth praising was Zio's dish which showcased fresh proscuitto wrapped around creamy goat cheese, figs and roasted red peppers with just a touch of balsamic reduction. Prepared like a sushi roll, this was one deliciously bite sized sample that perfectly mixed sweet and salty together. Peruvian haunt Raymi meanwhile was serving up a dish called "Causa," which was presented like a 7 layer dip including cold potato puree, tuna, salmon, octopus, avocado, spicy may and aji amarillo so that every ingredient was visible. The texture and taste was fantastic, much like you'd find inside of a spicy tuna roll, but the topping of grilled corn kernels delivered a nice crunch for contrast.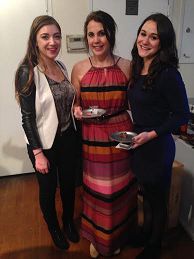 By the time we were ready for desserts, remaining room in our stomachs was questionable, but like any good writer- we pushed on. From Teqa's rich "Mini Alfajores Cookes with Espresso Tequila," Alwheys Good's soft "Organic Cookies," to Micki's Brownies, which were utterly satisfying whether or not you are a chocoholic, there was no shortage of sweets to nosh on to cap off the memorable evening. But to no surprise, the massive Ben & Jerry's sundae we scarfed down was the proverbial cherry on top, though the generous portion was far larger than we had anticipated. But it's often said that in times of adversity, even everyday folks are capable of superhuman feats. And staring at the remnants of that empty Ben & Jerry's plate after I had consumed the entire thing made me feel heroic.
- Alexandra Fetsey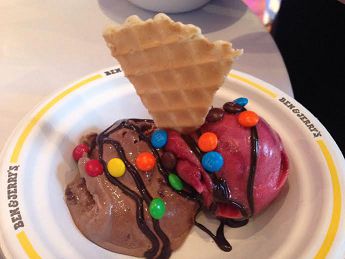 Related Articles
Share
About Author
(0) Readers Comments