Our correspondent vowed to have a drink at every single bar in Hoboken and did so successfully with Spirits in the Sixth Borough." Every Friday morning, we'll pick up where he left off, showing you distinctive bars in each New York City borough perhaps for the very first time, perhaps to refresh your memory of a fun place you've ducked into, or perhaps to suggest a new spot for you to check out as you gear up for the weekend. You can follow our sudsy travels every week with LocalBozo.com's "Drink Here Now."
Southwest Porch at Bryant Park
West 40th Street near Avenue of the Americas, Midtown West
212-780-0577
Getting There: B,D,F,M to 42nd Street-Bryant Park; 7 to Fifth Avenue
http://www.bryantpark.org/things-to-do/southwest_porch.html
Be it a biergarten, a patio or even a rooftop bar, the season's first sudsy pour outdoors begins anticipation for warmer months ahead. Though the bar remains open for much of the year in spite of weather, the Southwest Porch at Bryant Park is irrefutably best suited for spring and summer. After work, the outdoor space is illuminated by strands of Christmas lights is heavily occupied with suits and ties looking to kick back with their brethren.
Just steps away from the Park's Fountain Terrace, the rustic outdoor bar is routinely mobbed by thirsty drinkers and also catches the eye of just about any onlooker in passing. Even if there's nothing of note going on, the Porch is a place that is always alluring, whether bundled up with blankets or in short sleeve shirts and shorts beneath the wooden canopy constructed overhead and the yellow umbrellas below. More importantly charging stations and free wi-fi complete the uber-inviting and relaxing setting.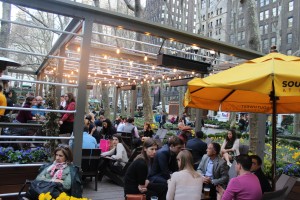 Prices here are neither cheap nor egregious- beers like Ommegang's "Rare Vos," a favorite at LocalBozo.com and Oskar Blues' "Mama's Lil Yella Pils" run $8 each while pairs of red and white wines are served at $9 per glass. Essentially, if you can secure a space for a large enough group- which admittedly is a challenge- the Southwest Porch at Bryant Park can serve as a full-on destination for boozing and for people watching in the park. And if you can't manage to grab more than a singular table, it's as good a spot as any in the City to pony up to the bar for a drink as the sun dims lower on a weeknight.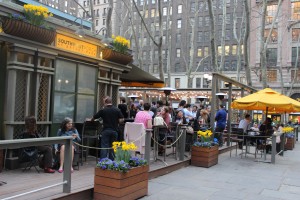 The Rundown
Bar Type - One of the most casual and low key outdoor bars in tourist friendly Bryant Park.
When to Visit – If the temperature holds up, now is the time to head to the Southwest Porch on a weeknight. It will be busy without being swarmed during after work hours and you'll be able to grab a table and some drinks. As we approach the summer months though, we wish you luck.
Value - You're in Bryant Park. The sights and smells and sounds are all free. You won't find many drink specials here though, with beers and wines priced at $8 and $9 respectively.
The Lowdown – If it seems that there's not much to the Southwest Porch at Bryant Park, that's because there's not. The formula for outdoor drinking in a cool, casual atmosphere is hardly complex. But being that this is a place that everyone from the tourists to the locals know about, you need to make sure that you time your trip appropriately or risk standing around uncomfortably waiting out a table- which in New York City as it turns out, isn't even all that bad. Find your spot. Grab a beer. And enjoy the sights.
- Alex Corrine
Related Articles
Share
About Author
(1) Reader Comment