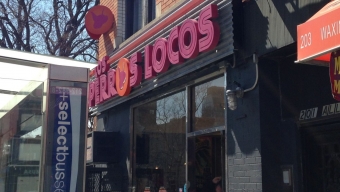 Los Perros Locos
A LocalBozo.com Restaurant Review
201 Allen Street near Houston Street, Lower East Side
212-473-1200
Getting There: F to Second Avenue; J,x to Bowery
http://www.losperroslocos.com/

Restaurant Review: Los Perros Locos
."\n"
There's nothing ordinary about topping a standard beef frankfurter with the likes of crushed hot Doritos, strawberry jam or deep fried bacon cubes. There's actually nothing ordinary about the place that serves them either. The diminutively sized storefront of Los Perros Locos is shrouded a bit by a poorly placed bus stop on the Lower East Side, but you'd be well advised to dodge the pack of commuters patiently waiting for a South Ferry bus and head in for some deliciously unhealthy comfort food.
As commonplace as niche cuisine has become in New York City, every newly opened haunt seems to deliver its own inventive twist. Such is the case at Los Perros Locos, where a dog doused solely in mustard is likely to get you as dirty a look as if you had ordered in French. Inside of the colorful shop meanwhile sits a bevy of distinctive character. Seating options are limited to some small picnic style tables and a counter resembling a skate ramp which sandwich the ordering window on either side, but the decor is definitively unique. Drawing notable inspiration from his Miami upbringing, owner Alex Mitek's neon meets graffiti inspired vision is utterly fitting and boasts an inviting if not overly casual atmosphere.
Though most orders are likely to be taken out (with a delivery service that runs until after 4am!), we pony up to the high top counter and lay out our dogs for eating. It should be noted that aside from veggie options, Los Perros Locos also offers burgers, a chicken sandwich, grilled corn and their intricate take on 'Salchipapas' or fries all of which can run the gamut of ingredients from chorizo to smoked ham.
"There's no sense in going half-way," we thought as we ordered up two of the most overly dressed weiners we had ever seen. The dog dubbed "Mas Perfecto" ($7.50) resembled more a work of art than a consumable food product. Topped with a sliced open quail egg and deep fried bacon cubes which served only as the garnish for a lacquering spread of (count 'em) five different salsas, a creamy apple chipotle slaw, melted mozzarella cheese and a handful of crushed chips. To call this creation messy would be an understatement, but once the embarrassing assortment of colors was wiped clean from our cheeks, true indulgence set in. Each ingredient surrounded the piping hot beef 'perro'- from the cool slaw to the crunch-laden potato chips- so much so that tasting the actual hot dog itself proved to be a challenge- but the collection of toppings was downright tasty.
The slightly tangier "Chimi-Churi-Chori" ($8) was equally as messy but admittedly a bit inferior to the 'Perfecto.' With a smattering of orange Aji Panca aioli atop a chimichurri drizzle, grilled Provoleta and chorizo atop the requisite crushed potato chips which we've learned is a staple at Los Perros Locos, the hearty, flavorful dog placed a close second during our initial visit. As the pair of hot dogs dueled for supremacy, they served to adequately fill us up with the kind of guilty pleasure that only a comfort food of this caliber can provide. Though it's incredibly difficult to narrow down your final selection among an array of delicious sounding options, one thing is for sure- you won't leave a visit to Los Perros Locos with any pangs of hunger, you dirty dog.
Rundown of the Meal
Perros Tipicos
Mas Perfecto ($7.50)*
Perros Especiales
Chimi-Churi-Chori ($8.00)*
*Meal Highlight
Related Articles
Share
About Author
(0) Readers Comments