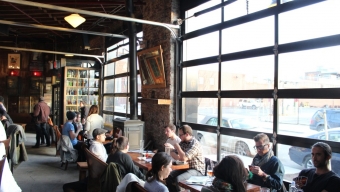 Our correspondent vowed to have a drink at every single bar in Hoboken and did so successfully with Spirits in the Sixth Borough." Every Friday morning, we'll pick up where he left off, showing you distinctive bars in each New York City borough perhaps for the very first time, perhaps to refresh your memory of a fun place you've ducked into, or perhaps to suggest a new spot for you to check out as you gear up for the weekend. You can follow our sudsy travels every week with LocalBozo.com's "Drink Here Now."
Dirck The Norseman
7 North 15th Street at Franklin Street, Greenpoint, Brooklyn
718-389-2940
Getting There: G to Nassau Avenue
http://www.dirckthenorseman.com
Drink Here Now: Dirck the Norseman
Smack dab in the middle of their soft opening, we made a special trip out to Greenpoint as rumors swelled of a brand new Brooklyn brew pub taking shape. The owners of part beer shop-part charming craft beer bar Brouwerji Lane had secured a roughly 6,000 foot space that had been heavily anticipated for a number of months. On Thursday, March 13th, the bar and restaurant celebrated its grand opening in style and with that, New Yorkers alike finally have an opportunity to test the waters at Dirck The Norseman.
There's a lot to take stock of en route to Dirck The Norseman, namely the dearth of surrounding bars nearby in the industrial waterfront that is Greenpoint. But with existing treasures and a flurry of recent openings including this one, now is as good a time as ever to head to our sister borough be it for a bar crawl or to a new-fangled restaurant. Inside, the place is simply immaculate, replete with wonderous floor to ceiling window panels, large communal style tables reminiscent of a beer hall which peer into the brewing room and its multi-barrel fermenters and tanks and a massive center island bar that boasts close to a dozen beers on tap alongside- some of which will be brewed literally on site, under the Greenpoint Beer and Ale Co. moniker.
Folklore dictates that a Scandanavian named Dirck Volckersten was Greenpoint's first settler, hence the clever name in tribute. In his honor, the menu features entrees like "Braised Pig Knuckles" (saucy and fall off the bone tender), "11 Hour Smoked Brisket" (deliciously marbled) and other meat centric fare that makes your run of the mill sausages and pretzels seem bland in comparison. From Manhattan, the trek to Dirck the Norseman isn't exactly convenient, but the end result leaves you in a fun and eccentric neighborhood that finally boasts a complete bar that is absolutely worth going out of your way for. Basically, take our advice and Drink Here Now.
The Rundown
Bar Type - A versatile beer hall and restaurant that offers up a little bit of everything. Plus it's brand new which makes the entirety of the experience feel special.
When to Visit – Dirck The Norseman is an ideal place to grab some food after work with some buddies but it's location is especially ideal during sunny warm weather afternoons.
Value - You want value? Go to KFC. The value here is being the first of your friends to try out a fantastic new bar, opened by some guys that truly love beer and know a thing or two about
The Lowdown – After weeks of their soft opening, the word is now out. Dirck The Norseman is guaranteed to be a smash in Greenpoint. With the weather bound to improve, and we're hoping for this weekend, now is as good a time as ever to grab a seat and a pint before the frenzy begins. There are more and more reasons to visit Greenpoint Brooklyn, and Dirck The Norseman might just be at the very top of the list.
- Alex Corrine
Related Articles
Share
About Author
(0) Readers Comments