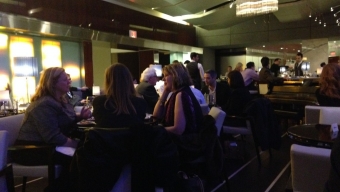 Our correspondent vowed to have a drink at every single bar in Hoboken and did so successfully with Spirits in the Sixth Borough." Every Friday morning, we'll pick up where he left off, showing you distinctive bars in each New York City borough perhaps for the very first time, perhaps to refresh your memory of a fun place you've ducked into, or perhaps to suggest a new spot for you to check out as you gear up for the weekend. You can follow our sudsy travels every week with LocalBozo.com's "Drink Here Now."
Center Bar
10 Columbus Circle at 59th Street, Upper West Side
212-823-9482
Getting There: 1,A,B,C,D to 59th Street-Columbus Circle
http://www.centerbarnyc.com
Drink Here Now: The Center Bar
If I were to tell you that a great bar essentially sits inside and looks down upon a shopping mall, you might scoff at first. But in New York City, that shopping mall is the sprawling Time Warner Center and in the midst of high end retail shops and restaurants sits Center Bar, an excellent spot to relax for some quality cocktails overlooking the Columbus Circle fountain.
With a dinner reservation nearby, I stopped into Center Bar for the first time with close to a 90 minute window to spare. But I easily could have stayed all day. The space here is unique to say the least. First, it is located on the Time Warner Center's fourth floor and sits right outside of Porter House New York, the opulent steakhouse operated by Chef Michael Lomonaco, who similarly handles the menu here. Arriving at the host stand without knowing what to expect, the place resembles a sleek airport lounge, which is actually much more charming than that description might imply. Seats are a bit hard to come by so making a reservation- even at 6:30pm for drinks- is recommended and is even encouraged by their staff on the phone.
Our party is welcomed into the space, which is greeted by a live piano player, and seated right up against the railing which overlooks the main floor of the Time Warner Center and the picturesque fountain in Columbus Circle. On the table sits a collection of nuts and wasabi peas which we probably overindulge in, despite our pending dinner but between small talk and sipping drinks, something has to fill the time. While Center Bar does offer small bites like "Charcuterie" ($32), "Piquillo Peppers" ($15) and "Foie Gras Parfait" ($21), we stick with the plan and order up some drinks. Their Elijah Craig bourbon based "Kings Old Fashioned" ($16) was a home run, drowning a massive ice cube with some requisite bitters and hints of walnut, but it's hard to argue with the "Mighty Servant" ($16) with Grey Goose and fresh strawberries or the "Peacock Tonic" ($15) which were equally refreshing.
The Rundown
Bar Type - An open air cocktail lounge that overlooks Columbus Circle.
When to Visit – Center Bar is ideal place to visit for pre or post dinner drinks if you're dining in the area. Also, if you're looking for a respite from the bustle of daytime shopping, you can grab a quick bite here too.
Value - Not here. The drinks aren't cheap, but they sure are tasty.
The Lowdown – Though Center Bar shares the same building with the Stone Rose lounge, there's something about the setup here that is perfectly relaxed and classy at once. For a pre dinner cocktail, you won't find a place that's likely to suit you better. The service is excellent and the drinks are special. Though you have to return the glasses to your server, the incredible views of Columbus Circle are yours to keep.
- Alex Corrine
Related Articles
Share
About Author
(0) Readers Comments