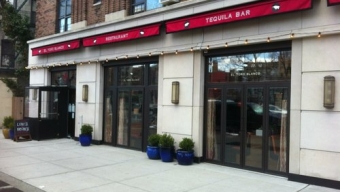 El Toro Blanco
A LocalBozo.com Restaurant Review
257 Sixth Avenue near Bleecker Street, West Village
212-645-0193
Getting There: 1 to Houston Street; 6 to Bleecker Street; B,C,M to West 4th Street – Washington Square
http://www.eltoroblanconyc.com

They've managed to master the likes of seafood at Lure Fishbar and tackled the ultimate hamburger at winepub Burger & Barrel and more than a year ago, opened their very first homage to the taco with West Village haunt El Toro Blanco, the third and most recent restaurant opened under the joint umbrella of owner John McDonald and owner/Chef Josh Capon. With such a diverse portfolio of restaurants, one might anticipate some less-than-stellar fare at any of the three spaces, but with our initial stop at the sleek Mexican inspired tequila lounge, it's evident that the pair isn't just resting on the laurels of their previous successes.
You'd be hard pressed to find a more driven New York City chef than Josh Capon, who alternates between stops in each of his restaurant's kitchens, making appearances at food events and also spending time on your television sets- word has it that Spike TV has already greenlit a new upcoming pilot featuring the charismatic chef entitled 'Frankenfood,' the latest in competitive cooking shows. Fortunately though as we stop into El Toro Blanco, Capon is front and center draped in his customary white cooking apron and as always, hob-nobbing with a room filled with guests inside of his swank eatery.
Similar to its sister restaurants, El Toro Blanco is dimly lit and stylish outfitted with a modernized take on a largely old fashioned style setup. Burnt orange chairs and booths surround the slim wooden tables as overhead lights strewn about the dining room illuminate the space ever so subtly to create a quietly cool atmosphere. The noise inside the room meanwhile is festive and energy-filled, just as you'd anticipate when dining out Mexican-style. But this is hardly just passable Mexican fare here as we learned by Capon's touch, even the traditional gets classed up just a bit.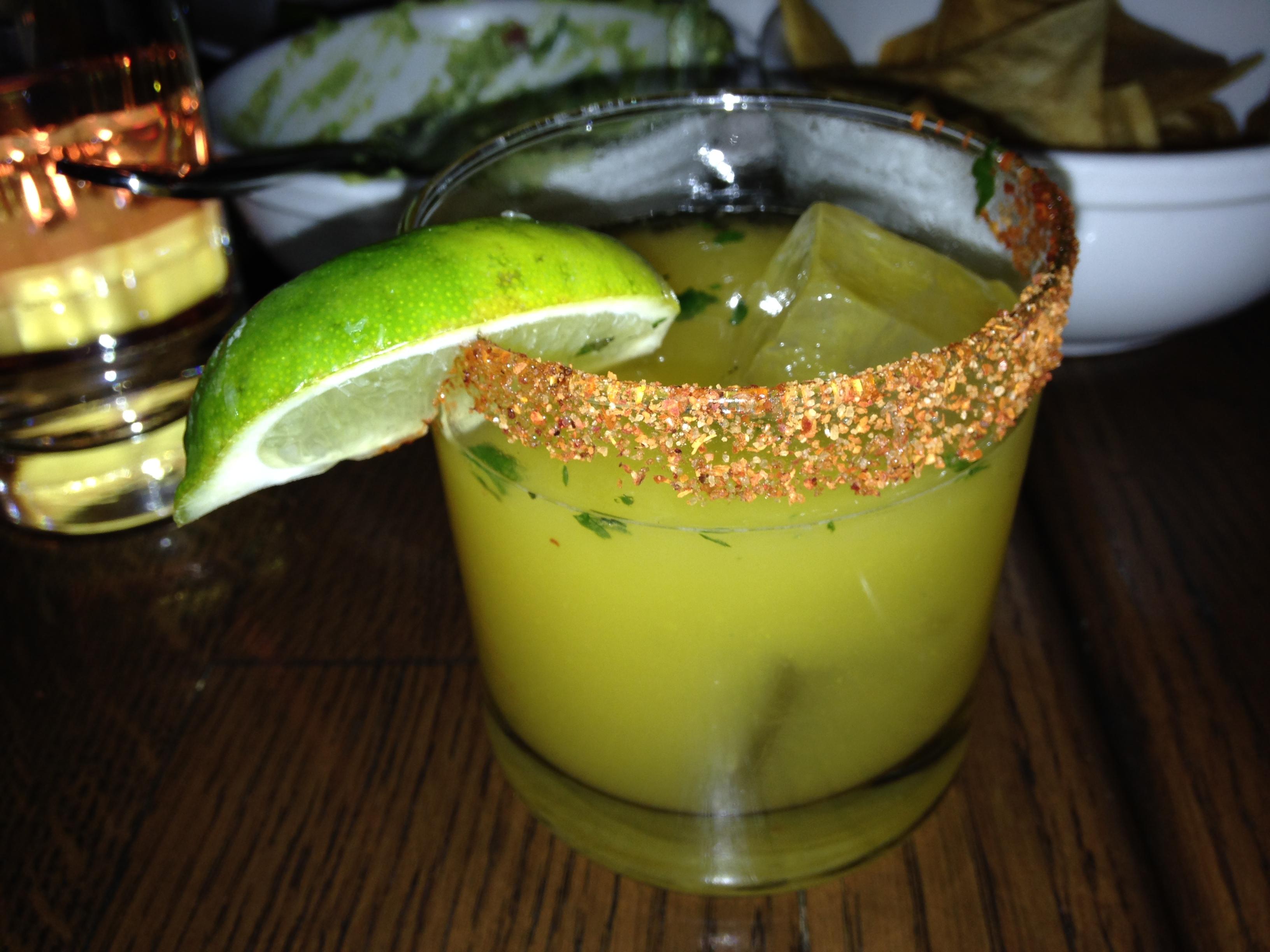 El Toro Blanco fancies itself as a tequila bar and with more than 100 different styles, who are we to argue. Conceptually the restaurant is designed to introduce diners to some upscale Mexican cuisine coupled with an unparalleled selection of tequilas ranging from the commonplace to the ultra-rare. Instead we stick with the tasty tomato juice infused "Michelada Oaxaca" ($14) and the place's signature "El Toro" ($12) margarita- the more experimental drinker opts for the "Chile Rubbed Mango" ($14) variety which boasts the heat of habanero in the drink itself. Too hot for our blood, considering the three salsas that accompanied the freshly prepared "Guacamole" ($24, Large) had us alternating between gulps of agua and dabbing our foreheads with a napkin to prevent further spice sweats. The "Green Chile Queso Fundido" ($12) though was deliciously gooey, served as an oozy cheese fondue with some chiles and flour tortillas to capture everything served inside the piping hot pan.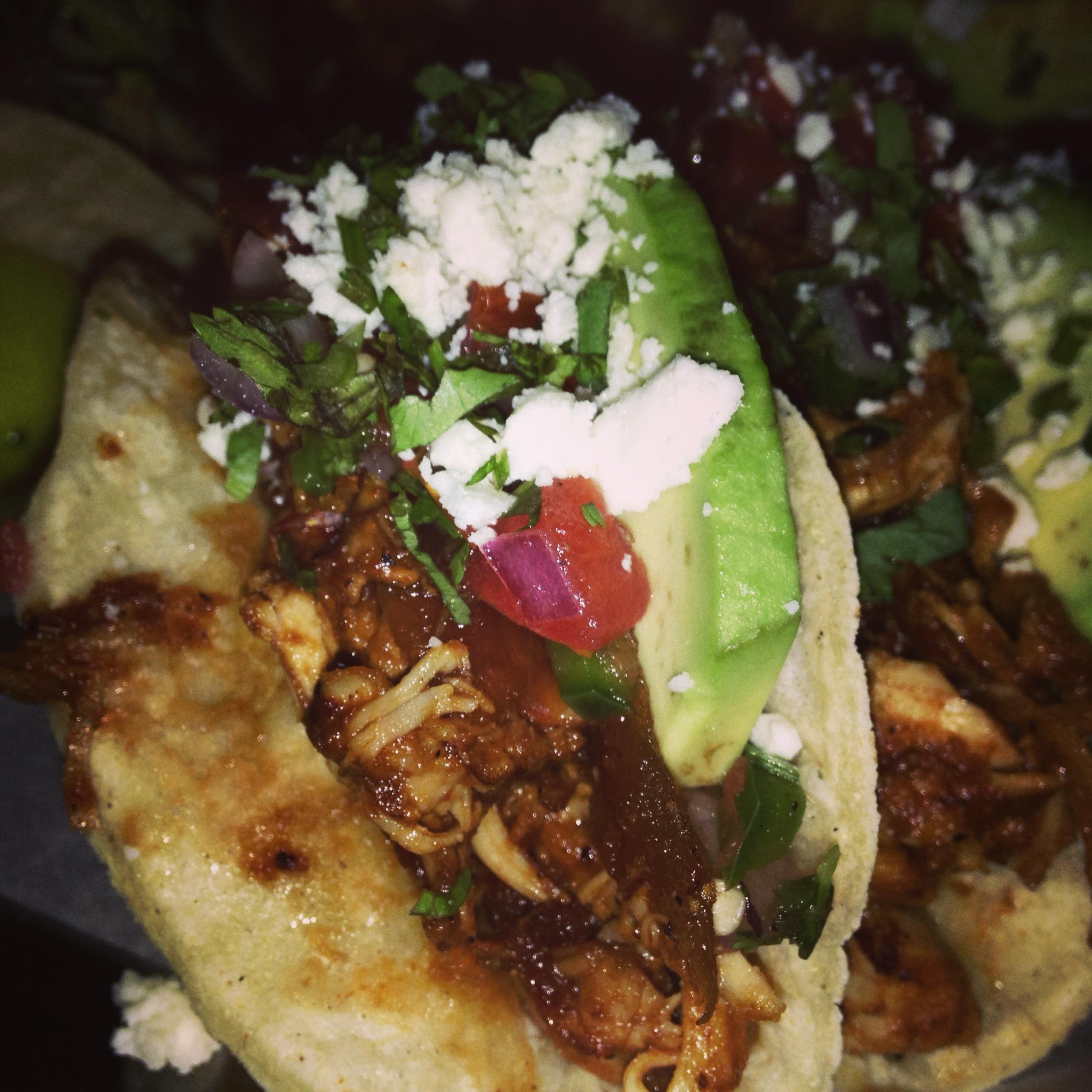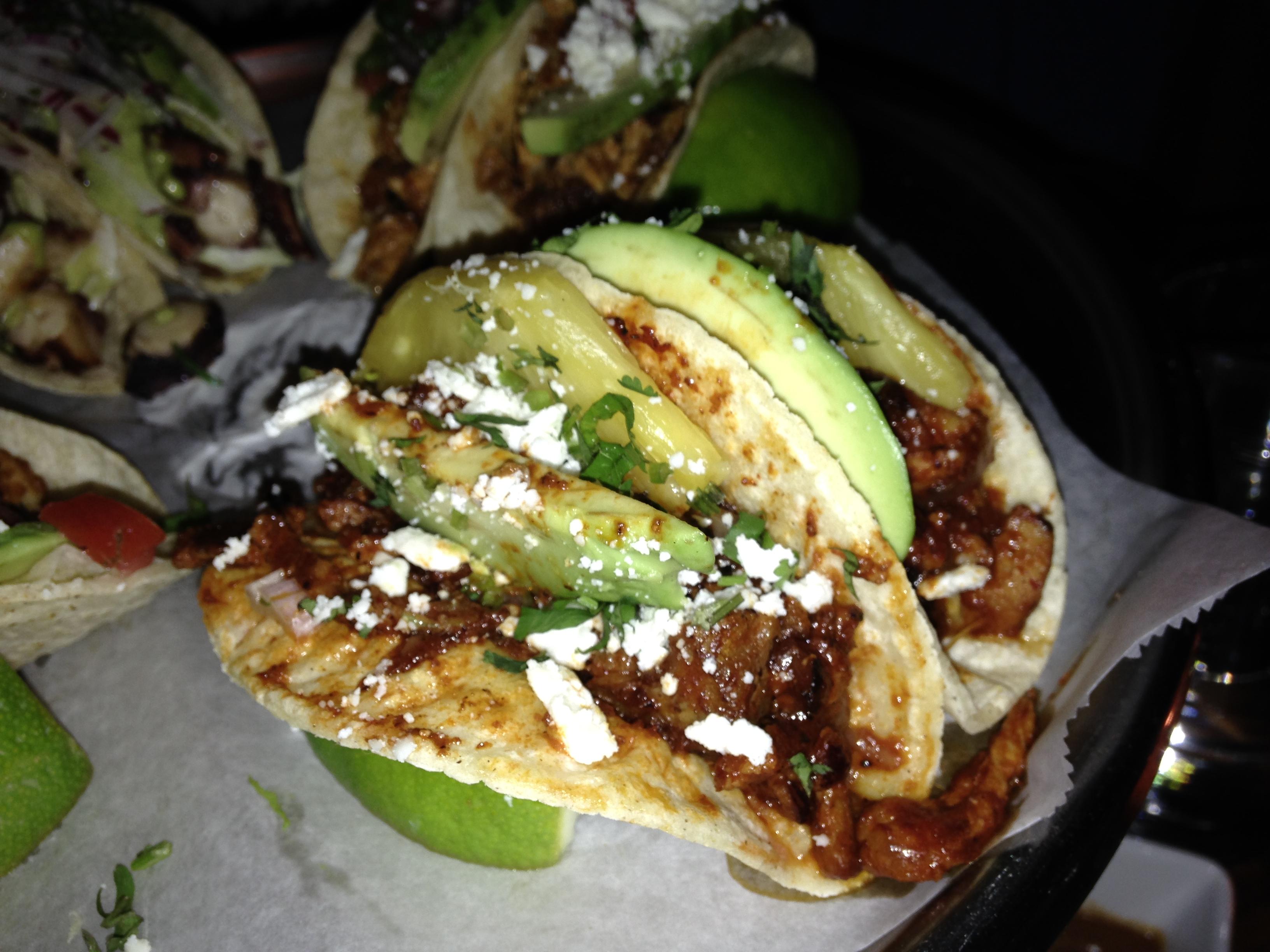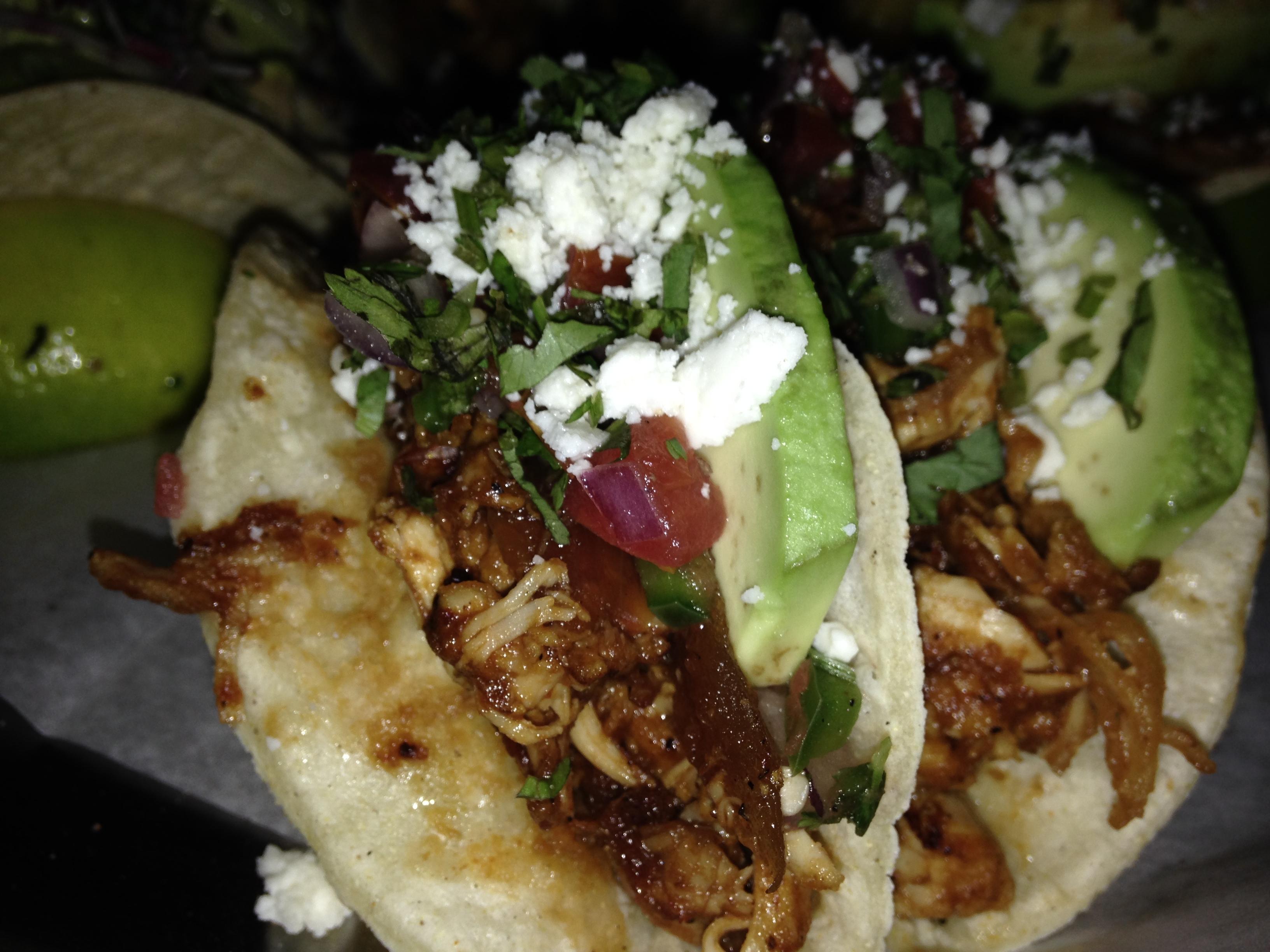 El Toro Blanco has a variety of meat and fish options that range from enchiladas and mole style preparation to their "Langosta Puerto Nuevo" ($38), a succulent lobster served with potatoes, Mexican street corn and a basket of warm tortillas. But on this night, it was all about the tacos for us, a pleasantly affordable selection of ten different varieties served two per order. From their "Cabrito" ($12) or slow-roasted goat to their "Grilled Swordfish" ($12) narrowing down to just one proved particularly taxing as our friendly waiter returned to our table. And although we questioned ourselves come decision time, the tray of tacos that was delivered to our table reinforced that our initial instincts were on point. The "Grilled Octopus" ($12) was outstanding, with each charred hunk of white flesh surrounded by freshly sliced avocado, a jalapeno aioli, cilantro and a chilled radish slaw. Equally as mouthwatering, the spit roasted berkshire pork filled "Al Pastor" ($10) coupled the sweetness of roasted pineapple with the hearty seasoned swine and topped with nuggets of white creamy queso cotija for an unparalleled combination of flavors. Even the traditional chicken taco or "Tinga de Pollo" ($10) was uniquely prepared with the pulled strands of chicken adorned with a chipotle infused queso and diced tomatoes that were both sweet and spicy.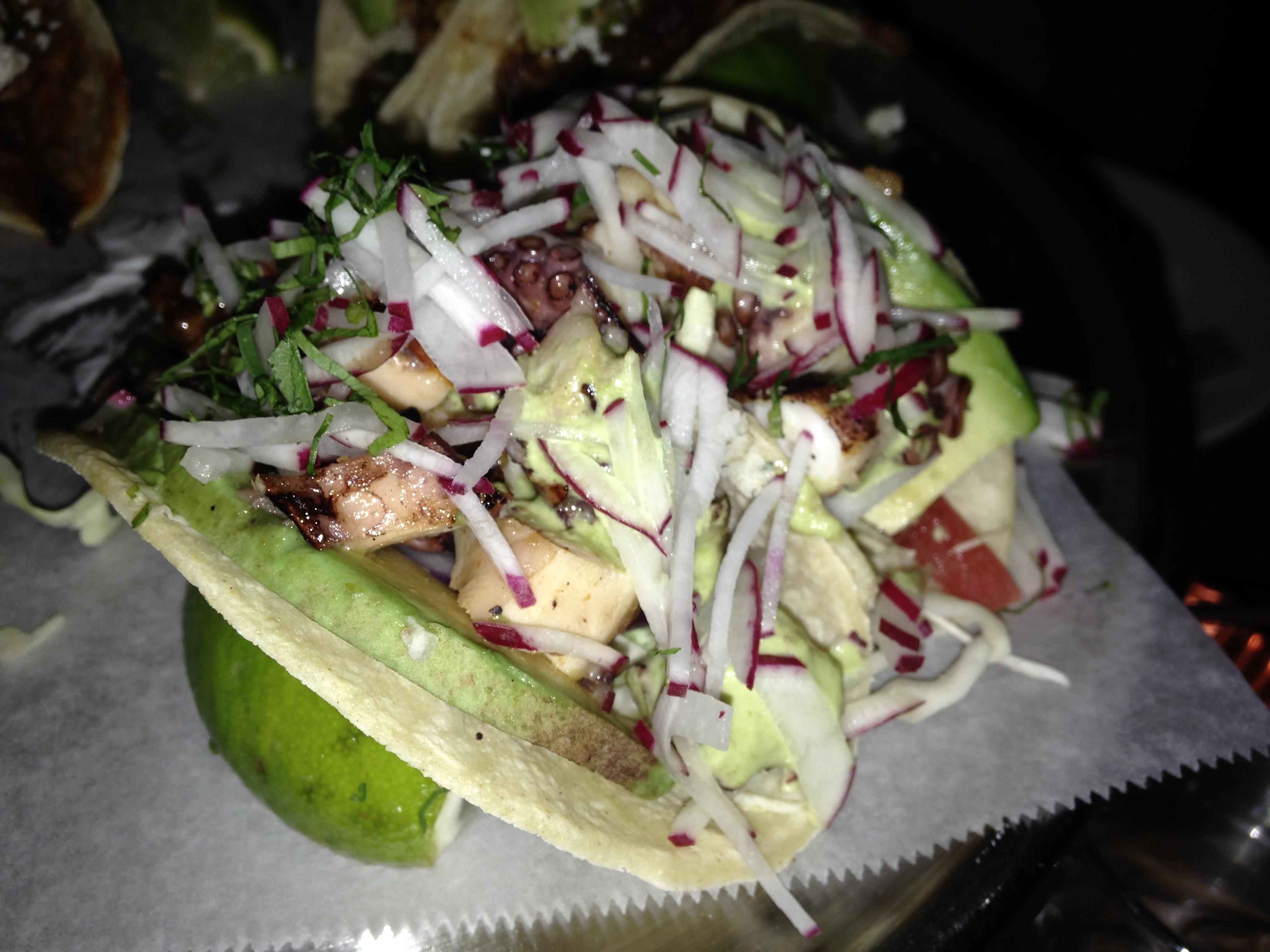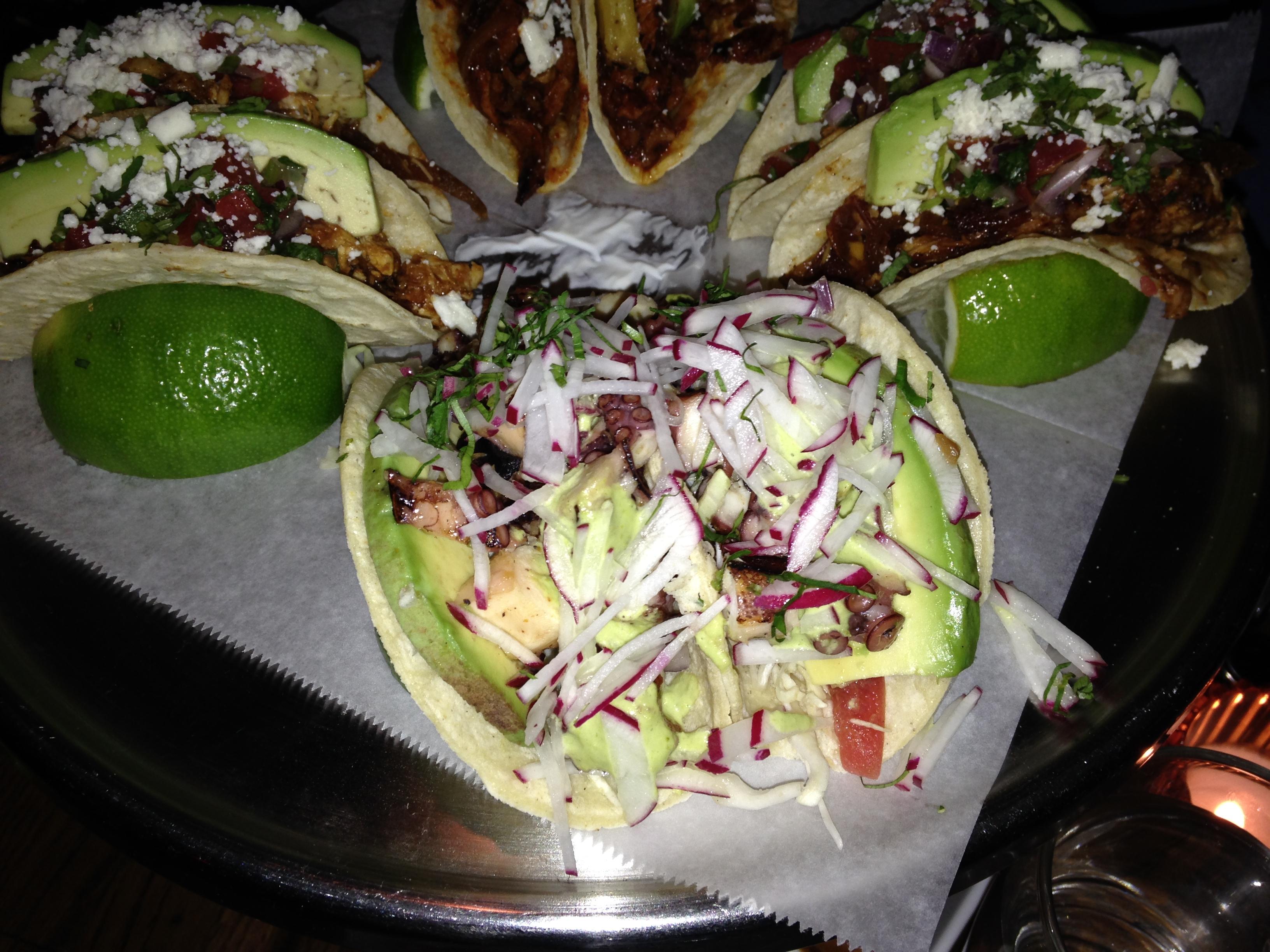 Though El Toro Blanco is hardly reinventing the wheel when it comes to Mexican fare, their formula for creating a similar restaurant vibe around three different styles of cuisine is commendable and their track record of successful openings and their subsequent sustainability has elevated the team of Capon and McDonald onto the short list of Manhattan's elite restaurateurs. And if three prodigious restaurants in our City isn't enough, Lure's recent expansion into Miami's posh South Beach area may be the first of the group's efforts toward United States expansion. We can only hope however that the team's heart remains in their home where with El Toro Blanco they've once again proven that there's always room for a new take on traditional fare, as long as it's done the right way courtesy of the right culinary hand.
Rundown of the Meal
Appetizers
Guacamole ($24, Large)*
Green Chile Queso Fundido ($12)
Tacos De La Casa
Tinga de Pollo ($10)*
Grilled Octopus ($12)*
Al Pastor ($10)
*Meal Highlight
Related Articles
Share
About Author
(0) Readers Comments